Six Motions to Consider in Sentencing of a Criminal Case
If one proceeds to trial and the jury convicts defendant, or one enters into a plea to then plead in the open, there are multiple considerations one should make besides preparing a sentencing brief that addresses the aggravating and mitigating factors listed under the California Rules of Court, Rule of Court.
Why This Article Matters: Sentencing is a critical stage of any criminal case, if not the most critical, so knowing the nuances and details of sentencing is necessary to performing as a competent criminal defense attorney.

This article does not address a
Romero
motion, which is perhaps the most common sentencing motion. It is a request to strike a strike conviction for purposes of sentencing. Such a motion is covered in a separate article of its own linked below.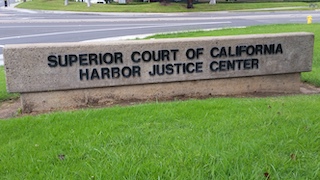 Newport Beach Courthouse
There are probably more than twenty motions that an experienced judge can list as regularly filed sentencing motions, but this article will cover only the following six.
Arbuckle motion. This is a motion by defendant to be sentenced by the same judge who accepted his or her guilty plea. People v. Arbuckle (1978) 22 Cal. 3d. 749. The circumstances for making such a motion are fairly common, but should be understood. The motion usually is appropriate when the complaint alleges only one or even two counts and the defendant has made the decision to plea "in the open." Pleading "in the open" means the judge sentences defendant, upon defendant's agreement to this. This option is usually chosen when defendant rejects the prosecutor's plea bargain and believes the judge, if asked to sentence defendant, will impose a sentence more lenient than what the prosecutor offers. A defendant opting to "plea in the open" should recognize that judges may feel uncomfortable under-cutting a prosecutor who is frequently in their courtroom or even the prosecutor assigned to the courtroom (the calendar DA).
Apprendi motion. This a motion to require the jury to return a finding as to any enhancement (other than prior convictions) or element of a crime which can be used to increase a defendant's sentence. Apprendi v. New Jersey (2000) 530 U.S. 466; See also Cunningham v. California (2007) 549 U.S. 270 (California's determinate sentencing law violates a defendant's Sixth Amendment and Fourteenth Amendment right to jury trial to the extent it permits a trial court to impose an upper term based on facts found by the court rather than by a jury beyond a reasonable doubt). Most judges are distinctly aware of this issue and do not need a written motion to read to give the jury this duty, but some judges may need the reminder.
Post-Sentencing Motion for Disproportionate Sentence. There are several such motions that address an unfair sentence, but a Dillon motion is most well-known. This motion asks the judge to reduce the sentence as being cruel or unusual punishment if it is grossly disproportionate to the offense for which it is imposed. People v. Dillon (1983) 34 Cal. 3d 441, 477-82. See also Ewing v. California (2003) 538 U.S. 11 (regarding constitutionality of a three- strikes sentence). As the reader may understand quite well, this is a tough motion to win because it is essentially asking the judge to concede his or her sentence was improper.
Motion for Modification of Probation. This is a motion to ask the judge to change the terms of probation because the terms of probation are not reasonably related to the defendant's criminal conduct. People v. Lent (1975) 15 Cal. 3d 481. This is a tough motion to win, as judges enjoy broad discretion in ordering terms of probation to further rehabilitation and reformation of the defendant, even when constitutional rights are impinged by the condition. Our website has several articles about just how broad this scope of discretion is.
Kellett motion. This is a motion to preclude punishment based on double jeopardy principles and Penal Code § 654, including based on prosecutions that are successive and then successive punishment. Often, we see one arrest that leads to two arraignments for different conduct. This type of prosecution raises "Kellett" issues. Kellett v. Superior Court (1966) 63 Cal. 2d 822.
Felony-murder special circumstances cases. A Green-Thompson motion is based on the felony-murder special circumstance being inapplicable to cases in which defendant intended to commit murder and only incidentally committed one of the specified felonies also charged. People v. Green (1980) 27 Cal.3d 1; People v. Thompson (1980) 27 Cal.3d 303. As the reader can surely understand, this type of motion would not apply to all murder cases with the felony murder rule applied, as the evidence may not support an argument that the other offenses were only incidentally committed.

For more information about sentencing issues, please click on the following articles:

Appeals Court Holds, in Ruling on a Romero Motion, That There Is No Automatic Dismissal for Strikes Arising from Same Act
Contact us.