Are a Stay Away Order & Residency Restriction OK in § 666?
Brief Synopsis: In a felony shoplifting case under Penal Code § 666 (defendant was a 290 registrant, so the case remained a felony despite Prop 47), a judge may impose a condition of probation that defendant stay away from all Target stores and Target parking lots without unconstitutionally impinging defendant's right to travel.

It is well-understood that judges have broad discretion "to impose . . . reasonable probation conditions" that are "fitting and proper for the rehabilitation and reformation of probationer." Penal Code § 1203.1(j).
This discretion, however, has limits.
People v. Lopez (
1998) 60 Cal.App.4th 615, 624. To be valid, a probation condition "must (1) . . . relate to the crime of which defendant was convicted, or (2) relate to conduct that is criminal, or (3) require or forbid conduct that is reasonably related to future criminality."
People v. Bauer
(1989) 211 Cal. App. 3d 937, 942.
The term of probation must also pass Constitutional muster. It may not be overly vague or overbroad.
In re J.H.
(2007) 158 Cal.App.4th 174, 183;
In re Shaun R.
(2010) 188 Cal.App.4th 1129, 1143.
It is against these standards that the case of Luther Darnell Stapleton, Jr., was reviewed for its probation conditions. In October, 2014, Stapleton, age 50, had been arrested for trying to steal less than $950 worth of items from a Target store in Riverside. As he was a convicted sex offender and because he had multiple prior theft convictions, his case was filed as a felony (not a misdemeanor under Prop 47) under Penal Code § 666. It was also worth noting that Stapleton had fourteen prior felony convictions.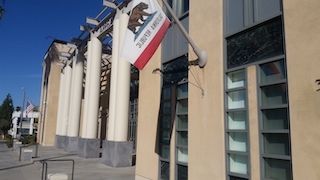 4th Appellate District Division 2 Riverside
Almost a year later, in September, 2015, he pled guilty to the petty theft with a prior charge and admitted he was required to register as a sex offender. The judge then sentenced him and placed him on thirty-six months of formal probation. Among the many terms and conditions, he was required to inform his probation officer of his place of residence, reside in a residence approved by his probation officer, give written notice to his probation officer 24 hours before changing his residence and not to move without approval of his probation officer. He was also prohibited from having direct or indirect contact with Target stores and Target parking lots. When sentenced, Stapleton accepted his terms of probation without objection.

A short time later, however, he filed an appeal, contesting the above two probation conditions were unconstitutionally overbroad, as they affected his constitutional right to travel.

The Fourth Appellate District, in People v. Luther Darnell Stapleton, Jr. (2017 DJDAR 2473), denied his appeal. The court noted from the outset that probation is a privilege and not a right, and adult probationers, in preference to incarceration, may validly consent to limitations upon their constitutional rights. People v. Olguin (2008) 25 Cal.4th 375, 379.

However, a probation condition may impinge upon a constitutional right otherwise enjoyed by the probationer must be carefully tailored and reasonably related to a compelling state interest in rehabilitation and reformation.

Such conditions must be sufficiently precise for the probationer to know what is required of him or her.and for the court to determine whether the condition has been violated. People v. Barajas (2011) 198 Cal.App. 4th 748, 753.

As to the residency restriction, the court noted that the condition is not meant to banish him from living where he pleases. Moreover, where he lives may directly affect his rehabilitation, considering his history with issues of mental health and substance abuse (methamphetamines).

As to the Target stay-away term, Stapleton argued that it affected his right to travel, too. Stapleton claimed that in many instances, Target shares a parking lot with other stores, making it difficult to delineate which area of a parking lot is owned by Target and which to another store. The appellate court rejected these arguments, as they were the exact same ones rejected in People v. Moran (2016) 1 Cal.5th 398, a case Greg Hill & Associates summarized in an earlier article (Moran's store of choice was Home Depots).

We find this opinion a good example of how far a court can legally go in setting terms of probation that may seem extreme, but are upheld on appeal.
The citation for the Fourth Appellate District Court ruling discussed above is People v. Luther Darnell Stapleton, Jr. (4th App. Dist., 2017) 9 Cal.App.5th 989, 215 Cal. Rptr. 3d 534.
For more information about the discretion a judge has in ordering probation conditions, please click on the following articles:
Contact us.