Is a Juvenile Probation Condition of No Electronics Proper?
If the reader of this article has teenagers or knows a teenager, it is likely that the teenager uses his or her cell phone quite a bit. Many adults do, too.
A cell phone, or a computer, or laptop, or tablet, can be used to research how to commit a crime. There is a wealth of information on exactly what to do. This is well-known by judges and probation officers, especially when defendants explain how they used the Internet to plan a crime or buy weapons.
The Gist of this Article: A probation condition of no electronics for a juvenile is overly broad and narrowly tailored or reasonably related to a compelling state interest in reformation and rehabilitation.

When a judge sets the terms of probation for a juvenile, the judge has broad discretion to impose conditions on a juvenile that would be unconstitutional if imposed on an adult.
In re Victor L.
(2010) 182 Cal. App. 4th 902, 910. However, the juvenile court judge's discretion is not unlimited. The court still may not impose conditions that are unconstitutionally over broad.
In re Sheena K.
(2007) 40 Cal. 4th 875, 890.
The following case involving M.F., a juvenile, in San Diego County, put these general guidelines to the test.
In May, 2015, police detained M.F. at his high school after he gave one of his teachers a letter telling her that she "should be worried about getting shot." The letter also warned her that she "did not know what her students were capable of or what they had at home."
Police searched M.F.'s backpack, which contained detailed plans of what he intended to do, who he wanted to kill and how he wanted to torture various individuals. Police searched his house and found 20 pounds of live ammunition, various guns, a knife, black ski masks and a tactical helmet.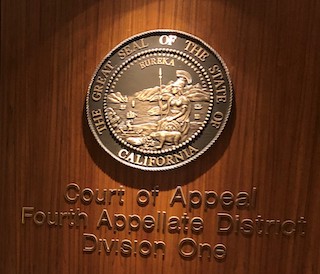 Fourth Appellate District Court of Appeal Division 1 San Diego
M.F. was arrested and charged with making criminal threats (Penal Code § 422), threatening a public employee (Penal Code § 71) and possessing ammunition (Penal Code § 29650). He then admitted the allegations in the petition (in adult court, this is similar to entering a "no contest" or "guilty" plea).
The judge committed M.F. to the Youthful Offender Unit (YOU) for up to 480 days. It also ordered that upon his release "the minor shall not knowingly possess an electronic device, such as a computer, electronic notepad, paging device or cell phone, except in the course of lawful employment or for a school-authorized project."
M.F. appealed many issues that arose and were adjudicated during the case, but this article will only address M.F.'s argument to the Fourth Appellate District that the probation condition described above is unconstitutionally over broad because it implicated his freedom to communicate and gather information.
In
People v. M. F.
(2016 DJDAR 294), the Fourth Appellate District began its review by noting that because juveniles require more guidance than adults do, their constitutional rights are more limited and, thus, the juvenile court may impose probation conditions on a juvenile that would be unconstitutional if imposed on an adult.
In re Victor L., supra
.
However, the probation condition must be narrowly tailored and reasonably related to the compelling state interest in reformation and rehabilitation.
Sheena K., supra
, at 890.
The appellate court then noted that the right to free speech is a fundamental constitutionally protected right.
Balboa Island Village, Inn v. Lemen
(2007) 40 Cal. 4th 1141, 1147. Laws that attempt to regulate expression are carefully scrutinized.
Courts have generally upheld the constitutionality of probation conditions prohibiting the use of electronic devices as narrowly tailored when they are closely related to the circumstances of an adult offender's crime. See
People v. Pirali
(2013) 217 Cal. App. 4th 1341 at 1343.
In M.F.'s case, he made a criminal threat and possessed ammunition. Evidence established that he routinely used the Internet to obtain information about guns and how to hide them. Thus, the condition appeared related to the circumstances of the crime and appropriately tailored to his rehabilitation.
However, the probation condition also prohibited M.F. from using a cell phone in his home for any purpose other than education or employment. In that regard the condition was over broad and not closely connected to the circumstances of the crime.
Consequently, the case was remanded to the juvenile court to modify the condition to identify more precisely the type of electronic devices it intended to prohibit.
For more information about juvenile probation issues, please click on the following articles:
A Judge May Require That a Juvenile Be Tracked by a GPS Monitoring Device, Even If the Juvenile Is Only Accused of Being Truant from School
Contact us.