Legal for a Truant Juvenile to Be Tracked by a GPS Device?
There is no doubt that a GPS monitoring device can be a proper method for deterring convicted sex offenders, as well as certain probationers and parolees from violating restrictions on their whereabouts based on safety concerns or to keep the person at home if on house arrest the use of such device can help ensure general public safety.
Summary: A Judge May Require That a Juvenile Be Tracked by a GPS Monitoring Device, Even if the Juvenile Is Only Accused of Being Truant from School.

Would such a device be appropriate for a juvenile who is a "habitual truant?" Is being truant a public safety issue? Is public safety the only criteria that a judge can consider in evaluating whether to order imposition of a GPS device?
The case of
People v. A.M.
, a juvenile, addressed this seemingly easy question.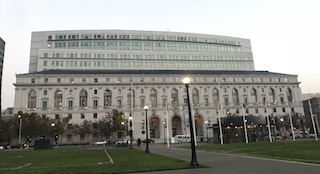 Court of Appeal First Appellate District San Francisco
In Alameda County in March of 2011, the Alameda County District Attorney filed a juvenile wardship petition against A.M., alleging she was a habitual truant from school. The petition was filed as a wardship petition under Welfare and Institutions Code § 601. A.M. admitted the allegations in the petition and was declared a ward of the court, yet the judge placed her in the custody of the probation department in her mother's home.
The judge ordered the placement in her mom's home "under the standard conditions of probation." It was also ordered that she attend school every day, report to and cooperate with her probation officer, maintain a curfew of no later than 6:00 p.m., not stay out overnight without permission, and not own or possess any narcotics or drugs.
Six weeks later, the probation department prepared a probation officer's report for the judge stating that since being placed on probation, A.M. had missed thirteen periods of class, been tardy once, had been suspended by the school for twelve days due to truancy and earlier that month had stayed away from home overnight without her mother's permission.
In response, at a hearing two days later, the judge ordered that A.M. wear a GPS monitor at all times. About two weeks after the monitor was placed on A.M.'s ankle, A.M. was taken into custody because she went away from the family home twice without her mother's permission.
Two days later, the juvenile court judge released A.M. and ordered her to stay at home when not in school.
Three months later, in November, 2011, the court conducted a progress hearing on the case. The probation officer report stated that since school had started about two months earlier, A.M. had missed 33 periods of school, had been tardy 29 times, and had been suspended once after drug paraphernalia had been found on the ground near her. The GPS monitoring device showed she had left the county and gone to an amusement park, returning close to midnight. The court remanded her for four days.
Over the next six months, the pattern continued. The GPS monitoring device showed she once was out of her house until 3:32 a.m. She also missed class regularly and was truant, but less so. The judge remanded her for 7 days.
A.M. continued to accrue absences and missed period, as well as tardies, but less so. However, her GPS monitoring showed no unauthorized movements, except once being at a park until 2:39 a.m. The judge then remanded her for five days.
Finally, A.M. filed an objection to the GPS monitoring, arguing that it was an invalid condition of a truancy wardship. In response, the court removed the GPS monitoring. However, there was still a hearing on the objection to the GPS monitoring. At the hearing, the judge overruled the objection and A.M. appealed to the First Appellate District.
The First Appellate District, in
People v. A.M.
(2014 DJDAR 14600), sustained the objection, meaning the GPS condition was proper. The appellate court noted that under Welfare and Institutions Code § 727(a)(1), if a minor is a ward of the court under section 601 or 602, "the court may make any reasonable orders for the care, supervision, conduct, maintenance and support of the minor."
In response to A.M.'s argument that GPS monitoring was inconsistent with the purpose of section 601, which is to promote school attendance, the appellate court noted that a nighttime curfew is consistent with the purpose of encouraging truants to attend school. The court also noted that the GPS use was not a Fourth Amendment search and seizure violation, reasoning that when a state asserts jurisdiction over a minor, it stands in the shoes of the parents and that it can impose probation conditions that infringe upon constitutional rights if the conditions are tailored to meet the needs of the minor.
In re Walter P.
(2009) 170 Cal.App.4th 95, 100.
In short, A.M.'s appeal failed, but she was already free of the GPS by the time her appeal lost, so its effect on her was irrelevant, but her argument is instructive for others who may underestimate the power of a judge in a wardship proceeding, even if just for truancy.
For more information about the issues in this case, click on the following articles:
Contact us.