Juvenile Probation & Electronics Search Conditions – Legal?
In a Nutshell: A probation condition that is overly broad and unrelated to preventing the crime at issue from reoccurring is illegal. Such conditions are common in juvenile cases with electronic devices such as cell phone and laptop computers.

In our experience in juvenile court, the emphasis toward rehabilitation can lead to some conditions of own recognizance release and probation that may be illegal, but are consented to because the juvenile is simply so happy to return home. Moreover, juveniles are often unaware of their constitutional rights and their attorneys want the juvenile to "earn a dismissal" so much that they dare not challenge conditions.
This dynamic was certainly present in the following case, but the juvenile's attorney challenged the probation condition.
On June 11, 2014, in Alameda County, seventeen year old Patrick F. broke into the home of his next-door neighbor. His cousin, an adult on parole, helped him. Patrick stole $87 in rolled coins and a gold ring. When he was arrested, Patrick fully admitted committing the offense.
He was charged in a juvenile wardship petition with committing first degree residential burglary (Penal Code § 459). During an interview with a probation officer who prepared a report for the judge, Patrick explained that he decided to steal from his neighbor because he wanted marijuana and he did not want to ask his parents for money he intended to spend on drugs. He admitted to smoking marijuana three times a day.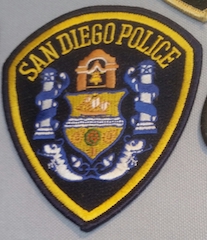 San Diego PD Patch
Through plea bargaining, Patrick entered an admission to an allegation of second degree burglary. The sentencing judge placed him on probation with a condition that he reside with his family. The conditions of probation included a requirement that he agree to a search of any "vehicle, room or property [and] any electronics and passwords under your control" by a probation officer or police officer with or without a search warrant at any time of day or night.
Patrick's attorney objected to Patrick's cell phone and electronics being included in a search term, arguing there was no nexus between the burglary and such items. The judge overruled the objection, saying it was important for his supervision because the juvenile admitted to smoking marijuana three times per day "and I find from practice, that minors who are particularly using drugs or involved in offenses will very often post details about any offenses that they have or even photographs of them with drugs or paraphernalia or themselves smoking marijuana with friends."
Patrick F. then took the matter up to the First Appellate District, arguing that the search condition had no connection to the underlying offense, relates to conduct that is not illegal (the search condition is overbroad) and was not reasonably related to deterring future criminal conduct. He cited as authority
People v. Lent
(1975) 15 Cal.3d 481 for the proposition that the search condition of personal social media website information must be reasonable in scope.
He further cited to
In re
Erica R.
(2015) 240 Cal.App.4th 907, 910-911, wherein a similar probation condition was ruled invalid in a case involving possession of Ecstasy. He also cited to
In re
Malik J.
(2015) 240 Cal.App.4th 896, 899-900, wherein a similar search condition was ruled invalid even in a case where the juvenile committed three robberies, one involved using an iPhone, and possession of marijuana.
The First Appellate District then considered I
n re Ricardo P
. (2015) 241 Cal.App.4th 676 [2015 WL 6387774], wherein the First District considered such an electronics password condition and found it reasonable, as the defendant in
Ricardo P
. admitted drug use and committed two counts of residential burglary.
Given this authority, the court in
Patrick F
., at 2015 DJDAR 12330, then ruled that the search conditions for Patrick F. were indeed overbroad and unreasonable. However, it did not simply strike the condition. Instead, it ordered that the trial court modify it to prevent the probation officer or police officer from accessing data that was not reasonably likely to reveal whether defendant was using drugs.
While this opinion certainly sounds reasonable, we at Greg Hill & Associates anticipate that following the appellate court's ruling will be very difficult for a trial court judge to follow. Instead, what will most likely happen is that the judge will pressure the parties to stipulate to search conditions that defendant will regard as overbroad again, but less so.
The citation for the First Appellate District Court ruling discussed above is People v. Patrick F. (In re Patrick F.) (1st App. Dist. 2015) 242 Cal.App.4th 104.
For more information about the issues in this case, please click on the following articles:
Probation Conditions Upheld That Include Giving Probation One's Passwords to Social Media Websites and to All Electronic Devices
Court Rules That, In Drug Case, a Probation Condition is Proper That Someone Not Associate With Others He Has Reason to Know are Drug Users
Contact us.