Can a Probation Stay Away Order Be from All CA Home Depots?
Brief Synopsis: California Supreme Court rules that a judge can prohibit a probationer during probation from being in any Home Depot or any parking lot adjacent to any Home Depot in the State of California after the probationer entered a plea bargain to shoplifting at Home Depot.

Mr. Jeffery Michael Moran entered a Home Depot in San Jose and tried to shoplift $128 in items from that store. However, he was caught and arrested.
He later pleaded no contest to second degree burglary and admitted having a prior prison term for vehicle theft (Penal Code § 459, 667.5(b)). His terms of probation included one year in county jail and a probation condition that he not "go on the premises, parking lot adjacent to any store of Home Depot in the State of California." At the time, Moran did not object to those conditions.
After being sentenced, Moran appealed the probation condition as overly broad and unconstitutionally interfering with his right of travel. He argued that Home Depot has 232 stores in California, including 14 such stores within 20 miles of his home address. His big argument was when considered with those 14 stores' respective parking lots, the stay away condition sweeps too broadly.
The Courts of Appeal agreed with Moran and the People appealed to the California Supreme Court. After the Court of Appeals granted Moran's appeal, Moran went to court and asked to convert the remainder of his time on probation to jail to end his probation. He then served time and his probation ended.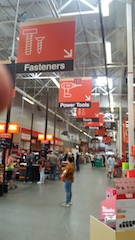 Home Depot
The Supreme Court knew this, but decided to exercise its inherent power to retain the case for argument and opinion, "to settle and interpretive issue that has troubled lower courts." People v. Anzalone (1999) 19 Cal. 4th 1074, 1076.
On appeal, the People argued that a judge may place a defendant on probation subject to a condition that he or she stay away from the property of a victim without violating the constitutionally guaranteed right to travel.
The Supreme Court first noted that courts deem probation "an act of clemency in lieu of punishment and its primary purpose is rehabilitative in nature."
People v. Howard
(1997) 16 Cal. 4th 1081, 1093. "It is a privilege, not a right."
People v. Bravo
(1987) 43 Cal. 3d 600, 608.
In the course of plea bargaining, district attorneys (acting on behalf of the state) and judges in sentencing are authorized to impose conditions of probation that are "fitting" and "proper to the end that justice may be done." Generally speaking, a sentencing court has broad discretion to impose conditions "to foster rehabilitation and to protect public safety pursuant to Penal Code § 1203.1."
Yet such discretion is limited. A condition of probation "must serve a purpose" and conditions" regulating non-criminal conduct must be reasonably related to the crime of which defendant was convicted or to deter future criminality."
People v. Carbajal
(1995) 10 Cal. 4th 1114, 1121. The condition of probation cannot be arbitrary or capricious, or wholly unreasonable.
Under
People v. Lent
(1975) 15 Cal. 3d 481, a condition of probation will not be invalid unless it "(1) has no relationship to the crime of which defendant was convicted, (2) relates to conduct which is not itself criminal, and (3) requires or forbids conduct which is reasonably related to future criminality."
In applying this test to the conditions of Moran's prior probation, the Supreme Court found the trial court did not abuse its discretion. The Supreme Court noted that Moran was not barred from all home improvement, hardware, or big box stores. Curiously, the Supreme Court also said the condition was valid for "helping him avoid any temptation of repeating his socially undesirable behavior."
Lent, supra,
at 486.
The court looked then to other prior rulings wherein allegedly overbroad conditions were upheld as valid. In
People v. Lopez
(1986) 66 Cal. App. 615, defendant was convicted of taking or driving a vehicle that was not his own. The trial court ruled that defendant avoid gang activities, known gang symbols, and persons known to be gang members, even though his crime was not gang related, although defendant admitted he was a gang member and had gang tattoos.
The Supreme Court thus ruled the statewide scope of the probation condition for Moran was valid.
We find this ruling a bit too much. There was no showing that Moran targeted Home Depots specifically, i.e. due to their multiple exits or their layout. However, we agree that this condition did not violate Moran's right to travel, as he did not provide specific examples of how this right was violated.
The citation for the California Supreme Court ruling discussed above is People v. Jeffery Michael Moran (2016) 1 Cal.5th 398.

For more information about probation conditions, please click on the following articles:
Court Rules That, In Drug Case, a Probation Condition Is Proper That Someone Not Associate with Others He Has Reason to Know Are Drug Users
Contact us.