Shoplifting, Hawthorne Costco, Plea to Trespass, PC § 602(m)
Our client, age 38, was just finishing his application to become a certified court interpreter for the Spanish language.
He went to the Hawthorne Costco and bought a few items. He saw that Costco was selling a flea and tick remover for his dog, but it was too expensive. It cost almost $70 for one package. The client then decided, however, to put it in his jacket and walk out with it. As he was doing so, he decided to take two such packages.
In a Nutshell: Client stopped for shoplifting two $70 flea and tick remover packages for his dog at the Hawthorne Costco. Client taken to Hawthorne Police Department. Case resolved for a charge of trespassing, Penal Code § 602(m), not shoplifting, a crime of dishonesty.

Costco's loss prevention department observed our client doing this and watched him as he was proceeding through the check-out area. They saw that he paid for certain items, but not the flea and tick remover packages in his jacket.
Just after our client walked out of the store, not even getting to the parking lot, he was stopped by loss prevention officers. He had no prior offenses, so he was quite anxious about what would happen to him. Would he go to jail immediately? What if he had enough money on his ATM card – would he be able to pay for the item and let go?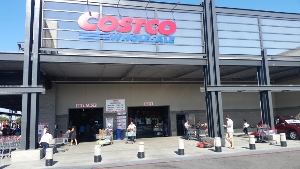 Loss prevention escorted him up to their office in the store and inventoried the items he took. They characterized our client as "uncooperative" with them and so the Hawthorne Police Department was called, who arrived and took our client to the Hawthorne City Jail.
After being booked and released, the client returned home and had to share the news of his whereabouts with him wife, which was tremendously embarrassing.
As many people do nowadays, he then went online to find out what was going to happen to him. He found the Greg Hill & Associates website, among others, and took our advice to enroll in and complete an online shoplifting prevention course. He found a sixteen-hour course through the American Probation and Parole Association, which he completed in two days.
Two weeks later, he called our office and spoke with Greg, explaining what had happened at Costco and revealing that he followed the cue of other clients (explained in our case summaries) and enrolled in and completed an online theft prevention course. The client further explained his licensing issues in becoming a certified court interpreter and expressed concern that he might be denied such a license with a conviction for a crime of dishonesty.
Greg explained how it might be possible to persuade the prosecutor to amend the complaint to allege an offense that is not a crime of dishonesty, such as trespassing (Penal Code § 602(m)) or disturbing the peace (Penal Code § 415(2)), but that this might be tough in this case because the value of the items taken was relatively high.
Nonetheless, the client retained Greg Hill & Associates and Greg soon thereafter went to court for the client's arraignment in the Inglewood Superior Court. The handling Hawthorne City prosecutor and Greg discussed the case facts and Greg showed the prosecutor our client's completion certificate from the sixteen-hour class he completed.
The initial offer for the client, before the prosecutor spoke with Greg, involved a plea to Penal Code § 484(a) and two years of summary probation with ten days (80 hours) of community labor, plus payment of the Hawthorne booking fee ($200). Greg and the prosecutor then discussed the sixteen-hour our client took and his career plans as a certified court interpreter.
The prosecutor then agreed, upon Greg's suggestion, to amend the complaint to allege a violation of Penal Code § 602(m), but he would not agree to judicial diversion if Greg were to seek that from the judge on the amended charge. In this particular courtroom, the judge's practice was to deny judicial diversion if the prosecutor opposed it.
Nonetheless, our client was pleased to resolve the case for a charge that did not involve a crime of dishonesty and he could seek early termination of probation in one year, as well as expungement once probation was terminated. He was happy to have retained Greg Hill & Associates.
For more information about shoplifting issues, please click on the following articles:
Contact us.