Shoplifting at Cal State Fullerton Student Store, No File
Our client was nineteen years old and a sophomore at Cal State Fullerton, studying probability and statistics.
One afternoon, at about 2:30 p.m., he walked into the Cal State Fullerton Student Store, called Titan Shops, which is two stories. He entered on the bottom floor and milled about before ascending to the second floor by the escalator. While walking about on the upper level, he picked up a small notebook and colored pencils for sale, worth a total of about $15, without paying for these items. He walked out of the store, only to walk a few feet before being stopped by store employees.
He was holding the items in his hands. He made no attempt to hide the items in his pockets or place them in his backpack.
Store employees escorted him back in the store to a back office, where he gave back the items and sat down. The employee then filled out a suspected theft form concerning our client and called the Cal State Fullerton Campus Police.
The Campus Police then drove our client to their office, where they cited and released him on suspicion of violating California Penal Code § 459.5 ("Shoplifting"), a misdemeanor. He was not booked (fingerprinted and photographed, with entry of his information into California's database to permit searching if any warrants were outstanding for him). The police told him that the Fullerton City Attorney would be notified of the incident and then contact him.
The client was then allowed to walk out back to his dorm. Once there, he immediately telephoned his mom to ask her what would happen to him. Would he get expelled from the school? Would he lose his student loans? Would he go to jail? Would his arrest be on his permanent record?
The mom discussed the case with her son and then called Greg Hill & Associates. When she spoke to Greg, she reported that her son had just been released from the police station fifteen minutes earlier. She described what had happened and asked Greg many of the same questions that her son had asked her. She explained that her son walked out without realizing he was holding the items in his hands as he had been so focused on his classes that he was thinking about his studies instead of paying for the items.
Greg did his best to answer each question, but was candid that a lot would depend upon how the Fullerton City Attorney decided to proceed because until he or she decided to file a case or refer the matter to some form of pre-filing diversion, a criminal history might be avoided.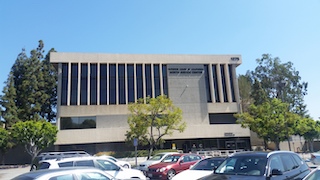 Fullerton Court
Greg then explained how he recommended that the client enroll in and complete an online shoplifting prevention course as soon as possible through the National Association of Shoplifting Prevention, Logan Social Services or Tom Wilson Counselling and to then provide Greg with proof of having completed one such course as soon as possible.
Greg also asked that the client provide him with proof of being enrolled at Cal State Fullerton and an updated resume showing his work experience from last summer.
Greg explained that he would then prepare a letter to the Fullerton City Attorney, explaining that the client did not intend to steal the $15 in items, but had been thinking about his studies and then just walked out of the Student Store without remembering to pay. The fact that he was openly holding the items, rather than attempting to hide them before walking out seemed to corroborate his last of criminal intent.
The letter enclosed the client's proof of enrollment at Cal State Fullerton and his proof of completion of an online shoplifting prevention course. Most importantly, the letter suggested that the matter be resolved either through a no-file, or an office hearing, or at most, a pre-filing diversion program as the Fullerton Court had wherein our client would be referred to an anti-recidivism course at Santa Ana City College and perhaps have to perform 20 or 40 hours of community service to earn a "no file."
The client then attended the online shoplifting prevention class, e-mailing Greg the certificate of completion, as well as his resume and his proof of enrollment at Cal State Fullerton.
Greg then prepare the letter as promised and mailed it to the Fullerton City Attorney's Office, who responded by setting an arraignment date. While some might consider this a rejection of the letter's suggestions, Greg understood it might not mean anything.
Indeed, on the date of the arraignment, Greg appeared at the Fullerton Superior Court for the arraignment, only to be advised that the case was a "no file." The client was very happy with this outcome.

For more information about shoplifting, a no file and diversion, please click on the following articles: