I Went to Court. No Case Was Filed Against Me. Celebrate?
It is not uncommon, especially in certain types of cases like a DUI when the only evidence of one's blood alcohol content is from blood analysis, for the prosecutor not to file the case by the date of the arraignment. The reason is because the blood test has not been finished. We also find this is common in DUI's when the CHP makes the traffic stop and in certain theft cases and sex cases.
Does this failure to file the case by the date of the arraignment mean one can celebrate? The answer is no, but it may be a good sign. It can mean that the prosecutor has not made a decision on whether to file the case, or, whether to file it as a misdemeanor or a felony.
In a Nutshell: If you go to court, but no case is filed quite yet, don't conclude that the police or the prosecutor decided to give you a break and not file at all. The case may be filed later, but still within the statute of limitations. If no case is filed after the statute of limitations expires, then one can celebrate and breath a sigh of relief.

When our office goes to court for the client who may be out on bail and no case is filed, we make sure to get a Proof of Appearance from the court's criminal clerk (it is usually half the size of a standard 8 and a half-inch by eleven inch piece of paper and has a court date stamp on it) and give it to the client so he or she can show this to the bail bondsman, if demanded.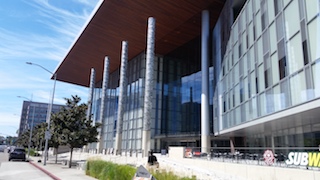 Long Beach Courthouse
When we return to the office, we also send out a letter to the arresting agency, notifying them that our client appeared in court as directed, but no case was filed. We then enclose the Proof of Appearance, as well as a self-addressed, stamped envelope to our client at an address he or she receives mail, as well as a similar, self-addressed, stamped envelope to our office, so the arresting agency can give notice to our client and us when a case is filed.
The obvious reason we do this is so that our office and our client knows when to appear in court and to avoid having a bench warrant issued for not appearing.
The less-obvious reason we do this is so that the police do not play games by setting an arraignment date that our office and the client never knows about and misses, only to learn about it when it is too late and a bench warrant is pending.
We send a similar letter to the filing prosecutor with the same enclosed Proof of Appearance and two self-addressed envelopes as described above. The purpose is similar, but less transparent. If our client is arrested and put in custody on a bench warrant for a failure to appear at his arraignment, we want the judge to know that the prosecutor is to blame, not our client or us, because the prosecutor was given the request for notice and even two self-addressed, stamped envelopes to make it easy for him or her to give notice. We hope that if our client is put in custody, his bail will be dropped to zero because of the sandbagging engaged in by the prosecutor.
The client is always keen to ask whether there is a deadline for the prosecutor to file a case. The answer is there is and it depends upon whether the case is a misdemeanor or a felony. Academically speaking, a misdemeanor must be filed within one year of the date of the crime and if the case is a felony, most felonies must be filed within three years (there are certain exceptions, i.e. in sex cases it can be up to nine years and in murder cases, there is no statute of limitations).
Practically speaking, however, most cases are filed much sooner, usually because the prosecuting agency must file within sixty or ninety days of receiving the police report.
When no criminal case is filed by the date of the arraignment, our office will calendar a call back schedule for our staff to discretely call the criminal clerk's office about once per month to inquire if a case has been filed against our client. This type of phone call can cause concern with our client, who may think that our call will remind the district attorney to file the case before it is too late, but who would otherwise forget about it. This situation, however, is not what happens, as we do not speak directly with the filing district attorney. Our clerk speaks to their clerk only.
However, as several of our clients will attest, the prosecutor can file the case literally on the very last day before the statute of limitations expires. This means on a misdemeanor DUI that it can be filed exactly one year after the date of the incident. When this happens, our client and our office may not learn of this filing until several weeks after the one-year deadline is reached.
For more information about being in court in general, click on the following articles:
Contact us.