Secretly Recorded Admission in a Phone Call – Useable?
It is quite common for our clients to excitedly tell us they recorded a conversation with another person and they want us to play it in court for the jury or judge to hear to impeach a witness or victim, or share it with the police immediately. The client may comment, "He's so stupid! He confessed to everything and I recorded it!"
Summary in 50 Words or Less: A secretly recorded phone conversation with another person is usually inadmissible and moreover, illegal. There are certain exceptions to these generalities, as this article discusses.

We then try to respond without making the client too disappointed that such an audience may not be possible. Moreover, we must carefully explain that convincing the police, prosecutor or judge that he or she is innocent is best accomplished without committing another crime and even eagerly admitting to it.
We explain that the problem with such a recording is that one has a reasonable and objective expectation of privacy or confidentiality in one's phone conversation with another. See Flanagan v. Flanagan (2002) 27 Cal.4th 766, 41 P.3d 575, 117 Cal.Rptr.2d 574. If one records a conversation between two other people, it can be illegal eavesdropping or illegal wiretapping, depending upon the method of accessing the conversation.

Recording such a conversation without the other's consent is a crime itself, unless one is a utility company or a governmental entity operating with permission (Penal Code §§ 632(e), 633). Another exception may be that the conversation is taking place in a public place wherein others can overhear at least part of the conversation, so there is no expectation of privacy or confidentiality in the content of the conversation.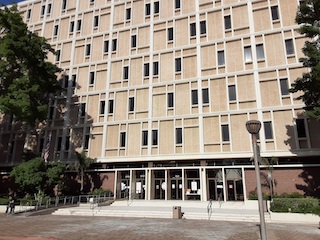 Pomona Court
Moreover, Penal Code § 632, which makes such a recording a crime, provides that the recording itself shall not be admissible in any judicial, administrative, legislative or other proceeding, (Penal Code § 632(d)), except when the recording itself or the content itself is evidence of a new crime, i.e., making annoying phone calls (Penal Code § 653m), criminal threats (Penal Code § 422), extortion (Penal Code §§ 518, 522, 523), bribery or federal forms of RICO violations. The recording also may be evidence of violation of a civil or criminal restraining order, for example in a family law or domestic violence context. It is thus important to review the content of the audio recording carefully for such evidence that may "legalize" the recording.
This prohibition on admission of such recordings extends to secret videotaping of others. People v. Michael Francis Gibbons (4th App. Dist., 1989) 215 Cal.App.3d 1204 (videotaping acts of sexual intercourse with others when consent was a defense).
A violation of Penal Code § 632, the California Invasion of Privacy Act, can be punished as a misdemeanor with a fine up to $2,500 (plus penalties and assessments) and six months in county jail. If charged as a felony, the fine can be up to $10,000 and the sentence is one year in state prison.
In addition, the "injured party" may sue civilly for a violation of this statute and, according to Penal Code § 637.2, may recover the greater of $5,000 in damages or three times the actual damages. Such a lawsuit is brought under California Code of Civil Procedure § 525.

However, in Frio v Superior Court (Ierace) (2d App. Dist., 1988) 203 Cal.App.3d 1480, 250 Cal. Rptr. 819, the Second Appellate District Court of Appeal held that any testifying witness cannot use the exclusionary provisions of Penal Code Section 632 as a shield for perjury. This suggests that such illegal recordings could then be admissible.
Indeed, six years later, in People v James Edward Crow (4th App. Dist., 1994) 28 Cal.App.4th 440, at 452, the Fourth Appellate District Court of Appeal court commented that "[e]vidence of confidential conversations obtained by eavesdropping or recording in violation of Penal Code Section 632 is generally inadmissible in any proceeding. . . but can be used to impeach inconsistent testimony by those seeking to exclude the evidence . . ."
This means one must patiently wait until trial to introduce such evidence once the witness utters a lie while under oath. This can be difficult for even the most patient clients.
For more information about phone conversation issues, please click on the following articles: