Be Very Careful What You Say Over the Phone from Jail!
Summary in 45 Words or Less: Be careful what you say over the phone from jail! The conversations using all phones in jail are recorded and reviewed only if the prosecutor believes it is necessary. In the following case, the prosecutor reviewed the recordings and the conversations were devastating.

In 2013, in Los Angeles County, three women were involved in a series of four fights in one day at an apartment building at the corner of West Adams and Montclair Street.
One of the women's boyfriend was named Shawn Jones. He was identified at trial as a member of the Black P-Stone criminal street gang. He was involved in all four fights, trying to prevent the women from hurting each other.
However, during the fourth fight, Enoc Garcia intervened to pull Jones away from the fight. Garcia wanted to let the women fight. As Jones was moving away from the fight, Jermaine King intervened to punch Jones.
Garcia saw King do this and so Garcia shot King in his back. The bullets went through him and hit two bystanders.
Jones was arrested immediately, but Garcia got away at first. While Jones was in jail, he called Garcia multiple times. The two referred to each other as "Blood," and referenced their mutual membership in the Black P Stones. Garcia was then later found and arrested.
Both Jones and Garcia faced prosecution in Downtown Los Angeles Superior Court, before Judge Dennis Landin. Both faced charges of assault with a firearm. Both defendants were also charged with a criminal street gang enhancement under Penal Code § 186.22(b).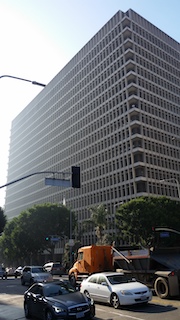 Clara Shortridge Foltz Courthouse
Section 186.22(b)(1) allows enhanced punishment for any person who is convicted of a felony committed for the benefit of, at the direction of, or in association with any criminal street gang, with the specific intent to promote, further, or assist in any criminal conduct by gang members.

A "criminal street gang" is defined as "any ongoing organization, association, or group of three or more persons, whether formal or informal, having one of its primary activities the commission of one or more of [certain enumerated] criminal acts; . . . having a common name or common identifying sign or symbol, and whose members individually, or collectively engage in or have engaged in a pattern of criminal gang activity."

A "pattern of criminal gang activity" means "the commission of . . . or conviction of two or more of [certain enumerated offenses]" that "were committed on separate occasions, or by two or more persons." Penal Code § 186.22(e).

At trial, both sides had gang experts testify. The prosecution gang expert testified that Black P Stones members would wear red clothing, which would include Anaheim Angels attire. They would also wear Toronto Blue Jays attire, despite the color associated with the Crip gang. The expert also described two Black P Stones subsets called the Jungle Boys and the Bittys.

The officers went on to testify that Jones was a member of the Jungle Boys gang subset and Garcia was a member of the Bittys.

The jury then convicted both Jones and Garcia and found the gang enhancement to be true for both defendants.

Garcia appealed the jury's gang enhancement as untrue and not supported by sufficient evidence. Garcia argued that the Jungle Boys and the Bitty were separate gangs and thus, Jones and Garcia could not be acting together as members of the same gang.

In People v. Enoc M. Garcia (2017 DJDAR 2055), the Second Appellate District denied Garcia's appeal. The appellate court found that the experts sufficiently testified that the Bittys and Jungle Boys self-identified as part of the Black P Stones. Moreover, when Garcia and Jones discussed the case with Jones in custody, both acknowledged their mutual membership in the Black P Stones.

The jury's gang enhancement finding was thus affirmed. We find this ruling and the appeal is significant for showing how jailhouse phone calls must be done carefully, as here, it united both defendants in one gang and undermined Garcia's appeal.

The citation for the Second Appellate District Court ruling discussed above is People v. Enoc M. Garcia (2d. App. Dist., 2017) 9 Cal.App.5th 364, 216 Cal. Rptr. 3d 122.
For more information about being in jail, please click on the following articles:
Contact us.