Must I Still Go to Jail or Prison If I Am Disabled?
It is quite common for our clients who face any jail time or a prison sentence to bring up a disability they may have to see if the prosecutor would modify the plea bargain to remove custody from the plea bargain. Sometimes this is done because of well-publicized news reports of deplorable conditions in our county jails and state prisons. Other times, it is brought to our attention in a clumsy attempt at garnering sympathy from the prosecutor or with the sincere, but mistaken, belief that jail or prison doctors cannot possibly treat diabetes or asthma.
What One Should Learn from This Article: Jails and prisons have some of the most qualified and experienced doctors available, so having a medical disability is unlikely to excuse one from jail or prison time. Nonetheless, it is wise for a defense attorney to advise the prosecutor and sometime even the judge of this condition despite an expectation that no improvement in the plea bargain or sentence will result.
We have had clients suggest removing jail for them is required of the prosecutor under the American with Disabilities Act, but this is not so. We have had clients claim they will die if sent to jail because of their diabetes, their ADHD, their lactose intolerance, their swallowing disorder, their bipolar condition, their alcoholism and even, you might be surprised, because they may not be able to smoke their medically recommended marijuana.
As an aside, it is smart for a defense attorney to consider if the facts of the crime make such a condition seem unlikely. For example, if the client claims to be nearly paralyzed by arthritis or a heart condition, but the facts of the case involve a video of the client being chased by police on foot and then fighting for a long time with police, it may hurt the client's credibility to claim such a disability.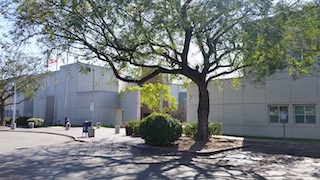 Lynnwood Jail
With each client who seeks to avoid jail or prison due to a disability, we first request documentation from a medical professional. The next step is to informally present this to the prosecutor to indeed attempt to modify the plea bargain as the client seeks, even if we are not optimistic that the prosecutor will offer a better deal. After all, in certain situations, modifying the plea bargain is possible if the prosecution can document their file, especially in more minor crimes, although the new terms of the plea bargain may be quite tough.
More likely, however, is a somewhat sarcastic response by the prosecutor that all county jails and state prisons have excellent hospitals that the client would be ordered to in lieu of jail, but that the client may end up serving significantly more time in the jail hospital than in the regular population of the jail.
It is at this point when we tell our clients about this that they back off from this issue.
Nevertheless, it is reassuring to know that the Americans with Disabilities Act (42 U.S.C. § 12102) does apply to such facilities. This means that a prisoner has the right to have reasonable accommodation for a disability defined at § 12102. If a reasonable accommodation is denied, the prisoner is entitled to file a grievance to be heard by a parole board. 15 California Code of Regulations, § 2251.6; 15 Cal. Code Regs § 2251.7.
If a client is going to federal prison, § 504 of the Rehabilitation Act applies for reasonable accommodation for those prisoners with disabilities.
If a client has a mental disability that is significant, county jails and state prisons are especially sensitive to this. In fact, many prisoners do suffer from some form of mental disability, but to varying degrees. When the defendant is recognized as being a candidate for a state mental hospital, rather than jail, the judge or the prosecution may recommend that the client undergo a 90-day diagnostic evaluation under Penal Code § 1203.03 to determine if the person would benefit from regular custody or a state mental hospital instead. Our office has had several such clients referred to the 1203.03 program.
The reality we find is that defendant with disabilities are looked upon with concern by the jails. Consequently, it is not uncommon for the jail to offer house arrest through Sentinel if the probation department approves of this for the client. In other words, the client with a disability in fact ends up receiving preferential treatment after all.
For more information about bail in general, please click on the following articles:
Contact us.