Second-Time Shoplifting, Downey, Immigration Issues
Our client, age 37, had lived in the United States for over twenty years illegally. She had two teenagers and one grandchild. She also had a criminal history for shoplifting from five years earlier and a conviction for a wet reckless arising out a DUI arrest and DUI charge.
One day, she walked into a Walmart in Downey and went to the area with discounted items. As loss prevention watched her over the store's security cameras, she removed the price tags on several items and then proceeded to the feminine hygiene area, where she selected deodorant and tampons. She dropped these items in her bag after removing the price tags and placing different, bargain adhesive-attached price tags that were quite a bit lower.

The Gist of This Summary: Client shoplifts from Walmart in Downey and is caught. The client was an illegal alien and has a prior conviction for shoplifting and for a wet reckless after a DUI arrest, so being deported was a big concern. Case resolved with a dismissal after DA diversion wherein she did 20 hours of community service.

She then proceeded to the Walmart check out where she paid the improper prices for the deodorant and tampons. Loss prevention noted everything that was taking place and met her steps outside the store.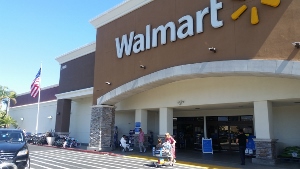 Walmart Store
The client was tremendously embarrassed and ashamed, crying profusely when loss prevention escorted her back to the loss prevention office. The true value of the items was $41.76, certainly not worth the deportation possibility she faced with a third conviction for a crime of moral turpitude (assuming a wet reckless (reckless driving, under Vehicle Code § 23103 pursuant to Vehicle Code § 23103.5) is such).
She was then released with a promise to appear in the Downey Superior Court in about two months. The client and her boyfriend knew the consequences of such a further conviction for a crime of moral turpitude (CIMT) and so they called Greg Hill & Associates.
Greg met with the client and her boyfriend, explaining that while the items certainly qualified as necessities of life most likely, and being under $50, they would be eligible for resolution as an infraction under Penal Code § 490.1. However, Greg commented that such a charge was up to the discretion of the prosecutor, who may not exercise such discretion because the client had a prior conviction for shoplifting from just five years earlier.
Greg also discussed judicial diversion, but explained that while a dismissal would be good, her plea of no contest to the CIMT would expose her to deportation proceedings. Greg also discussed the possibility of having the prosecutor agree to amend the charge to allege a non-CIMT offense, such as trespassing or disturbing the peace, but a conviction would also necessarily result.
The lone possibility to fully avoid a conviction of any sort would be DA diversion under Penal Code § 1001.50. Greg explained that he would suggest this, which involved no plea to any offense, but warned that it would be unlikely.
Greg suggested that the client enroll in and complete an online shoplifting prevention course, which she did through the National Association of Shoplifting Prevention within days, forwarding Greg the proof of completion.
Greg then appeared in the Downey Superior Court and got the first offer from the prosecutor: in exchange for a plea to a violation of Penal Code § 484(a) ("petty theft"), the client would be placed on three years of summary probation on the following terms and conditions: that she pay a fine of $150, plus penalties and assessments (total of about $750), perform 40 hours of community service and stay away from all Walmarts for three years.
Greg discussed the offer with the client and returned to court in about a month.
At the following hearing, there was a new district attorney who Greg was very kind to and explained the circumstances of the offense, plus our client's immigration concerns. The DA reciprocated with an offer of DA diversion, wherein the client would earn a dismissal in three months if she performed twenty hours of community service.
The client was overjoyed and appreciative that Greg had successfully plea bargained a resolution that helped her avoid near-certain deportation and an end to her life in the United States.
For more information about shoplifting, immigration and diversion issues, please click on the following articles:
Contact us.