Second-Time Domestic Violence, Newport Beach DA Reject
Our client, age 38, had met a co-worker at a Costa Mesa hotel to have sex. Our client had previously been convicted of domestic violence when he allegedly injured his ex-wife in an argument with the mother-in-law as a witness and with likely immigration preference motives.

While probation had ended on that case, our client remained bitter about that situation and hoped to find a "normal" woman with whom he could remarry and be happy. At work, he got to know a woman who was married, but not happily so. Our client and the woman became closer and closer, eventually meeting at various hotels to spend time together.
On this particular evening in Costa Mesa, the two had gone out to dinner and drank a few too many drinks. Once back at the Costa Mesa hotel, they got into a mild argument that our client described as "well, I guess we were louder than we thought we were."

Indeed, another guest at the hotel called 911 and our client was arrested after his girlfriend told police he had hit her in the face.

Our client had fingernail scratches all over his chest area and was bleeding in multiple locations. His t-shirt was torn by the woman, but he was arrested when police determined he was the "dominant aggressor."
Our client was taken to the Costa Mesa police department, where he was booked and released after posting a $50,000 bond for felony domestic violence. He was advised by the police and the bail bond company that his arraignment would be in the Newport Beach Superior Court, also called the Harbor Justice Center for Orange County.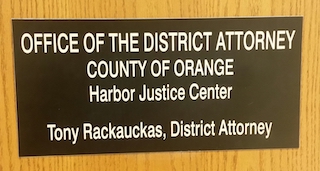 OC DA Office Sign - Newport Beach Courthouse
The client called Greg Hill and explained the facts of the case and the consequences for his job, as the police had notified his employer. Greg listened and advised him that since this was a second-time domestic violence case, the plea bargain to resolve this case may involve probation, but with a minimum of fifteen days in county jail because his prior domestic violence conviction was within the last seven years. Penal Code § 273.5(h) provided for this, Greg explained, but many prosecutors did not seek to impose this.

Our client explained that he only acted in self-defense, as his girlfriend was the dominant aggressor, not him. Greg then explained that he would draft a declaration for the client's girlfriend to sign which Greg could then provide to the prosecutor, but our client asked Greg to wait on such a declaration from her.

Greg further explained that it would be best for our client to proactively enroll in a batterer's class so that Greg could show this to the prosecutor at the arraignment to help show the client was serious about making sure this type of conduct never took place again.
Greg also asked the client to provide him with a redacted copy of his paycheck stub, so that Greg could show the prosecutor that our client was employed and thus had more to lose with a conviction that might lead to his losing his employment.
The client hired Greg Hill & Associates and promised to provide Greg with his paycheck stub and proof of enrollment in an approved batterer's program.

However, after about two weeks – and about two weeks before the arraignment, Greg could see that the client would not be able to provide a paycheck stub or be able to enroll in an approved batterer's program.
Greg therefore wrote the District Attorney's Office in Newport Beach, explaining how his client only acted in self-defense, as his multiple scratch injuries proved he was attacked far more seriously than his girlfriend, who did not show any injury such as a bruise from the punch our client alleged delivered to his girlfriend. Greg therefore suggested that no case filing was necessary or appropriate, as the police simply "got it wrong." The letter also explained that our client was employed and would be enrolling in a 52-session batterer's program to avoid situations like the one at issue in the future.
At the arraignment, the client met Greg at the Newport Beach Superior Court, but no case was filed. Greg explained that while this was encouraging, the District Attorney had one year to file a misdemeanor case from the date of the incident and three years from the date of the incident to file a felony case.
After approximately six months of periodic calls (about every two weeks) to the District Attorney's Office to find out if a case had been filed, our office received notice that the case was a DA Reject. Our office then notified the client of this good news, which made our client very relieved.
For more information about domestic violence, please click on the following articles: