SB 620- When Can a Judge Strike the Gun Enhancement?
This article is intended to not only emphasize a prior point of law presented, but give an example of what type of facts permit a judge to exercise his or her discretion (as allowed under SB 620) under Penal Code § 1385 "in the interest of justice" to strike the 25 years to life gun enhancement, if sought by the prosecutor.
About This Article Briefly: If a sentence is not final, the judge may act in the interest of justice under Penal Code § 1385 and SB 620 to strike or dismiss a gun enhancement, but the judge cannot reduce the enhancement to five or ten years, for example. Judges may also not strike or dismiss the enhancement when a jury found it true that defendant used a firearm to kill or cause great bodily injury to another person, not an accomplice.

The prior point of law that merits mention is that SB 620 is not retroactive to sentences that are final. A sentence is considered final if sixty days or more have passed after entry of judgment and no notice of appeal was filed. If an appeal was filed and ruled upon, the sentence is considered final if 90 days or more have passed after the appellate court ruling and no appeal is filed to challenge the appellate court ruling. Then the appellate court ruling is considered unappealable and, therefore, the sentence is final.
Assuming that the sentence is not final, what facts would permit a judge to exercise his or her discretion under SB 620 to strike the 25 years to life gun enhancement provided at Penal Code § 12022.53(d)?
As the reader may be aware, § 12022.53(d) provides that, " [n]otwithstanding any other provision of law, any person who, in the commission of a felony specified in subdivision (a) , Section 246, or subdivision (c) or (d) of Section 26100, personally and intentionally discharges a firearm and proximately causes great bodily injury, as defined in Section 12022.7, or death, to any person other than an accomplice, shall be punished by an additional and consecutive term of imprisonment in the state prison for 25 years to life."
Subdivision (g) of § 12022.53 provides that for the 25 years to life penalty to apply, "the existence of any fact required . . . shall be alleged in the accusatory pleading and either admitted by the defendant in open court or found to be true by the trier of fact." The trier of fact is the jury if in a jury trial or a judge if there is a bench trial.
Prior to 2017, section 12022.53(h) prohibited the judge from striking an allegation under the section or a finding bringing the person within the provisions of the section, notwithstanding section 1385.
However, in 2017, the California State Legislature enacted Senate Bill 620, which became effective on January 1, 2018. Senate Bill 620 deleted the prohibition on striking an allegation or finding and instead, allowed the judge, in the interest of justice and at the time of sentencing or resentencing, to strike or dismiss an enhancement otherwise required to be imposed."
The power to dismiss or strike does not include a power to impose a lesser punishment than 25 years. The express language of Penal Code§ 12022.53(h) refers to only dismissing or striking the enhancement, not the substitution of a lesser enhancement for a greater enhancement, properly found true at trial, and for which there is no legal impediment to imposition.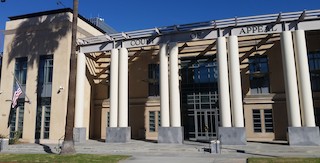 4th Appellate District Div 2 Riverside
Section 12022.53(h) does not give the judge the right to disregard the verdict of a jury and pronounce a sentence that does not respond to the verdict rendered.
Similarly, Penal Code§ 1385 cannot be used to reduce first-degree murder to second-degree murder or reduce the offense of conviction to a lesser-included related offense, or to disregard sentencing factors.
It is against this background that Richard Valles was convicted of first-degree murder and in which the jury found true the 12022.53(d) allegation that he personally used a firearm and caused the death of another person who was not an accomplice. ·
The underlying facts were that Valles, a homeless man, got in a fight with Michael Carmona, another homeless man, after Carmona pushed Valles' girlfriend down. Valles and Carmona fought for a bit and then Valles felt a seizure coming on, so he left the area.
When he left, Valles' tent-mate continued the fight for Valles and stabbed Carmona several times.
When Valles returned after his seizures, he saw Carmona severely injured, but still breathing. Someone had put a piece of carpet over him. Valles then went into his tent, got a gun and shot Carmona in the head " to put him out of his misery," as he would testify in his trial.
The judge sentenced Valles to fifty years to life in state prison, which included 25 years to life for the 12022.53(d) allegation the jury found true.
Valles then appealed the sentence to the Fourth Appellate District , arguing that the judge mistakenly sentenced him to 25 years to life on the 12022.53(d) finding when he had discretion to lower the enhancement to under 25 years.
The Fourth Appellate District Court of Appeal found no error in the trial court's sentence, finding that it had no discretion to lower the 25 year enhancement after the jury found that the conduct was true that he used a firearm to kill another person not an accomplice. Moreover, there was no legal impediment to its imposition so the judge also could not remove it under 1385. Therefore, the judge was required to impose the enhancement and there were no grounds upon which he could exercise discretion to strike it. The sentence was thus affirmed.
We present this summary because we do get calls from people who ask about SB 620 quite a bit. Most callers believe the law is retroactive, which it is not. For those cases where the judgement is not final, many callers believe the judge can lower the enhancement to five or ten years, but this is not correct. When we ask what factors would allow the judge to exercise his or her discretion to vacate the enhancement, the caller usually cannot describe anything that the judge could explain as any reason to vacate the enhancement.
The citation for the Fourth Appellate District Court ruling discussed above is People v. Richard Valles (4th App. Dist., 2020) 49 Cal. App. 5th 156, 262 Cal. Rptr. 3d 674.

For more information about SB 620 and striking the gun enhancement, please click on the following articles: