SB 620 Applies Retroactively to Only Nonfinal Sentences
Not one week goes by without a phone call from an inmate or family member of an inmate calling our office to ask about "deleting a gun enhancement." In ninety-five percent of the inquiries, the inmate is ineligible because the sentence including the gun enhancement is final and has been final, often for decades.

Summary in 50 Words or Less: Senate Bill (SB) 620, providing a judge discretion to strike or dismiss a gun enhancement in sentencing, is not retroactive to case that have reached a final judgment. SB 620 only applies to cases where sentencing has yet to take place or is not final.

A sentence is defined as final when the time for appealing it has expired, which means 60 days after judgment is entered after the sentence is imposed at the trial court. If one does file a notice of appeal within sixty days and the appeal thereafter, the judgment on the ruling from the appeal becomes final 90 days after the appellate court rules. If one appeals the appellate court decision (either up to the California Supreme Court or of the remand to the trial court), that must be done within 90 days or the judgment becomes final. If one appeals the State Supreme Court ruling to the U.S. Supreme Court on a federal issue, that must be done within 90 days.
Instead of explaining these 60 day and 90 day deadlines to the caller, we usually just ask if there is a pending appeal on the case. The common response is "no, he was convicted ten years ago," but we want you to file an appeal to get the gun enhancement removed." We then have to sadly tell the caller that SB 620 is not retroactive to final sentences.

The following summary epitomizes the angst and frustration that accompanies such news. In 2008, Surgio Valencia Baltazar was charged in Merced County with two counts of carjacking (Penal Code § 215) in which it was alleged that he personally used a firearm (Penal Code § 12022.53(b)). There were a few additional charges alleged as well, but they are not relevant to this article.
On January 15, 2009, a jury convicted Baltazar of all charges and found the firearm enhancements to be true.
On or about March 20, 2009, while awaiting sentencing, he escaped from jail. On April 8, 2009, following his reapprehension, he pled no contest to escape without force (Penal Code § 4852(b)).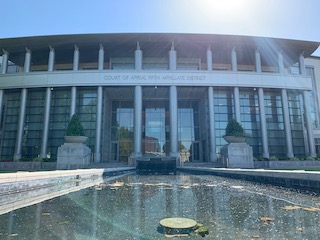 Court of Appeal Fifth Appellate District Fresno
On May 9, 2011, defendant was sentenced to a total of 18 years in state prison, or which 13 years and four months was attributable to firearm enhancements. He also received four years and four months consecutive time for probation violations and the escape.

The judgement became final in all his cases on January 9, 2013 following various appeals.
On January 1, 2018, Senate Bill 620 went into effect. As amended by legislation, Penal Code § 12022.53(h) now provides, "[t]he court may, in the interest of justice pursuant to Section 1385 and at the time of sentencing, strike or dismiss an enhancement otherwise required to be imposed by this section. The authority provided by this subdivision applies to any resentencing that may occur pursuant to any other law."

In August 2018, Mr. Baltazar file an "Application to Strike [the] Firea[r]m Allegation[s] Pursuant to Senate Bill [No.] 620."

On September 5, 2018, the trial court judge, Mark Bacciarini, denied the application, finding that "defendant's judgment had been final since 2013," adding "The new discretionary sentencing provisions of [Senate Bill] 620 and 12022.53(h) to not apply retroactively to final cases except where a defendant is being resentenced pursuant to any other law. Petitioner is not being resentenced to any other law."
Mr. Baltazar then appealed this ruling to the Fifth Appellate District, arguing that the trial court is required to strike his firearm enhancements retroactively under the equal protection guarantees of both the state and federal constitutions.
The Fifth District explained that In re Estrada (1965) 63 Cal.2d 740, 745, cited by Mr. Baltazar, and its progeny to not prohibit the application of revised sentencing provisions to persons whose sentences are final "if that is what the Legislature intended or what the Constitution requires." People v. Hargis (2019) 33 Cal.App.5th 199, at p. 210. Nevertheless, in the absence of an express retroactivity provision . . . [or] unless it is very clear from extrinsic sources that the Legislature . . . must have intended a retroactive application," ameliorative legislation does not affect convictions that have become final." People v. Martinez (2018) 4 Cal.5th 647, 655; accord, Hargis, supra, at p. 210.
Lastly, the appellate court noted in a footnote that "Defendant seems to labor under the misapprehension that fully retroactive application of Senate Bill No. 620 would result in the striking of the firearm enhancements. It would not. At most, it would result in a remand to permit the trial court to exercise its discretion, pursuant to § 12022.53(h), whether to strike the enhancements." We think this is important to appreciate, as many callers who contact us seem to share the understanding that SB 620 vacates all firearm enhancements, regardless of whether the judge wants such enhancements to remain part of the sentence. This is an inaccurate view of SB 620.
The citation for the Fifth Appellate District Court ruling discussed above is People v. Surgio Valencia Baltazar (5th App. Dist., 2021) 57 Cal. App. 5th 334, 271 Cal. Rptr. 3d 296.

For more information about SB 620 issues, please click on the following articles: