SB 1437 Petition Denied in Kidnapping & Robbery Case.
In a Nutshell: The following case, People v. Verdugo, involving Senate Bill 1437 petitions shows how the Second Appellate District permits the trial court judge to perform a "gatekeeping" function in the initial review of such petitions to screen out clearly ineligible petitioners. Other appellate districts do not permit this, but the Second and Fourth Appellate Districts, which cover Los Angeles County and Riverside / San Bernardino / Orange Counties, respectively, do.

In 2020, the Second Appellate District Court in Los Angeles issued its ruling in People v. Ricky Verdugo (2020) 44 Cal.App.5th 320, authorizing the trial court, in reviewing an 1170.95 petition for resentencing (under Senate Bill 1437)) to perform a "gatekeeping function" before ordering briefing. The trial court judge in Verdugo, Judge Ronald Coen, enjoys a very good reputation.
Verdugo was convicted of first-degree murder and conspiracy to commit murder by a jury in 2006. The jury further found true criminal street gang allegations and that he used a firearm. He was sentenced to 57 years to life in state prison. He was not convicted under the felony murder rule or under the natural and probable consequences doctrine at all.
In other words, his conviction was not the type of case the modification of the felony murder rule under SB 1437 would change. Indeed, the jury had found that Verdugo had committed murder with express malice.

After SB 1437 was passed into law, however, he submitted a petition for resentencing under 1170.95. He used a downloadable form / declaration prepared by Re:Store Justice, a co-sponsor of SB 1437. He checked a block that stated he was prosecuted under a felony murder rule or the natural and probable consequences doctrine. He also checked a block that said he was convicted of first-degree or second-degree murder under the felony-murder rule or under the natural and probable consequences doctrine. This was blatantly false.

He then checked a block requesting that the judge appoint him counsel during the resentencing process.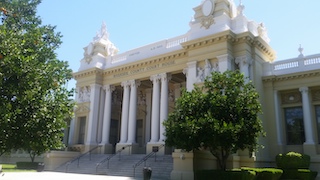 Old Riverside Courthouse
Judge Coen denied the petition without appointing counsel for Verdugo. Verdugo then appealed the ruling, arguing that because he checked certain blocks on the form, he had made a prima facie showing of being entitled to appointed counsel and that Judge Coen had "overstepped" his role by looking beyond the form into the underlying conviction and that Judge Coen was not allowed to do this.
The Second Appellate District affirmed Judge Coen, observing that the final version of SB 1437 "authorizes the trial court both to dismiss the petition if it lacks any required information and to determine if there is a prima facie showing the petitioner falls within the provisions of [section 1170.95] before ordering briefing." This, the Second Appellate District held, "indicates the Legislature's intent that the superior court perform a substantive gate-keeping function, screening out clearly ineligible petitioners before devoting additional resources to the resentencing process." Verdugo, supra, 44 Cal.App.5th at 331.
The Verdugo opinion was a textbook example of a case that was not a 1437 resentencing candidate.
Approximately six month after Verdugo was decided, the Fourth Appellate District in Riverside was tasked with considering the appeal of Joanna Gomez, who was convicted of first-degree murder with her childhood friend, Ivan Salinas.

The underlying facts were that Gomez, when only 21 in 2005, was driving Joseph Ravida back from dinner and shopping. Ravida was Gomez's stepfather. He was not her biological father, but he and Gomez's mom were boyfriend-girlfriend and Ravida had raised Gomez from birth as if he were her father.
Ravida suffered from anxiety attacks and rarely drove himself, so Joanna would often drive him. However, Joanna's mom broke up with Ravida and Ravida was thinking about marrying another woman. If he were to marry another woman, Joanna would lose a significant financial inheritance, as Ravida was quite rich.
She and her childhood friend, Ivan Salinas, therefore agreed to kill Ravida. As Joanna was driving Ravida back from dinner, Salinas pulled over Joanna on the side of the road and shot Ravida five times (three times in the head from different directions and twice in the body).

Joanna Gomez was eventually arrested after her story about events raised suspicions. She was then convicted of kidnapping, robbery and first-degree murder. Salinas was convicted of first-degree murder under and lying-in-wait theory. Gomez and Salinas were both sentenced to life in prison without the possibility of parole. This case, in other words, was not a felony-murder or a death that resulted under natural and probable consequences at all. It was a premeditated, planned hit.
After SB 1437 was passed, Gomez petitioned for resentencing. She asserted that she was "charged as an aider and abettor and that there was zero evidence she directly aided and abetted the murder and that the prosecution proceeded on a felony-murder theory."
Judge John D. Molloy in Riverside County summarily denied her petition, like Judge Ronald Coen did in Verdugo. Molloy found that the jury's special circumstance finding of Gomez committing the murder as part of a kidnapping and robbery showed that the jury determined she was a major participant in the murder, so she fell outside the scope of relief that 1437 included. Ms. Gomez then appealed and the Fourth Appellate District affirmed the trial court.
We bring this article to the reader's attention as a bit of a cautionary tale on 1437 petitions. They are not a "loophole" that just anyone convicted of murder can slip through, as some like Verdugo and Joanna Gomez apparently hoped.

The citation for the Fourth Appellate District Court ruling discussed above is People v. Joanna Gomez (4th App. Dist., 2020) 52 Cal. App. 5th 1, 265 Cal. Rptr. 366.

For more information about being a major participant or acting with "reckless indifference to human life," please click on the following articles: