Banks and Clark Analysis in Unarmed Assault, Robbery
In the following case from an event in 2008, Willie Scoggins was convicted of first-degree felony murder (Penal Code § 187(a)) and attempted robbery (Penal Code §§ 664/211), exemplifying the weaknesses in our judicial system that was tragic, even leading to his being sentenced to life in prison without the possibility of parole. The jury found true that the murder was committed during the special circumstance of being committed during a robbery (Penal Code § 190.2(a)(17)).
In a Nutshell: In the following case, the California Supreme Court applied Banks and Clark to reverse the special circumstance finding by the jury, which would allow resentencing of defendant to second degree murder or manslaughter, either of which would result in a much shorter sentence and perhaps even his release on time served.

In 2015, the California Supreme court issued its ruling in People v. Banks (2015) 61 Cal.4th 788 and in 2016, the same court issued its ruling in People v. Clark (2016) 63 Cal.4th 522, both of which clarified the facts allowing a true finding under the special circumstances of felony murder.
The facts leading to his conviction in Sacramento County are important to understand to appreciate how the California Supreme Court, applying Banks and Clark, reversed the special circumstance finding from Scoggins' trial.
In June 2008, Scoggins bought what he believed to be three large, flat-screen televisions from Samuel Wilson for $300 each. When Scoggins returned home with the boxes, he opened them up and found they each contained packaging paper and wood, but no televisions. Obviously, he was mad he had been swindled.
Scoggins told his girlfriend about this experience. Coincidentally, a few days later, Scoggins' girlfriend saw Wilson and told Scoggins about this. Scoggins then hatched a plan to get even with Wilson.
Scoggins' girlfriend would contact Wilson and pretend to be interested in buying the same type of television. The plan was for his girlfriend to meet up with Wilson to buy the TV and when Wilson was there, two of Scoggins' close friends would jump out of a van and "beat the shit" out of Wilson and get Scoggins' money back. The plan did not call for Scoggins to be present during the attack because Scoggins was concerned Wilson would recognize him and back out. There was no plan for the attack to involve anything but fists.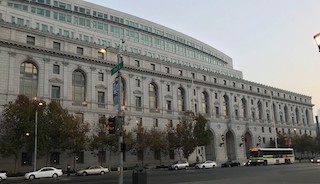 CA Supreme Court San Francisco
The plan then went forward. Scoggins' girlfriend arranged for a meeting with Wilson to buy a TV. Wilson and she then agreed upon a place to meet and, as according to plan, once Wilson was there, two of Scoggins' friends, Powell and Howard, jumped out of the van to beat up Wilson. As they did so, Powell pulled out a gun and fired several shots at Wilson. When Wilson tried to run away, Powell fired a few more shots at Wilson, killing him.
After this, Scoggins went to the crime scene and walked over to Wilson to see if he was still alive. Police arrived and interviewed Wilson, describing him as cooperative. However, he was arrested and eventually convicted of first-degree murder and attempted robbery.
Scoggins filed two petitions for writ of habeas corpus, challenging the sufficiency of the evidence for the special circumstance finding, that were denied. Banks and Clark were then decided and Scoggins filed a third such petition. The Third Appellate District denied it and Scoggins appealed to the California Supreme Court, which granted review.
Justice Liu issued the California Supreme Court's ruling. He explained that nothing from Banks or Clark supported a finding that Scoggins acted with reckless indifference to human life.
The Supreme Court began its analysis by acknowledging U.S. Supreme Court law that characterized reckless indifference to human life implying that one "knowingly engages in activities known to carry a grave risk of death." Tison v Arizona (1987) 481 U.S. 137, 157. Examples include "the person who tortures another not caring whether the victim lives or dies, or the robber who shoots someone in the course of the robbery, utterly indifferent to the fact that the desire to rob may have the unintended consequence of killing the victim as well as taking the victim's property." Id. Reckless indifference "encompasses a willingness to kill (or assist another in killing) to achieve a distinct aim, even if the defendant does not specifically desire that death as the outcome of his actions." Clark, supra, at 617.
In evaluating Scoggins' conduct, the Supreme Court looked at the totality of the circumstances to determine whether he acted with reckless indifference to human life. Relevant factors are whether he knew a gun would be used. How many weapons were ultimately used? Was defendant physically present at the crime? Did he or she have the opportunity to restrain the crime or aid the victim? What was the duration of the interaction between the perpetrators of the felony and the victims? What was defendant's knowledge of the propensity for violence of his or her confederate or likelihood of using physical force? Banks, at 803.
In considering all these factors and issues, the Supreme Court ruled that the special circumstances be reversed and the matter remanded. This should mean that Scoggins should be resentenced to second-degree murder or even voluntary manslaughter with a correspondingly shorter sentence.

The citation for the California Supreme Court ruling discussed above is In re Willie Scoggins (2020) 9 Cal. 5th 667, 264 Cal. Rptr. 3d 804, 467 P. 3d 198.

For more information about reckless indifference to human life and being a major participant, please click on the following articles: