SB 1437, Major Participant, Reckless Indifference
Around 4:00 a.m. on May 1, 2001, Defendants Terrell Law and Brett May went to a home and parked outside, waiting for one of the victim's roommates to go to work. Wearing ski masks and armed with guns, Law and May then entered the home and encountered R. sleeping on a couch.

They ordered R. up and told him to lay on the floor. Either Law or May then guarded R. while the other defendant went to the victim's bedroom to wake him up. The victim owned a gun, but the one defendant in the bedroom grabbed it before the victim could get it. The other defendant, meanwhile, ordered R. to remove his jewelry and hand it over.
The Reader's Digest Version: Under Verdugo and Lewis, a trial court may look beyond the mere petition for relief under Penal Code § 1170.95 (SB 1437) to see if the allegations of stating a prima facie case for relief are true.

The other defendant brought the victim from his bedroom into the same room with R. and ordered him to lay down alongside R. while one of the defendants then searched the house for marijuana and money. The defendant searching the home then found a safe and ordered R. and the victim to open it, but both refused.
One of the defendants then pistol whipped the victim and a third house resident, A., woke up. The defendant kept pistol whipping the victim to open the safe, but then the victim raised his arm up to block a blow and the defendant dropped the gun. The other defendant then picked it up and shot the victim in the head from close range. Both defendants then fled.
Law and May were later arrested, charged and both convicted by separate juries of first-degree felony murder with the special circumstance under Penal Code § 190.2(a)(17)(A) (murder accomplished during a robbery) and (d) (being an aider and abettor who acts as a major participant with reckless indifference).

The jury in Law's trial did not find he was the actual shooter, but it did find he was a major participant and acted with reckless indifference to human life under § 190.2(d). The jury in May's trial also could not find beyond a reasonable doubt that he was the killer (which is not surprising because both defendants wore ski masks throughout the event), but it also found he was a major participant and acted with reckless indifference to human life.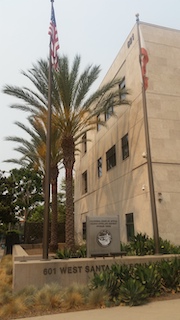 CA 4th Appellate District Div 3 OC
Both Law and May then appealed their convictions, arguing there was insufficient evidence to convict either as a major participant acting with reckless indifference to human life. The Fourth Appellate District denied both appeals, finding there was such sufficient evidence.
Seventeen years after these convictions, in 2018, the Legislature enacted Senate Bill 1437, which amended the felony murder definition under Penal Code § 189. Under the new law, an accomplice to the underlying felony who was not the actual shooter cannot be convicted of felony murder unless he or she 1) aided in the murder with the intent to kill; or 2) was a major participant in the underlying felony and acted with reckless indifference to human life (as described in 190.2(d)).
The Legislature also established Penal Code § 1170.95, setting forth a procedure for vacating murder convictions predating the amendment that could not be sustained under the new definition of felony murder.

Mr. Law filed a petition for writ of habeas corpus under People v. Banks (2015) 61 Cal.4th 788 and People v. Clark (2016) 63 Cal.4th 522, arguing that he was being unlawfully held in custody because he was neither a major participant nor did he act with reckless indifference to human life as these two California Supreme Court cases held. This was denied.
Law then filed a petition for resentencing under § 1170.95 and it was also denied by the trial court.

He then appealed the trial court's ruling to the Fourth Appellate District, which began its analysis by noting that Law checked the block on his form petition that stated he was entitled to resentencing without a hearing because "There has been a prior determination by a court or jury that I was not a major participant and / or did not act with reckless indifference to human life under Penal Code § 190.2(d)."

In his appeal, he made three arguments. He first argued that the trial court had no discretion to review the record of his conviction when determining if he stated a prima facie case for relief. Second, he argued under Banks and Clark that even if the court could look beyond the record of his conviction, the evidence was insufficient to establish he was a major participant and acted with reckless indifference to human life. Third, he argued that the court erred in not appointing him counsel to respond to the People's opposition stating he had not stated a prima facie claim for relief.
The appellate court then noted that under People v. Verdugo (2020) 44 Cal.App.5th 320, a trial court may look beyond the allegations in a petition to determine if petitioner makes a prima facie showing for relief; see also People v. Lewis (2020) 43 Cal.App.5th 1128, 1134 (in determining the sufficiency of a section 1170.95 petition, the court may review the record of conviction, which includes the opinion in defendant's direct appeal).
The court then quickly found that there was sufficient evidence for the convictions and that, under Verdugo, the trial court did not err in not appointing counsel.

The citation for the Fourth Appellate District Court ruling discussed above is People v. Terrell Law (4th App. Dist., 2020) 48 Cal. App. 5th 811, 262 Cal. Rptr. 3d 268.

For more information about SB 1437 petitions, please click on the following articles: