What May Judge Review in SB 1437 Motion (PC 1170.95)?
In a Nutshell: In ruling on whether a petitioner makes a prima facie showing for relief in a petition for resentencing under Penal Code § 1170.95 (Senate Bill 1437), the judge may review the jury instructions in the underlying conviction to evaluate if the allegations supporting a prima facie case are true. The judge also determined that the jury found he was the actual killer with implied malice, which he cited to in denying the 1437 petition. The appellate court agreed that a trial court judge may look into the record at the prima facie stage and is not limited to a cursory review.

In 2006, in Alameda County, Walter LaFonze Edwards fired an assault weapon into an inhabited apartment. The shots killed its occupant.
He was later arrested and charged with murder (Penal Code § 187), shooting into an inhabited dwelling (Penal Code § 246) and multiple sentencing enhancements for personally and intentionally discharging a firearm and causing great bodily injury and death (Penal Code § 12022.53), and having served a prior prison term (Penal Code § 667.5(b)). He was also charged with being a felon in possession of a firearm (Penal Code § 12021).

Edwards subsequently pled to being a felon in possession of a firearm, but eventually went to trial on the remaining charges in 2011. At trial, the jury convicted him of second-degree murder and shooting into an inhabited dwelling. The jury also found true the related enhancements. Edwards was then sentenced to an aggregate term of 49 years and eight months to life in prison.
In June 2019, following the enactment of Senate Bill 1437, Edwards filed a petition for resentencing under Penal Code § 1170.95. In the petition, he alleged that the complaint against him was brought under felony murder rule or the natural and probable consequences doctrine and then at trial, he was convicted of second-degree murder under the felony murder rule or the natural and probable consequences doctrine. He then stated that he could not now be convicted of first or second-degree murder because of changes made to Penal Code §§ 188 and 189.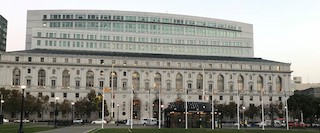 Court of Appeal First Appellate District San Francisco
As the reader will most likely recognize, what Edwards alleged was not true at all. The judge reviewing the petition denied it, explaining that Edwards was not convicted of second-degree felony murder or murder under the natural and probable consequences applied to aiders and abettors, based on a review of the jury instructions that revealed "an absence of any instructions regarding felony murder or aider and abettor natural and probable consequences theories of murder."

The judge further determined that Edwards would not be entitled to relief under SB 1437 because he had been convicted on a valid theory of murder that survived the changes to sections 188 and 189. He was the actual killer with a finding of implied malice.
Curiously, Edwards filed an appeal of this order. He argued that the superior court judge was limited to reviewing the facts pled in the petition for relief and could not rely upon the record of conviction in determining whether he made a prima facie showing for relief.

This was quite an interesting argument, but one which the First Appellate District Court of Appeal, at 2020 DJDAR 4293, respectfully handled without academic rigor. It explained, citing to People v. Verdugo (2020) 44 Cal.App.5th 320, at 323, that "the relevant statutory language, viewed in context, makes plain the Legislature's intent to permit the [superior] court . . . to examine readily available portions of the record of conviction to determine whether a prima facie showing has been made that the petitioner falls within the provisions of 1170.95 . . ."

In Verdugo, the court also needed more information. It therefore held that "the court must at least examine the complaint, the information or indictment filed against the petitioner; the verdict form or factual basis documentation for a negotiated plea; and the abstract of judgment. Based on a threshold review of these documents, the court can dismiss any petition filed by an individual who was not actually convicted of first- or second-degree murder . . ." Id. at 329-330.
Verdugo further explained that it would be a "gross misuse of judicial resources to require an issuance of an order to show cause or even appointment of counsel based solely on the allegations of a petition, which frequently are erroneous, when even a cursory review of the court file would show as a matter of law that a petitioner is not eligible for relief." People v. Lewis (2020) 43 Cal.App.5th 1128, 1138.

Accordingly, the trial court's summary denial of the petition was appropriate, noting that Edwards was the actual killer.
We present this short summary to let the reader know that the court certainly can look beyond the 1170.95 form petition that prisoners can fill out themselves.

The citation for the First Appellate District Court ruling discussed above is People v. Walter LaFonze Edwards (1st App. Dist., 2020) 48 Cal. App. 5th 666, 262 Cal. Rptr. 3d 201.

For more information about SB 1437 petitions, please click on the following articles: