SB 1437 Petition Denial Reversed by Appellate Court.
Senate Bill 1437, as the reader of this article may be well aware, revised California's felony murder rule to ensure felony murder liability (murder committed during the commission of another felony) is not imposed on a person who was not the actual killer, did not act with intent to kill and was not a major participant in the underlying felony who acted with reckless indifference to human life. People v. Verdugo (2020) 44 Cal.App.5th 320, 325.
How this applies depends quite a bit on the facts of the specific case, as the following summary of a March 26, 2020 Second Appellate District Court of Appeals ruling in People v. Arthur Torres demonstrates.
Brief Synopsis: If a defendant is convicted prior to SB 1437 becoming law of first degree murder and the jury finds true that the murder was committed with special circumstances, SB 1437 relief is not barred per se. Instead, the court considering the SB 1437 motion for resentencing must consider the facts in light of Banks and Clark for being a major participant acting with reckless disregard for human life.

In 2001, Torres and his friend, Nicholas Rodriguez, went on what can best be described as a crime spree. First, at a La Puente car wash, Torres pointed a gun at Paul Nieto, demanded his money and searched Nieto's pockets for additional items. Torres then gave the gun to Rodriguez and took some items from Nieto's car. Torres attempted to start the car, but could not because Nieto had activated the car's "kill switch." Torres then hit Nieto in the head and Nieto heard someone say, "waste him, waste him." So Nieto ran away and escaped.
Torres and Rodriguez then approached four young men walking down a La Puente street. Rodriguez stopped his car, got out and demanded meth from the four young men. Two of the young men ran away, but Rodriguez shot at the other two and killed both.

Later than evening, Torres and Rodriguez – both now on foot – flagged down a car that Humberto Salas and Isabella Morales were riding in. When Salas exited the car to talk to Torres and Rodriguez, the two men beat him up quite severely. Torres and Rodriguez then ordered Morales to drive the car, while Rodriguez sat in the back seat with Salas and gouged out his eyes. Rodriguez showed Morales one of the eyes before he tossed it out the window. At a canyon area, Rodriguez and Torres dumped Salas' body. Rodriguez and Torres later saw police and fled.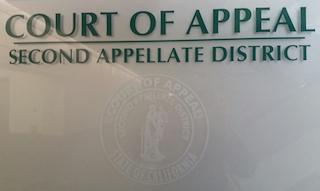 Second Appellate District Court of Appeal Los Angeles
Torres was convicted of two counts of first-degree murder under a felony murder theory of liability with special circumstances for the murders that took place during a robbery.

In 2019, Torres petitioned for resentencing under Penal Code § 1170.95 and the newly enacted Senate Bill 1437. The trial court, at the Clara Shortridge Foltz courthouse in downtown Los Angeles, summarily denied the petition, stating that Torres did not make a prima facie showing for relief because he was convicted with special circumstances. "Defendant thus acted as a major participant and acted with reckless disregard to human life."

Torres appealed to the Second Appellate District, which found the trial court's exclusive reliance upon the special circumstance findings was erroneous in light of People v. Banks (2015) 61 Cal.4th 788 and People v. Clark (2016) 63 Cal.4th 522.
The Second Appellate District explained that in light of Verdugo, supra, the trial court is supposed to make three separate determinations, which were not made in Torres' case:
Is the petition facially sufficient, as required under 1170.95(b)(2)? Does it have the basic information required under (b)(1)?
Has petitioner made a prima facie case showing that he or she falls within the provisions of the new law? The court's role is to simply decide whether petitioner is ineligible for relief as a matter of law, making all factual inferences in favor of the petitioner. The trial court may answer this by reviewing the record of conviction, the complaint, the information, the verdict or factual basis documentation for a negotiated plea and the abstract of judgment.

Here, the jury findings did not establish that Torres was a major participant in the underlying robbery and acted with reckless indifference to human life. Therefore, the trial court should have determined if Torres acted as a major participant as described in Banks, supra, and acted with reckless indifference to human life, as described in Clark, supra.

Therefore, the appellate court remanded the case to the trial court to perform this inquiry.
If petitioner has made out a prima facie case, does he or she demand appointment of counsel?
We present this brief article to emphasize that special circumstance findings are not determinative of relief under SB 1437.

Moreover, the appellate court pointed out that Torres had earlier filed a petition for writ of habeas corpus asking the court to vacate the special circumstance findings under Banks and Clark, arguing that he was not a major participant and did not act with reckless indifference to human life. That petition was summarily denied without an evidentiary hearing at all, which the appellate court pointed out does not establish law of the case and does not have res judicata effect in future proceedings. Gomez v. Superior Court (2012) 54 Cal.4th 293, 305, fn. 6. This is another important distinction to keep in mind in case one believes SB 1437 may apply. It may be smart to seek a writ of habeas corpus first as Torres did and if it is denied summarily, then separately apply under 1170.95 under SB 1437.

The citation for the Second Appellate District Court ruling discussed above is People v. Arthur Torres (2d App. Dist., 2020) 46 Cal. App. 5th 1168, 260 Cal. Rptr. 3d 467.


For more information about Senate Bill 1437 in general, please click on the following articles: