SB 1437 Denial Improper if Based on Gun Enhancement?
Brief Synopsis: It is improper for a judge to deny an SB 1437 petition for resentencing just because defendant's sentence includes a gun enhancement under Penal Code § 12022.53 does not necessarily establish malice aforethought.

Mr. Dana Offley and Mr. Robert Mitchell Keller were two of five defendants charged with taking part in a gang-related shooting in 2006 in which one victim was killed and another was seriously injured.

Evidence at trial in Norwalk Superior Court (in Los Angeles County) established that members of the 76 East Coast Crips gang ambushed a vehicle driving through their territory, believing the vehicle's occupants were members of a rival gang. At least three individuals fired shots into the vehicle.

Prosecutors charged Offley and Keller each with one count of murder, one count of attempted murder and one count of firing shots into an occupied vehicle. They charged that Offley personally and intentionally fired a handgun, proximately causing the death of the one person who did die.
The jury was instructed that "[a] member of a conspiracy is not only guilty of the particular crime that to his knowledge his confederates agreed to and did commit, but is also liable for the natural and probable consequences of any crime of a co-conspirator to further the object of the conspiracy, even though the crime was not intended as part of the agreed upon objective and even though he was not present at the time of the commission of that crime."
It should be pointed out, parenthetically for the reader, that this trial took place in 2006 and in 2014, People v. Chiu was decided by the California Supreme Court. Chiu abrogated the use of the natural and probable consequences doctrine to prove first degree premeditated murder, but it did not change its application to second degree murder. People. v. Chiu (2014) 59 Cal.4th 155, 166.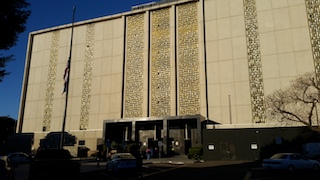 Norwalk Courthouse
The jury convicted both Offley and Keller of one count of murder under Penal Code § 187(a), one count of attempted murder under Penal Code §§ 664 / 187(a), and one count of shooting at an occupied motor vehicle under Penal Code § 246. The jury also found that both defendants committed the crimes for the benefit of a criminal street gang (Penal Code § 186.22(b)(1)(C)).

The jury convicted Offley of second-degree murder and Keller of first-degree murder. The jury found that Offley personally and intentionally discharged a firearm, proximately causing great bodily injury and death to the victim (Penal Code § 12022.53(d)). The jury also found the firearm enhancement true with respect to Keller, but found that a principal to the crimes, not specifically Keller himself, fired the weapon (§ 12022.53(d) and (e)(1)).
The trial court judge, Judge John A. Torribio, imposed an aggregate sentence of 80 years to life to Offley and life with the possibility of parole, plus an additional 75 years to life to Keller.
In 2018, the Legislature enacted Senate Bill 1437 which, with one exception not relevant here, amended Penal Code § 188 to require proof of personal malice aforethought in all murder convictions. This legislatively finished the job of Chiu, supra, by eliminating liability for murder under the natural and probable consequences doctrine. The legislation also established Penal Code § 1170.95 as a procedure for vacating murder convictions for defendant who would not have been convicted of murder under the new law and resentencing those who were so convicted (often to second-degree murder with a sentence of 15 years to life instead of 25 years to life).
In January 2018, both Offley and Keller filed petitions in the trial court for resentencing under 1170.95. Keller argued that there was no evidence presented at his trial that he was the actual killer. Offley also claimed that he did not kill the victim.
The trial court judge denied both petitions, finding that both defendants were ineligible for relief because the record established that the jury found they intentionally fired a weapon at the victim and caused great bodily injury or death (the sentencing enhancement of 12022.53(d)).
Both Offley and Keller appealed this ruling to the Second District Court of Appeals in Los Angeles, which reversed the trial court, reasoning that a true finding of the 12022.53(d) firearm use enhancement does not establish malice aforethought as required under SB 1437. People v. Lucero (2016) 246 Cal.App.4th 750, 759.
It explained that both express and implied malice require proof of defendant's mental state. In the case of express malice, defendant must have intended to kill. Implied malice also involves a mental component, namely "a conscious disregard for the danger to life that defendant's act poses." People v. Beltran (2013) 56 Cal.4th 935, 941-942. This requires "'examining the defendant's subjective mental state to see if he or she actually appreciated the risk of his or her actions." Id. It is not enough that a reasonable person would have been aware of the risk. People v. Jimenez (2015) 242 Cal.App.4th 1337, 1358.
Therefore, the appellate court held that it could not rule out that the jury relied upon the natural and probable consequences doctrine to convict Offley. As to Keller, the 12022.53(e) enhancement applied to him, but this does not show that Keller played a direct role in the killing.
Thus, the trial court was reversed and the matter was remanded for a further hearing under 1170.95.

We present this article because we believe it is not uncommon for one to conclude SB 1437 would not apply if the firearm enhancement is found true, but this is an erroneous way of evaluating this.

The citation for the Second Appellate District Court ruling discussed above is People v. Dana Offley and Robert Mitchell Keller (2d App. Dist., 2020) 48 Cal. App. 5th 588, 261 Cal. Rptr. 3d 858.

For more information about Senate Bill 1437 petitions in general, please click on the following articles: