SB 1437: Judge Finds Defendant a Major Participant
In 2003, in the Criminal Courts Building (CCB) in downtown Los Angeles, a jury convicted Tyrone Douglas of second-degree robbery and first-degree murder in the death of Jose Puente.
The Gist of this Article: Petitioner's SB 1437 request for resentencing under Penal Code § 1170.95 was denied because the judge found that defendant acted as a major participant with reckless indifference to human life because, while he was not the actual shooter, he took money out of the cash register after the victim died and then even robbed the dead man. He thereafter used the money to buy marijuana and "some 40's" and then just "kicking it" with the shooter.

Douglas was a member of the East Coast Crips. On a June day in 2000, he carried a gun "for protection." He then decided to rob a video store and recruited three other gang members to help him. At about noon, he and "Sandman" went into the store while two others stood outside on watch. Douglas went into the store first, followed by Sandman, who had a gun.
Jose Puente was at the cash register and Douglas went up to him and demanded all the money. Puente smiled and reached under the counter. Douglas twice ordered Puente to put his hands on the counter and Puente disobeyed. Douglas yelled at Puente to "hurry up" and "do it faster." Sandman then shot Puente directly in the head because, as Douglas explained, he thought Puente was reaching under the counter for a gun.

Douglas then walked outside the store "to see who was out there watching" and saw no one. So he went back in and emptied the money from the cash register into his pockets and robbed Puente, too, taking everything in his pockets. Douglas and Sandman split the take, but gave nothing to the two lookouts who "split" when they heard the gun shot.
Douglas and Sandman then "bought some weed." They then "started drinking 40's . . . just kicking it and stuff."
About ten days later, Douglas and Sandman committed another robbery, this time of an auto parts store, but were caught, leading to the discovery that Douglas was also involved in the video store robbery.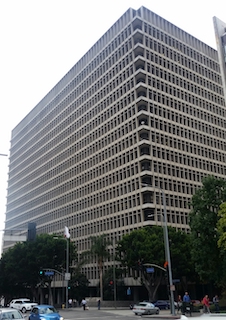 Clara Shortridge Foltz Criminal Courts Building Los Angeles
In the trial concerning the video store, the jury found true a special circumstance that the murder occurred during a robbery and that found true criminal street gang allegations and firearm allegations.

The judge, Curtis Rappe, sentenced Douglas to life in prison without the possibility of parole for the murder, plus 33 years and eight months to life for the other crimes and enhancements.
The jury found true the special circumstance that Douglas acted with reckless disregard for human life and as a major participant aided, abetted, counseled, commanded, induced, solicited, requested or assisted in the commission of the crime of robbery which resulted in the death of another.

In 2019, Mr. Douglas filed a petition for resentencing under SB 1437 and Penal Code § 1170.95, arguing that he should be resentenced because he did not fire the gun that killed Jose Puente and that he acted with neither reckless disregard for human life or as a major participant in the crimes according to People v. Banks (2015) 61 Cal.4th 788 and People v. Clark (2016) 63 Cal.4th 522.

The trial court judge denied the petition, finding that Douglas acted as a major participant in the video store killing with reckless disregard for human life. Douglas then appealed to the Second Appellate District, which seemed to regard such an appeal as not just meritless, but insulting to the legal profession.
The Second Appellate District affirmed the denial, pointing out that Douglas, who submitted a declaration in support of his petition for resentencing and expressing regret for being involved in the video store and auto parts robbery, mentioned nothing about changing his tactics in the later auto parts store robbery to reduce the risk of more killings.

The court also reviewed Banks, wherein the California Supreme Court held that a getaway driver in an armed robbery could not be sentenced to life in prison without the possibility of parole when he was a minor participant who was unaware his actions would involve a grave risk of death. Banks, supra, 805 – 807.
Clark held it unconstitutional to impose a death sentence on a safety-conscious mastermind just because his minion unexpectedly killed someone during a robbery. Clark, supra, at 621-623.
The appellate court then pointed out that Douglas' petition for resentencing, filed concurrently with a petition for a writ of habeas corpus, both challenging the factual finding that he was a major participant who acted with reckless disregard because he was not the actual killer under Banks and Clark, presented a question to the court of which method – a petition for resentencing or habeas petition was the proper method to make this argument.

The court pointed out that the appellate courts are split on this, but for Douglas, it perhaps did not matter because factually, he was undoubtedly a major participant who acted with reckless disregard for human life in the video store killing.
The citation for the Second Appellate District Court ruling discussed above is People v. Tyrone Douglas (2d App. Dist., 2020) 56 Cal. App. 5th 1, 270 Cal. Rptr. 3d 121.

For more information about being a major participant in a murder in the context of Senate Bill 1437 resentencing, please click on the following articles: