SB 1437 Denied – Judge Finds Defendant a Major Participant
The Gist of this Article: A judge will deny an SB 1437 petition for resentencing under Penal Code § 1170.95 when it finds petitioner was "a major participant who acted with reckless indifference for human life," as the judge found in the following case because defendant cased and planned the crime scene beforehand and then, during the murder, was armed with a knife.

On June 9, 2002, James Meehan was at his Santa Rosa residence with James I. and Micki A. Meehan was a methamphetamine dealer.
Donald McDowell and Tyson Hutchinson knew Meehan sold methamphetamine to others and decided to rob Meehan. They talked together "about a man who had a lot of money and drugs in a safe," according to a witness. The same witness also described how McDowell said Meehan had "burned him" in a prior dope deal.
A few days before the murder, McDowell's former neighbor, Sandy B., gave him a ride to Santa Rosa. They drove around a residential neighborhood trying to find Meehan's house, and, when they had trouble finding it, McDowell made a phone call. Later, they parked near a house and McDowell got out while Sandy B. waited for him while McDowell walked around for about 15 minutes.

On the morning of June 9, 2002, at about 3:00 a.m., Donald McDowell and Tyson Hutchinson went to Meehan's Santa Rosa house. McDowell knocked on the door and Micki A. went to the front door and opened it. McDowell entered first, holding a small "palm knife," a knife designed to be held in the palm of a hand with the blade protruding between the index and middle fingers; Hutchinson behind him, holding a small black revolver, which he pointed at Meehan, Micki and James I.
McDowell then said to Meehan, "where's the shit?" Meehan responded, "I don't have none" or "there's nothing here."

Hutchison then fired a warning shot into the floor next to Meehan and in response, James said "please don't hurt him." Meehan then said, "kill me if you're going to kill me." In the confusion, Micki grabbed a drill and swung it around at McDowell, hitting him in the chest and Meehan tried to grab the gun from Hutchison.
Hutchison then fired two shots at Meehan, who, grabbing at his chest and bleeding from his mouth, collapsed.

McDowell and Hutchison then fled and Micki called 911. Meehan died at the scene.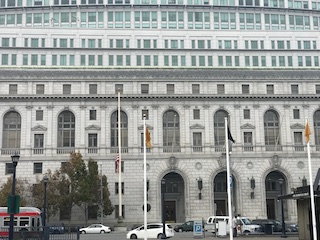 Court of Appeal First Appellate District San Francisco
A jury convicted McDowell of first-degree murder, attempted robbery and burglary. The jury found both the robbery-murder special circumstance allegations true. The jury further found true that McDowell personally used a deadly or dangerous weapon, a knife, in the commissioner of the attempted robbery. The judge sentenced McDowell to life without the possibility of parole for the murder and a consecutive sentence of six years for use of the weapon and for a prior serious conviction.
About six years later, in People v. Banks (2015) 61 Cal.4th 788, the California Supreme Court ruled "under what circumstances an accomplice who lacks the intent to kill may qualify as a major participant so as to be statutorily eligible for the death penalty" under Penal Code § 190.2(a)(17) and (d). The following year, in People v. Clark (2016) 63 Cal.4th 522, the California Supreme Court announced related considerations relevant toward determining whether a defendant acted with "reckless indifference to human life."
More than two years later, McDowell filed a petition for a writ of habeas corpus in the superior court, arguing that under Banks, supra, the evidence was insufficient to support the finding that he was a major participant. The trial court denied the petition and McDowell appealed to the First Appellate District, which decided the special circumstance findings were adequate supported under Banks and Clark.
McDowell then appealed to the California Supreme Court, which granted review, but then deferred further action pending the disposition of In re Scoggins (2020) 9 Cal.5th 667. After the ruling in Scoggins was announced, the California Supreme Court remanded the case back to the First Appellate District for further consideration in light of Scoggins, which held that "sufficiency of the evidence claims are generally not cognizable on habeas corpus," except when a new ruling "clarifies the kind of conduct proscribed by a statute."
The First Appellate District held that McDowell was entitled to habeas relief under Scoggins "if there is no material dispute as to the facts relating to his conviction and if it appears that the statute under which he was convicted did not prohibit his conduct." Scoggins at 674. "If it is not, then the trial court acted in excess of its jurisdiction when it sentenced [McDowell] to life imprisonment without the possibility of parole and habeas corpus relief would be available."
The appellate court clarified that its review of the record was deferential, meaning the question is "whether, when evidence that is reasonable, credible and of solid value is viewed 'in the light most favorable to the prosecution, any rational trier of fact could have found the essential elements of the [special circumstance] allegation beyond a reasonable doubt."

Here, the First Appellate District Court found McDowell's "major participant" finding was supported because he armed himself with a palm knife in planning a particularly risky crime of a home-invasion robbery of a methamphetamine dealer. The court also found that he acted with reckless indifference to human life, so the petition for a writ of habeas corpus was denied.
The citation for the First Appellate District Court ruling discussed above is In re. Donald McDowell (1st App. Dist., 2020) 55 Cal. App. 5th 999, 269 Cal. Rptr. 3d 872.

For more information about Senate Bill 1437, please click on the following articles: