SB 1437: What's a Major Participant, Reckless Indifference?
In the context of seeking resentencing for a conviction under a felony murder conviction, Senate Bill (SB) 1437 excludes a defendant from the benefits of being resentenced if defendant acted in the underlying felony as a "major participant" with "reckless indifference to human life."
Why This Article Matters: When a Petition for Resentencing is brought under SB 1437 (Penal Code § 1170.95) and the main issue is whether defendant acted as a major participant with reckless indifference to human life, one must compare defendant's conduct to the legal standards and examples given in the Banks and Clark case, summarized herein.

The definitions of "major participant" and acting with "reckless indifference to human life" were recently clarified in People v. Banks (2015) 61 Cal.4th 788 and People v. Clark (2016) 63 Cal.4th 522.

The combination of the Banks and Clark rulings and SB 1437 have caused several prisoners, such as Jose Murillo in the case summarized below from the Second Appellate District, to file SB 1437 petitions for resentencing, seeking resentencing by arguing a special circumstance finding in their underlying felony murder conviction was improper when the correct way to challenge such a special circumstance finding is instead through a petition for a writ of habeas corpus.
In Murillo's case, he filed an SB 1437 petition for resentencing under Penal Code § 1170.95. In 1993, a jury in Los Angeles Superior Court convicted him of murder on the basis that he participated in a burglary of a mini-mart at a Mobil gas station, wherein he and 15-year-old Mirna G. and 14-year-old Gabriel N. decided to enter and take beer from the store and not pay for it.
Mirna G. and Murillo entered the store and took several cases of beer, walking out without paying while Gabriel N. held open the store's door. They then walked over to the waiting car to leave, but they could not because, inexplicably, the driver was putting gas into the car at the pump, so any type of fast getaway was impossible.

Murillo, Gabriel N. and Mirna G. therefore put down the beer and decided to run away. Three bystanders, including Chris Brown, watched what was happening and decided to chase Murillo, Gabriel N. and Mirna G.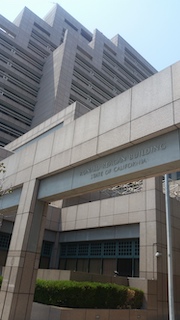 CA 2nd Appellate District LA
Brown caught up with Mirna G. and pulled her hair, causing her to fall down. Mirna then got up and ran down the street, toward Murillo and Gabriel N. As Brown was about to catch Gabriel, Murillo told Gabriel, "shoot him!" Gabriel then pulled out his gun and, following Murillo's instructions, shot Brown, killing him. Brown died from a single gunshot wound which perforated the aorta, causing him to bleed to death.
Murillo, Mirna and Gabriel met up and then tried to leave the area. Mirna later testified that Murillo tried to hide the gun in the bushes and did so. The three then walked away and Gabriel said he had discharged the weapon to scare the person chasing them and in response, Murillo said he should have shot him in the head instead.
Two days later, Murillo was arrested. As he was escorted to the police vehicle, he said, "The white boy shouldn't have tried to be a hero" in reference to Mr. Brown, who died from the gunshot. During a subsequent police interview, he admitted to telling Gabriel, "shoot him!" In the same interview, he said he was mad at Gabriel for "snitching" on him.

A jury then convicted Murillo of first-degree murder (Penal Code § 187) and found true a felony murder special circumstance (Penal Code § 190.2(a)(17)). The judge then sentenced Murillo to life in prison without the possibility of parole for the murder with the special circumstance. As to the sentence for burglary, it was stayed under Penal Code § 654.
After Senate Bill 1437 was passed in 2018, Murillo filed a petition for resentencing in 2019. The trial court summarily denied the petition on the ground that the jury's special circumstance finding rendered him ineligible for resentencing.

Murillo then appealed the denial of his petition to the Second Appellate District Court in Los Angeles, arguing that the changes in the determination of reckless disregard for human life and major participant as in Banks and Clark, supra, both from 2016, made his 1993 special circumstance allegation subject to collateral attack and therefore, SB 1437 would permit resentencing.
The prosecution argued that an appeal of the special circumstance really ought to instead be made via a petition for a writ of habeas corpus, citing to People v. Galvan (2020) 52 Cal.App.5th 1134.
The Second Appellate District agreed, explaining that otherwise (allowing one to use 1437 to attack a special circumstance finding), there would be a disparity in which similarly situated defendants' cases would be evaluated under different standards based solely on the date of their convictions. This would create an equal protection problem. Specifically, defendants convicted after the Supreme Court issued its decisions in Banks and Clark would be required to challenge the sufficiency of the evidence of the special circumstance finding on direct appeal, where the People would only need to show substantial evidence supported that finding.
But where, as here, a defendant was convicted before Banks and Clark, if the defendant could bring a collateral challenge under section 1170.95, the prosecution would be required to prove the special circumstance beyond a reasonable doubt.

Regardless of Murillo's improper use of 1437 to challenge the special circumstance, the Second Appellate District looked at the facts of the case and quickly determined that under even Banks and Clark, Murillo was a major participant and did act with reckless disregard for human life.
The citation for the Second Appellate District Court ruling discussed above is People v. Jose Murillo (2d App. Dist., 2020) 54 Cal. App. 5th 160, 268 Cal. Rptr. 3d 457.

For more information about Senate Bill (SB) 1437 issues, please click on the following articles: