SB 1437 – Finding Reckless Indifference to Human Life
What facts, within the context of a court's review for resentencing under Senate Bill 1437 (under the new felony murder rule as it affects aiders and abettors), show reckless indifference to human life?

If should be noted that the legal standard for showing one is a major participant in a murder is easier to find than the legal standard for showing reckless indifference to human life.
In a Nutshell: A judge may deny a petition for resentencing under Penal Code § 1170.95 (SB 1437) when he or she finds the facts show defendant acted as a major participant with reckless indifference to human life, which the judge found when defendant planned a robbery and then, during it, pushed a party (not the murder victim) to the floor and stood over him with a gun for about five minutes while his co-defendant committed the murder in an adjacent room.

The recent published decision from the Fourth Appellate District in the San Bernardino County case of Geraldo Croll Bascomb II is a good example of when reckless indifference to human life exists.
On the afternoon of January 28, 2000, marijuana salesman James Moser and his girlfriend were in the bedroom of his apartment getting ready to go shopping. Moser's roommates Lind and Flores were also in the apartment. Lind was asleep in the bedroom he and Flores shared and Flores was in the living room watching TV.
At about 2:00 p.m., Flores answered a knock on the front door and two men, Bascomb and a man called Blue, pushed their way into the apartment. Both Bascomb and Blue had guns.
Bascomb and Blue forced Flores to lie face down on the living room floor. Bascomb then stood over him about five feet away for the next several minutes, during which time Blue entered Moser's bedroom and, after a brief struggle, shot him. Moser's girlfriend was in the bathroom, but was able to see what was going on through a partially opened door.

Blue and Bascomb then quickly left. Moser died about thirty minutes later.

Meanwhile, Garcia, one of Moser's customers, saw Bascomb and Blue running away from the apartment complex. As they passed, Bascomb briefly nodded to Garcia and Garcia recognized Bascomb as a member of his high school football team from Upland High School.

After Garcia realized that Bascomb had been involved in Moser's shooting, Garcia gave police the high school photo, although neither Flores nor Moser's girlfriend were able to identify Bascomb.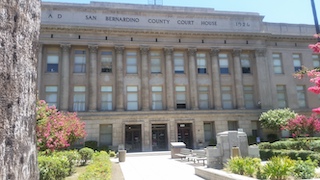 Old San Bernardino Courthouse
A day after the killing, Bascomb called his girlfriend and asked her to pick him up. She came and during the drive from Upland to Moreno Valley, Bascomb told her how he had gone with a friend "to jack somebody and it went bad." At various times over the next three years, Bascomb told his girlfriend further details of the incident and then decided to change his name to "John Marshall," which he did officially.

Bascomb and his girlfriend then broke up and she went to the Upland Police Department to tell them about his role in the murder and he was arrested. He then gave a full admission to the crime after being given his Miranda warning. He told police "it was my idea to go over there" to Moser's apartment, that he drove Blue over to the apartment, he told Flores to get down on the floor and even said, "If it wasn't for me, this shit wouldn't have happened, is the bottom line."
In late 2003, the San Bernardino County District Attorney's Office filed an information charging Bascomb with first-degree murder (Penal Code § 187(a)) and assault with a deadly weapon (Penal Code § 245(a)(2)). About two years later, he was found guilty of both crimes. The judge then sentenced him to 25 years to life in state prison for the murder and a consecutive term of two years for the assault with a deadly weapon.
In 2019, Bascomb filed a petition for resentencing under Penal Code § 1170.95 (SB 1437). The prosecutor opposed it, arguing that even with the changes to the felony murder rule, Bascomb still would have been convicted of first-degree murder because he was a major participant in the underlying crimes who acted with reckless indifference to human life.
The trial court judge denied the petition, explaining that Bascomb devised and implemented a plan that contributed to a heightened risk to human life and the totality of the circumstances showed Bascomb's own personal involvement in the crime was extensive and was aware of a grave risk to human life and demonstrated reckless indifference to human life.
Bascomb then appealed to the Fourth Appellate District, conceding he was a major participant, but arguing there was insufficient evidence to show he acted with reckless indifference to human life.
The Fourth Appellate District began its analysis by discussing malice as an essential element of the crime of murder. The mental component of malice is that defendant knows that this conduct endangers the life of another and acts with conscious disregard for life. People v. Johns (2020) 50 Cal.App.5th 46. The appellate court found it significant that Bascomb and Blue pushed their way into the apartment and Bascomb forced the person who answered the door to lie on the floor. It was a planned, armed robbery of a drug dealer at his residence.
This, more than anything, led the appellate court to affirm the trial court's denial of the petition for resentencing.
The citation for the Fourth Appellate District Court ruling discussed above is People v. Geraldo Croll Bascomb, II (4th App. Dist., 2020) 55 Cal. App. 5th 1077, 270 Cal. Rptr. 3d 58.

For more information about Senate Bill 1437 petitions for resentencing, please click on the following articles: