SB 1437: Felony Murder Charges, Manslaughter Conviction?
As the reader of this article may be aware, Senate Bill (SB) 1437 modified California's felony murder rule to narrow accomplice liability for murder to those aiders and abettors who had the intent to kill or acted as a major participant in the underlying felony with reckless indifference to human life.

This change, it was estimated, affects women and people of color disproportionately and over 1,000 people who were convicted as aiders and abettors in a felony murder or under the natural and probable consequences doctrine and currently serving sentences of life in prison may be eligible to seek resentencing under the new law.

The Reader's Digest Version: The following case summary appears to be subject to appeal in light of Senate Bill 775, signed by Governor Newsom on October 2, 2021. Senate Bill 775 extends 1437 relief to manslaughter and attempted murder convictions reached as Mr. Fritz Paige argued should be applied in the following case.

Many already have filed petitions for resentencing under Penal Code § 1170.95, the section that allows such a petition. Many have tried to seek resentencing, but were not eligible because he or she was the actual killer or was a major participant in the underlying felony. Others simply were not aiders and abettors in a felony murder. In other words, while 1,000 people in California state prison may be legitimately eligible for resentencing under the new, more narrow law, perhaps 2,000 have tried to seek resentencing. Many who are not eligible seek resentencing, even stating under penalty of perjury that they were convicted as an aider and abettor when he or she was the principal, or the underling murder was a lying-in-wait murder and thus, not a felony murder at all.
Others, like the following case, have sought resentencing for a conviction for manslaughter, not murder, and judges have, so far, denied all such petitions.

We believe, however, that this may change. Many other legal scholars and well-respected appellate attorneys acknowledge that this is an area the California Supreme Court will ultimately address.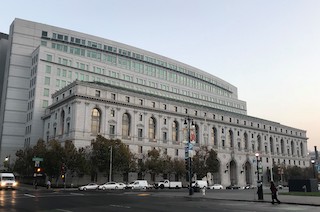 Court of Appeal First Appellate District San Francisco
The following First Appellate District opinion is a good example of a man convicted of manslaughter that unsuccessfully sought resentencing under SB 1437, but "came very close" and is worth a closer look.

In 2010, the Alameda County District Attorney charged Fritz Paige with murder. Paige was not the actual killer, but allegedly aided and abetted an armed robbery in Oakland in which a man was shot and killed. This factual scenario, the reader will recognize, sounds so far like a textbook example of a felony murder and therefore, potentially, SB 1437 may apply.
Paige and his friend decided to rob the participants in a dice game that was regularly played at an Oakland park and in which the participants regularly came with thousands of dollars to wager, lose and win. Paige told his partner to get a gun, but that there would be no need to shoot anyone because the dice players were unarmed. Paige's partner then recruited two more "youngsters" to help in the robbery.
Unexpectedly, one of the "youngsters" shot one of the dice players during the robbery and Paige ran from the scene. The youngsters, Paige's friend and Paige then met back up and divided up the money.
After being charged with murder, Paige and his attorney were able to negotiate the charge to voluntary manslaughter and other charges for a 20-year sentence, including 11 years for manslaughter.

In January 2019, after SB 1437 was passed into law, Paige filed a petition for resentencing, asking that his manslaughter conviction be vacated under Penal Code § 1170.95.

The astute reader may recognize that since Paige's conviction was for manslaughter, not first- or second-degree murder, he is ineligible for SB 1437 relief, correct? And second, while Paige was not the actual killer and did not have the intent to kill, he seemed to be a "major participant acting with reckless indifference to human life" in the underlying armed robbery because he instructed his friend to come armed and involve two other "youngsters" in the robbery.

Paige argued that the judge should extend SB 1437 relief to his manslaughter conviction because its intent is to afford resentencing relief to more than just those convicted of first- or second-degree murder. He argued this is so because Penal Code § 1170.95(a)(2) states one of the conditions that must be met to qualify for relief is that petitioner must have been "convicted of first- or second-degree murder or accepted a plea offer in lieu of a trial at which the petitioner could be convicted for first-degree or second-degree murder."

This argument for extension of 1437 to cover manslaughter was made, but rejected by the Fourth Appellate District in People v. Turner (2020) 45 Cal.App.5th 428 and by the Second Appellate District in People v. Cervantes (2020) 44 Cal.App.5th 884, 887. The Second Appellate District has similarly rejected this argument for extension of 1437 to attempted murder as well. People v. Lopez (2019) 38 Cal.App.5th 1087, 1104.
The First Appellate District's response to Paige's "well-worn" argument was to acknowledge that "in isolation," 1170.95(a)(2) could be misinterpreted to be as expansive as Paige argues it is. However, "read in the context of the statute as a whole," (a)(2) cannot be reasonably understood to encompass persons who accept a plea offer in lieu of trial for a crime other than murder. Indeed, the statute only applies to having a "murder conviction vacated," which would exclude Paige because he was not convicted of murder at all.
We bring this summary to the reader's attention because, while Paige's argument is an intellectually and academically attractive argument, the deeper one looks at the statute, the less persuasive it is, as many courts have decided.

The citation for the First Appellate District Court ruling discussed above is People v. Fritz Paige (1st App. Dist., 2020) 51 Cal. App. 5th 194, 264 Cal. Rptr. 3d 855.

For more information about Senate Bill 1437, please click on the following articles: