Does SB 1437 Include a Conviction for Manslaughter?
Most criminal defense attorneys are aware that in 2019, Senate Bill 1437 ushered in a new felony murder rule, long overdue, to make California law consistent with murder laws in other states. The new law also permitted resentencing under Penal Code § 1170.95 for those convicted of felony murder or murder under a natural and probable circumstances theory if that person would not have been convicted under the new felony murder law at Penal Code §§ 188 and 189.
The Reader's Digest Version: Senate Bill does not authorize resentencing for voluntary or involuntary manslaughter (or homicide), even if the conviction was reached after defendant faced a charge or charges for felony murder or murder under the natural and probable consequences doctrine.

The new law was meant to rectify the unfair life sentences often ordered for someone, for example a killer's girlfriend, who drove the actual shooter to a liquor store or other place, not intending to aid in the crime and then unknowingly drives the killer away from the scene.

As is common with any new law, its interpretation is tested, stretched and restricted, ultimately leading to a clearer understanding of where the limits of the new law lie.
The following case summary epitomizes this "breaking in" process of any new law and SB 1437 in particular.
In Riverside County, in 2013, Fallon Lupe Flores and five codefendants were each charged with murder of John Doe while they were engaged in the commission or attempted commission of a robbery and a kidnapping. Flores and her codefendants were also charged with acting for the benefit of, or in association with a criminal street gang, with the specific intent to promote, further, or assist in criminal conduct by gang members (Penal Code § 186.22(b)(1)(A)). The information also alleged that Flores suffered a prior prison term (Penal Code § 667.5(b)).
It merits mention that first degree murder is punishable by death, life in prison without the possibility of parole (LWOP) or 25 years to life in prison. Where the sentence is 25 years to life, the defendant is not eligible for parole until he has served 25 years. A defendant convicted of second-degree murder must serve a sentence of 15 years to life with parole eligibility after 15 years. By contrast, a person convicted of voluntary manslaughter is punished by imprisonment for three, six or eleven years.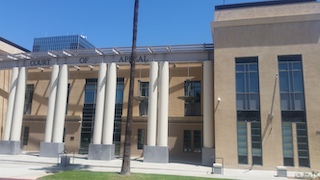 4th Appellate District Division 2 Riverside
Ms. Flores resolved her felony murder case for one count of voluntary manslaughter (Penal Code § 192(a)) as a lesser included offense of the murder charge, and one count of kidnapping (Penal Code § 207). As part of her plea, she admitted the allegations supporting the prior prison term enhancement, the gang enhancement and a separate firearm enhancement (Penal Code § 12022(a)(1)). The judge, John D. Molloy in Riverside Superior Court, sentenced Flores to a total term of 24 years and eight months in state prison.
In 2018, about five years later, the Legislature in Sacramento passed and the Governor signed into law Senate Bill 1437. It restricted the circumstances under which a person can be liable for felony murder and ended the natural and probable consequences doctrine as applied to murder. It also set forth a procedure allowing qualified persons with murder convictions to petition to vacate their convictions if they were convicted of felony murder or murder under the natural and probable consequences doctrine.
In 2019, Ms. Flores filed a petition for resentencing under Senate Bill 1437 (Penal Code § 1170.95). In her petition, she checked a block on a preprinted form stating under penalty of perjury that she had pleaded guilty to first or second-degree murder in lieu of going to trial because she feared she could have been convicted of first or second degree murder at trial pursuant to the felony-murder rule or the natural and probable consequences doctrine.
The People opposed Flores' petition on multiple grounds, but for purposes of this article, we will only point out that the People simply said Flores was statutorily ineligible for relief under Penal Code § 1170.95 because she was convicted of voluntary manslaughter, not murder. The People attached to their opposition a copy of Flores' plea agreement.
The trial court held a hearing and denied Flores' petition because she was not convicted of murder.
Flores appealed this ruling to the Fourth Appellate District Court of Appeals in Riverside. Flores acknowledged that 1170.95 did not mention defendants convicted of voluntary manslaughter, but applied to her because she accepted a plea bargain in lieu of trial at which she could have been convicted of first- or second-degree murder. She argued that 1170.95 applies "by necessary implication" to persons who pleaded guilty to voluntary manslaughter.

The Fourth Appellate Court rejected Flores' "necessary implication" argument because it would impermissibly broaden the reach of 1170.95 to manslaughter and also homicide because 1170.95 does not even mention manslaughter or homicide in its text.

The citation for the Fourth Appellate District Court ruling discussed above is People v. Fallon Lupe Flores (4th App. Dist., 2020) 44 Cal. App. 5th 585.

For more information about Senate Bill 1437, please click on the following articles: