How is a Vehicle Defined Under Vehicle Code § 10851?
In the early morning of May 20, 2018, a security guard stationed in a Hesperia business office heard a noise and looked out into the storage yard for the business. He saw a man attempting to climb into a piece of motorized equipment parked in the storage yard. The man was not an employee of the business, but had apparently jumped over the fence to the yard and while, perhaps drunk or high, decided to drive around a large piece of machinery.
The guard looked on curiously as he heard the truck's engine start and then watched the man, Jhyy Demond Chubbuck, drive the truck around the yard for approximately ten to fifteen minutes before coming to a stop. The security guard called a co-worker and the police to report the incident.
Brief Synopsis: A vehicle, for purposes of Vehicle Code § 10851 ("joyriding"), is any device that may be propelled, moved or drawn upon a highway except those propelled by human power alone and those that move along rails. So, in the following Fourth Appellate District case, a "yard goat," which appears to be something akin to a forklift, legally was a vehicle under 10851.

At trial, a manager for the business testified that general hours for the business were from 8:00 a.m. to 4:30 p.m., with one guard stationed overnight. On the morning of May 20, 2018, an employee called him to report the man driving the truck around the yard and he rushed to the business. He explained that he arrived there at about the same time as police officers. They then opened the business gate to the yard for the officers.
The officers removed Mr. Chubbuck from the vehicle and placed him under arrest for "joyriding," Vehicle Code § 10851 (also known as unlawful taking or driving a vehicle).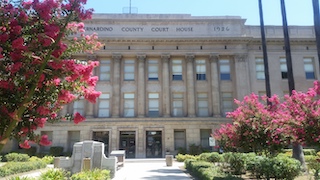 Old San Bernardino Courthouse
The manager described the vehicle driven by Chubbuck as a "yard goat." It was a utility vehicle used to move large transport shipping containers ("cans") and could be used to transport such containers on a public highway, if needed. However, this specific "yard goat" never left the yard and in fact, did not have a license for its use on public streets.
Defendant testified at trial that it was not him that drove the "yard goat" around the business storage lot.
The jury in San Bernardino Superior Court convicted Chubbuck and found true, in a bifurcated proceeding, that he had a prior strike conviction under Penal Code § 667.5(b) through (i) and 1170.12 (a) through (d), as well as a prison prior pursuant to Penal Code § 667.5(b). Judge John M. Tomberlin sentenced Chubbuck to three years in state prison for the 10851 conviction, doubled due to the prior strike, plus one more year for the prison prior, for a total of seven years in state prison.
Chubbuck appealed the conviction to the Fourth Appellate District Court of Appeal in Riverside. He argued that the type of motorized equipment involved in this case was not a vehicle for purposes of 10851 because it was specifically designed for moving storage bins, travel at low speeds and was not used for normally driving on a highway.
The Fourth Appellate District began its analysis by noting that Vehicle Code § 670 defines vehicle as used in 10851. It defines a vehicle as "a device by which any person or property may be propelled, moved, or drawn upon a highway, excepting a device moved exclusively by human power or used exclusively upon stationary rails or tracks."

The appellate court then emphasized that 670 used the verb "may," meaning whether the user had the option to use the vehicle to propel, move or draw persons or property on a highway, referring to the device's potential physical capacity instead of its intended or actual use in a specific context.

Here, it was undisputed that the "yard goat" had the potential to be used to haul storage containers on a highway. Nothing in the record indicated it was incapable of being driven on a highway – whether lawfully or unlawfully – if a person chose to do so.
The court then noted that the term vehicle included devices such as a farm labor vehicle, a golf cart, a logging vehicle, a low-speed vehicle, an all-terrain vehicle and a recreational off-highway vehicle and even a snowmobile.

Consequently, the appellate court denied Chubbuck's appeal and affirmed the verdict (2019 DJDAR 10443).

The citation for the Fourth Appellate District Court ruling discussed above is People v. Jhyy Demond Chubbuck (4th App. Dist., 2019) Cal. App.5th 1.

For more information about Vehicle Code § 10851, please click on the following articles: