Is Vehicle Code § 10851 Eligible for Prop 47 Relief?
Brief Synopsis: The Third Appellate District Court rules that Prop 47 does not apply to reduce a felony conviction for violating Vehicle Code § 10851 to a misdemeanor. In this case, petitioner did not allege – and could not – that the value of the vehicle was less than $950, but this was not the main reason the appellate court denied the petition.

Since Proposition 47 was passed into law in November, 2014, its provisions have been repeatedly challenged for their exact meanings. As the following case summary demonstrates, some felons seeking to have their convictions reduced from a felony to a misdemeanor will try new arguments when prior arguments failed. This is because the sentence can be reduced to one year, allowing some felons in prison to walk free.
Tony Dale Johnston entered guilty pleas in 2003 to unlawful possession of a firearm, first degree burglary, and unlawfully taking or driving a vehicle (Vehicle Code § 10851) and arson of a vehicle. The court sentenced him to six years in state prison.
He returned to prison in 2014 for an eleven year prison term in a Tuolumne County case for criminal threats.
In May, 2015, Mr. Johnston filed a petition to reduce the conviction for violating § 10851, as well as numerous other convictions (some eligible, some were not), under Prop 47 pursuant to Penal Code § 1170.18. In this petition, he argued that the court must "broadly and liberally" construe 1170.18 to reduce his conviction for violating 10851 even if it did not "fit squarely into the mold set forth in this act."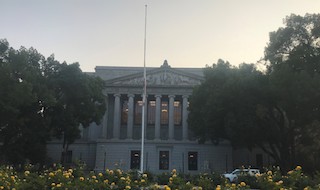 Court of Appeal Third Appellate District Sacramento
The act, Prop 47, prospectively reduced three specific drug possession offenses to misdemeanors (Health & Safety Code §§ 11350, 11357 and 11377) as well as forging or writing bad checks (Penal Code § 473, 476a), receiving stolen property (Penal Code § 496) and petty theft. Petty theft was reduced from a felony, when it could be charged as felony, under a new provision – Penal Code § 490.2, which redefined petty theft as involving "money, labor, real or personal property" with a value less than $950 "notwithstanding section 487" "or any other provision of law defining grand theft."
This last section of Prop 47 creates a lot of confusion. Section 487 specifically provides for grand theft auto as a felony. This means theft of an automobile can still be a felony.
Prop 47 allows for retrospective application for resentencing, as Johnston sought, if the prior conviction would have been a misdemeanor had Prop 47 been in effect at the time. Thus, the court could grant Johnston's petition if Vehicle Code § 10851 had been a misdemeanor due to Prop 47 in 2003.
However, the trial court found § 10851 would not have been a misdemeanor in 2003 under Prop 47. So Johnston appealed to the Third Appellate District.
In
People v. Tony Dale Johnston
(2016 DJDAR 4359), the Third Appellate District affirmed the trial court. It first considered Johnston's argument that the court should adopt a "broad and liberal" approach to evaluating 10851 under Prop 47. It cited to
People v. Acosta
(2015) 242 Cal.App.4th 521, 526, first, wherein attempted vehicular burglary could not be included under Prop 47 as a misdemeanor, noting that 1170.18 "unambiguously omits" attempted vehicular burglary from its list of offenses eligible for reduction.
The appellate court then added to this point by explaining that Prop 47 had carefully listed out specific offenses to include and had omitted others. This limitation invokes "one of those Latin phrases that courts love to brandish: Expressio unius est exclusio alterius," under which the inclusion of only certain items in an associated group gives rise to a strong inference of a deliberate legislative choice to exclude any items not mentioned, absent a compelling indication of legislative intent to the contrary.
Strang v. Cabrol
(1984) 37 Cal.3d 720, 725.
Turning to the wording of the statute, the appellate court noted that the statutory language does not include general language of inclusion, i.e. "such as" or "including but not limited to."
Moreover, the car at issue in Johnston's 2003 case was a 1995 Jeep Cherokee, something that certainly would have been valued at more than $950 and Johnston made no attempt to show that its value at all, let alone less than $950 as required by Prop 47.
Accordingly, the appellate court affirmed the trial court in denying Johnston's petition.
The citation for the Third Appellate District Court ruling discussed above is People v. Tony Dale Johnston (3d App. Dist., 2016) 247 Cal.App.4th 252.

For more information about joyriding and two other cases involving Prop 47, please click on the following articles:
Contact us.