SB 1437 and Murder As Natural & Probable Consequences?
Why This Article Matters: Senate Bill (SB) 1437 does not eliminate all murder liability for those convicted of aiding and abetting another in the conviction of murder. One still may remain convicted even of first-degree murder on an aiding and abetting basis when the aider and abettor intends to kill or acts as a major participant in the underlying felony with reckless indifference to human life.

On June 23 2014, the owner of the La Casita restaurant in Indio and his son drove by the restaurant at 7:30 a.m. and noticed the lights were on, which seemed unusual.
Guillermo Saavedra lived in the back of the restaurant, acting as a property caretaker and handyman.
The owner and his son entered the restaurant and called for Saavedra, who did not respond. The owner and his son looked around a bit more and found Saavedra on the floor, dead. Outside in the parking lot, they found Saavedra's cell phone. Then also found bloody socks nearby and footprints on the floor of the restaurant that appeared to be someone walking with only socks on.
Captured on surveillance videos, Joseph Gentile, Jr., and his wife, Sandra Roberts, tried to rent a hotel room at the Royal Plaza Hotel in Indio, but the hotel manager told him no.

The hotel manager also managed a coin-operated laundry near the hotel. Surveillance from the coin-operated laundry showed Roberts talking with her on-again-off-again boyfriend, Stephen Gardner (how the video shows this is unclear). Roberts called Gardner and asked him to bring her a pair of shorts, a shirt and socks. Gardner later testified that Roberts sounded panicked. Gardner then went to the laundromat and delivered the clothes to Roberts, who was with Gentile. Gardner testified that Gentile's hands were red and he appeared wet.
The victim suffered multiple fractures of his ribs, collarbone and spine, as well as a lung hemorrhage.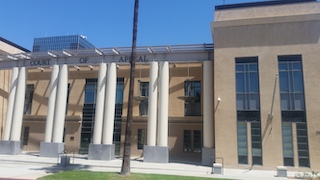 4th Appellate District Division 2 Riverside
DNA testing of the blood on the sock and the head of the broken golf club in the restaurant matched the victim. There was also DNA from Gentile on the sock. A cigarette butt recovered at the scene contained a combination of Gentile's DNA and that of Saavedra.

Gentile was then arrested and told police that Roberts told him Saavedra had raped her multiple times. Saavedra admitted this and apologized, but Gentile hit Saavedra three or four times in the face. Roberts then started hitting Saavedra with a golf club, but Gentile took it away. Roberts, however, got the golf club back and resumed hitting Saavedra. Gentile then took it away a second time and left. Gentile denied ever striking Saavedra with anything but his hands.
Gentile was eventually charged with one count of first-degree murder and convicted of this charge. However, he appealed on the argument that his first-degree murder conviction should be reversed because the jury was improperly instructed on a natural and probable consequences theory of liability for first-degree murder. The appellate court reversed and the conviction was reversed. On remand, Gentile pleaded to second-degree murder and was resentenced to 15 years to life.
Gentile appealed because there were five issues unaddressed from his first appeal. One of the issues was an argument that Senate Bill 1437 applied retroactively to cases on appeal.
The appeal went up to the California Supreme Court, which remanded the matter to the Fourth Appellate District Court in San Bernardino to decide if it was probable the jury convicted Gentile of murder on the theory that he aided and abetted Roberts in a target crime that, as a natural and probable consequence, resulted in the murder of Saavedra.
The Fourth Appellate District explained that Senate Bill 1437 provided an amendment to Penal Code § 189, by adding a section (e), which reads: "A participant in the perpetration or attempted perpetuation of a felony listed in subdivision (a) in which a death results is liable for murder only if one of the following is proven: (1) the person was the actual killer; (2) the person was not the actual killer, but, with the intent to kill, aided, abetted, counseled, commanded, induced, solicited, requested, or assisted the actual killer in the commissioner of murder in the first degree; (3) the person was a major participant in the underlying felony and acted with reckless indifference to human life, as described in subdivision (d) of Section 190.2."

Thus, § 189(e) does not eliminate all murder liability for aiders and abettors. To the contrary, the amendment expressly provides for both first and second-degree murder convictions under appropriate circumstances. Indeed, under People v. Chiu (2014) 59 Cal.4th 155, at 166-167 (citing People v. McCoy (2001) 25 Cal.4th 1111, 1117-1118), "[a]iders and abettors may still be convicted of first-degree premeditated murder based on direct aiding and betting principles."

Therefore, the Fourth Appellate District affirmed the conviction for second-degree murder. People v. Joseph Gentile, Jr. (2019 DJDAR 4724).
We present this article as somewhat of a warning to those who believe SB 1437 eliminated all murder liability for aiders and abetters. This case shows that that his simply not the law and shows how Penal Code § 189(e) provides for this.
The citation for the Fourth Appellate District Court ruling discussed above is People v. Joseph Gentile, Jr. (4th App. Dist., 2019) 35 Cal.App.5th 932.

For more information about murder in general, please click on the following articles:
Contact us.