Conviction for Second Degree Murder by Child Neglect Upheld
A Riverside County jury convicted Gregory Lee Latham and his wife of second degree murder of their daughter, age 17, for failing to obtain medical treatment for her type 1 diabetes, which resulted in her death. Gregory was sentenced to seventeen years in prison. His wife was sentenced to fifteen years in prison.
Summary in 40 Words or Less: Parents can be convicted of second degree murder for the death of their daughter due to Type 1 diabetes when there is a finding of conscious disregard for her condition and indifference to her condition.

Not only did the jury convict both Lathams of violating Penal Code § 187(a) (Second Degree Murder), but the jury also convicted each of child endangerment (Penal Code § 273a(a).
Gregory also pled guilty to using a minor to transport or sell methamphetamine (Health and Safety Code § 11353).
In 2001, the Latham's child, Nanette, was diagnosed with type 1 diabetes and the parents were instructed on how to recognize the condition's symptoms. At the time, Nanette displayed fruity breath, a sign of acetone in the breath, and Kussmaul breathing, which is deep, heavy breathing.
In 2006, Nanette's condition deteriorate to the point where she again displayed fruity breath and Kussmaul breathing. Neighbors urged the Lathams to obtain medical treatment for their daughter. They ignored their neighbors and Nanette died.
On appeal, the Lathams argued that there was insufficient evidence to support a finding of second degree murder. A state court conviction that is not supported by sufficient evidence violates the due process clause of the Fourteenth Amendment and is invalid for that reason.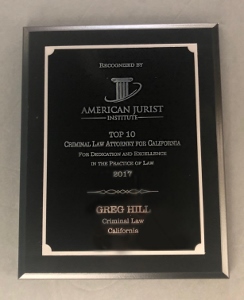 In reviewing the appeal, in
People v. Gregory Lee Latham, et al.
(2012 DJDAR 1647), the Fourth District Court of Appeal noted that there was ample evidence in the record from trial that Nanette's medical condition prior to her death was grave. She became immobile, breathed heavy and complained of pain in her lungs and ribs. The Court noted that many neighbors noted how bad Nanette looked in the week prior to her death. For example, one neighbor said she was barely able to stand up or walk. Another neighbor said she looked seventy years old, judging by the look of her skin and her eyes, even though she was seventeen.
The Court also found sufficient evidence that showed the Lathams were indifferent to their daughter's condition leading up to her death and therefore showed a conscious disregard for her health. The Court was keen on mentioning how the Lathams received training in 2001 and that in 2004, they had taken Nanette to the hospital for a similar situation and were further made aware of what to look out for in their daughter's condition.
The Court acknowledged evidence in the record that suggested in the final days that Gregory Latham attempted to treat Nanette's condition, including providing her with fluids, insulin and monitoring her blood sugar. Mr. Latham also testified that he believed her condition was improving. However, the Court found, the parents knew quite well that the condition was life-threatening (from two prior near death episodes in the emergency room with their daughter), yet they failed to take her to the hospital until she appeared to stop breathing at their home. Even then, they drove her to the hospital in their own car, rather than use an ambulance.
For more information about murder, click on the following articles:
For case summaries of selected violent cases our firm has handled, click
here
.
Contact
Greg Hill & Associates