Second Degree Murder Based on DUI From Meth Affirmed
The reliability of blood test results in any DUI based on the use of drugs is often a hot issue. Defendant may have a history of use and a tolerance to the effect. Indeed, while a quantity may be measured in defendant's blood, how it impairs a specific defendant is often unclear and arguably speculation. Complicating this issue is the fact that a defendant may use a drug several hours before driving and the effect will dissipate both until the time of driving and further until a blood urine sample is given.
The Gist of this Article: One can be convicted of second-degree murder after one ingests methamphetamine and drives, running over a pedestrian, based on blood concentration of methamphetamine. In the following case, an expert had to testify to what the blood concentration meant for impairing the driver.

In the case of Oscar Jimenez, in 2011 in Bakersfield, it was alleged that Mr. Jimenez was operating a motor vehicle while under the influence of methamphetamine. While driving his pick up truck at approximately 9:00 a.m., he lost control, crossed over several lanes of traffic and ran off the road. In doing so, he ran over pedestrians Albert and Annabelle Cichy, killing both. Both were walking on a sidewalk along the street. He then got out of his car and tried to run away, but was found just about a block away. When police spoke to Jimenez, he explained "he was coming down off speed."
The police officer noted that Mr. Jimenez "appeared nervous and jittery,'' had accelerated, mumbled speech,'' and showed signs of bruxism,'' i.e. "consistent" clenching, twitching and thrusting of the jaw." His heart rate was measured above 90 beats per minute several times at the scene. A glass pipe with methamphetamine residue was found in the truck driven by Jimenez. The police officer opined Jimenez was impaired by methamphetamine.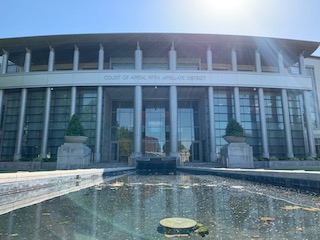 Court of Appeal Fifth Appellate District Fresno
Emergency medical services personnel took Jimenez to the local hospital, where he was noted to be "shaking." He explained to curious hospital staff there that he was withdrawing from methamphetamine." He said he had taken meth about six hours earlier.
Approximately one hour after the crash, a nurse drew blood from Jimenez's arm. The blood sample was later tested as positive for methamphetamine and marijuana. It was then tested a second time and measured 0.2 micrograms per milliliter of amphetamine and 0.44 micrograms of methamphetamine per milliliter. The blood sample also detected a measured amount of THC, the "parent compound in marijuana."
Jimenez was charged with two counts of second degree murder (Penal Code § 187(a)), two counts of gross vehicular manslaughter while intoxicated (Penal Code § 191.5(a)) and one count of driving on a suspended license (Vehicle Code § 14601.4(a)). In connection with the complaint it was also alleged that Jimenez was previously convicted of first degree burglary, a strike under the Three Strikes law (Penal Code §§ 667(c)-(j) and 1170.12(a)-(e)), possession of a controlled substance in 2006, for which he served time in prison, possession of a controlled substance in 1996,for which he served time in prison, and possession of a controlled substance in 1989, for which he also served time in prison. It was also alleged that Jimenez had two prior DUI convictions within ten years.
Jimenez went to a jury trial and was convicted of all counts. He was sentenced to 39 years to life in prison in all. He immediately appealed the verdict on multiple grounds. This article will only describe his argument that the evidence did not establish he was under the influence of any drug.
The Fifth Appellate District, in
People v. Oscar Jimenez
(2015 DJDAR 13228), looked back at the evidence. It noted that approximately two years before the fatal crash at issue, CHP Officer Michael Phillips testified about an incident in 2009 wherein he saw defendant nearly sideswipe another vehicle at an intersection in Bakersfield. Phillips pulled over Jimenez and Jimenez explained that he took meth "a couple days prior." Phillips noted that Jimenez' pulse was 104. A drug recognition expert evaluated Jimenez and concluded he was driving under the influence of methamphetamine. Jimenez then pleaded nolo condendere to DUI (in 2009).
At trial in the 2011 fatal case, Dr. Barry Logan testified about the two phases of methamphetamine intoxication. In the first phase, also known as the "excited" phase, the user is alert, energetic and euphoric. There is an elevated pulse, dilated pupils, twitching, bruxism and other fidgety behavior. In the second phase, also known as the "crash" or "withdrawal" phase, the methamphetamine is disseminated through the user's body, diluting the initial effects. The user is no longer invigorated, but now experiences depression, fatigue, sleepiness, cannot concentrate, reacts slower and craves more meth to feel better again.
Logan testified that in methamphetamine DUI cases, the user's blood concentration level ranged from 0.05 to 2.5 micrograms per milliliter of methamphetamine. Jimenez's blood had 0.44 micrograms per milliliter, which was consistent with meth abuse.
Logan then went on to explain that the concentration at testing was about the same as when he was driving. Logan described how the half-life of methamphetamine is eight to twelve hours, so because Jimenez's blood was drawn just one hour after driving, the methamphetamine concentration was only slightly lower than when he was driving. Moreover, Logan testified, Jimenez's fidgety demeanor, bruxing, muscle tremors and shakes and admission to taking methamphetamine showed he was under its influence. Logan opined that most likely, Jimenez was in the withdrawal phase and most likely fell asleep at the wheel before crashing.
Logan also testified that the amount of marijuana in Jimenez's blood was consistent with recent use, as THC levels rapidly decline. Logan commented that methamphetamine users often use marijuana to counteract the effects of withdrawal from meth.
The appellate court also considered the defense expert on drug use, who opined that he did not think Jimenez's poor driving was due to the influence or effects of methamphetamine. He explained that methamphetamine normally dehydrates a person and Jimenez's tongue was not swollen or white, as is common with meth users after using meth.
However, the appellate court sided with the prosecution expert and denied Jimenez's appeal on the sufficiency of the evidence on the issue or impairment by methamphetamine and marijuana use.
The citation for the Fifth Appellate District Court ruling discussed above is People v. Oscar Jimenez (5th App. Dist.) 242 Cal.App.4th 1337, 197 Cal.Rptr.3d 1.
For more information about the issues in this case, please click on the following articles:
Contact us.