SB 1437: Does it Apply to Provocative Act Murder Doctrine?
Under the felony-murder rule, as it existed prior to changes made by Senate Bill (SB) 1437, a defendant who intended to commit a specified felony (such as robbery or burglary) could be convicted of murder for a killing that took place during the felony, or attempted felony, without further examination of his or her mental state.

About This Article Briefly: Resentencing under Senate Bill 1437 does not apply when defendant was convicted under a provocative act theory.

Independent of the felony-murder rule, the natural and probable consequences doctrine made a defendant liable for murder if he or she aided and abetted the commission of a criminal act (a target offense), and a principal in the target offense committed murder (a non-target offense) that, even if unintended, was a natural and probable consequence of the target offense. People v. Lamoureux (2019) 42 Cal.App.5th 241, 247-248.
In Senate Bill 1437, the Legislature declared, "It is necessary to amend the felony murder rule and the natural and probable consequences doctrine, as it relates to murder, to ensure that murder liability is not imposed on a person who is not the actual killer, who did not act with the intent to kill, or was not a major participant who acted with reckless disregard to human life."
To achieve that goal, SB 1437 amended Penal Code § 189 insofar as it pertains to the felony murder rule, to add subdivision (c), which provides: "A participant in the perpetration or attempted perpetration of a felony listed in subdivision (a) in which a death occurs is liable for murder only if one of the following is proven: (1) the person was the actual killer; (2) the person was not the actual killer, but, with the intent to kill, aided, abetted, counseled, commanded, induced, solicited, requested, or assisted the actual killer in the commission of murder in the first degree; (3) the person was a major participant in the underlying felony and acted with reckless indifference to human life, as described in subdivision (d) of Penal Code § 190.2.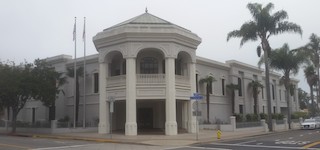 2nd Appellate District Div 6 Ventura
Senate Bill 1437 also amended Penal Code § 188 to add subdivision (a)(3), which provides, "Except as stated in subdivision (c) of § 189, in order to be convicted of murder, a principal in a crime shall act with malice aforethought. Malice shall not be imputed to a person based solely on his or her participation in a crime." This amendment eliminated the natural and probable consequences doctrine.
Under the provocative act murder doctrine, when the perpetrator of a crime maliciously commits an act that is likely to produce death, and the victim kills in a reasonable response to that act, the perpetrator is guilty of murder. In such a case, the killing is attributable, not merely to the commission of a felony, but to the intentional act of the defendant or his accomplice committed with conscious disregard for life.
Peter Davis lived in Los Osos. Ryan James Johnson knew Davis and on July 18, 2009, he told Janine Lindemans that he "and his homies are taking care of something and we are going to come up big." Johnson explained "that they were taking care of somebody that was selling pot or dope in their town and that person had no business like that in our town." Johnson and Jesse Baker-Riley, he explained were "basically doing a home invasion robbery." He explained that he had a gun and he was the shot caller.
On the day of the home invasion robbery, Peter Davis and Dylan Baumann were inside Davis' house when they heard a knock on the front door. Davis answered the door and saw Kelsey Alvarez and Jesse Baker-Riley. Baker-Riley pulled out a large firearm and put it in Davis' face. He then said to Baumann, "sit down or I'll shoot you."
Baker-Riley then demanded Baumann's cash and pot, which Baumann handed over, including his cell phone.

At a point in the robbery, Baker-Riley walked Davis through the house to have Davis give him all the marijuana and money in the house. Kelsey Alvarez followed the two. At one point, Davis saw his own firearm laying on a table, grabbed it and shot at Baker-Riley, but missed and shot Kelsey Alvarez in the chest, who died.
Both Ryan James Johnson and Jesse Michael Baker-Riley were convicted of first-degree murder under the provocative act doctrine. It is important to note that Johnson was an aider and abettor to the home invasion robbery, providing the gun, but was not present at Davis' house.
After SB 1437 was passed, both petitioned under SB 1437 to be resentenced and the trial court judge in San Luis Obispo Superior Court denied each petition, finding neither was convicted under the natural and probable consequences theory or felony murder.

The two then appealed to the Second Appellate District in Ventura, which affirmed the trial court, finding that the provocative act doctrine is not within either the felony murder or natural and probable consequences doctrine.

We provide this summary to the reader to demonstrate a situation where neither defendant was the actual killer and neither had the intent to kill, so one might think 1437 applied. However, their convictions were not under felony murder or the natural and probable consequences theory, so relief was denied.

The citation for the Second Appellate District Court ruling discussed above is People v. Ryan James Johnson and Jesse Michael Baker-Riley (2nd App. Dist., 2021) 57 Cal. App. 5th 257, 271 Cal. Rptr. 3d 441.

For more information about 1437 issues, please click on the following articles: