Can SB 1437 Apply to Murder When a Provocative Act?
Senate Bill 1437 is often confused as allowing anyone convicted of first-degree murder to appeal the conviction (as SB 1437 allows under Penal Code § 1170.95). Not just anyone convicted of first-degree murder is eligible: the conviction must have been under the felony murder rule or the natural and probable consequences doctrine, as the following summary of a recent Second Appellate District ruling exemplifies.
The Reader's Digest Version: A person convicted of murder under the provocative act doctrine is not eligible for resentencing under Senate Bill 1437, through a petition for recall and resentencing under Penal Code § 1170.95.

Chul Woong Choi, Kenny InKwon Lee and Joo Hung Woo arrived at a shopping center in Los Angeles in a red sports car. Lee and Woo went into a video store to rob it while Choi waited in the car.

A suspicious security guard, Agustin Nolasco, wrote down the car's license plate. At the same time, Lee and Woo were pointing guns at the video store's two employees, then dragged them to the back of the store, beat them, took their personal belongings and then ransacked the store. As they were exiting the store, they took money from the cash register.
Choi, who was also carrying a gun, became impatient and got out of the car to find out what was taking his friends so long. He opened the front door and yelled to them, "Hey, let's go." Lee and Woo then ran out of the store and Nolasco saw this and yelled, "Hey, what's going on?"
Lee and Choi, in response, pointed their guns at Nolasco. Nolasco then grabbed his gun. Choi, while getting into the driver's seat, then shot at Nolasco. Nolasco shot back twice, hitting Choi. Lee, who was sitting in the front passenger seat next to Choi, reached over to the accelerator with his foot and then drove the car out of the parking lot. Before he left the parking lot, Lee dumped Choi's body in the parking lot.
Police later arrested Lee and Woo. Both were charged in the Clara Shortridge Foltz criminal courts building in downtown Los Angeles with Choi's murder, the attempted murder of Nolasco, robbery and a variety of firearm enhancements.
After a jury trial, Lee was convicted of first-degree murder, attempted murder, two counts of robbery, one count of receiving stolen property and firearm enhancements.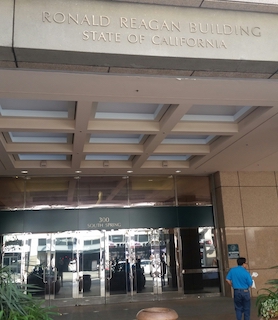 Court of Appeal Second Appellate District Los Angeles
Lee's conviction was based on the "provocative act" doctrine, which permits a defendant to be "held liable for the killing of an accomplice by a third party." People v. Mejia (2012) 211 Cal.App.4th 586, 602. It is distinguishable from the felony-murder rule. The felony murder rule applies to killings "committed in the perpetration of or attempt to perpetrate" certain crimes.

When a killing is not committed by defendant or his accomplice, but by his victim, however, "malice aforethought is not attributable to the defendant" because the killing is not committed by him in the perpetration or attempt to perpetrate the underlying felony. People v. Washington (1965) 62 Cal.2d 777, 781.
Thus, the felony murder rule cannot support a murder conviction when an accomplice is killed by a third party rather than by the defendant or another accomplice.
Despite this distinction, Lee filed a petition for resentencing under 1170.95 in February 2019. Lee argued that he was convicted under the felony murder rule or the natural and probable consequences doctrine and could not now be convicted of murder because of changes to the felony murder rule effective January 1, 2019.
The trial court judge denied the petition because Lee's jury was instructed on provocative act murder.
Lee then appealed to the Second Appellate District in downtown Los Angeles. The Second Appellate District made it clear that someone can be convicted of felony murder only when he or an accomplice killed someone during the commission, or attempted commission, of an inherently dangerous felony. Such a murder is first-degree if the felony is listed under Penal Code § 189. All other murders are second-degree.
Similarly, under the natural and probable consequences doctrine, a person is guilty of murder if he or she "knowingly aided or abetted a crime, the natural and probable consequences of which was murder or attempted murder." People v. Munoz (2019) 39 Cal.App.5th 738, 749.
Senate Bill 1437 limited liability for murder to those who (1) were the actual killer; (2) a person who was not the actual killer, but with the intent to kill, aided, abetted, counseled, commanded, induced, solicited, requested or assisted the actual killer in the commission of the murder in the first-degree; or (3) was a major participant in the underlying felony and acted with reckless indifference to human life, as described under Penal Code § 190.2.
Senate Bill 1437 also eliminated liability for murder under the natural and probable consequences doctrine.

Here, in determining if Lee made a prima facie case for showing 1170.95 resentencing, the trial court judge can review the record of conviction, including the opinion from petitioner's original appeal. In doing this, the trial court judge found that Lee was not eligible for resentencing because 1437 does not apply to murder convictions under the provocative act doctrine. The appeals court agreed and thus denied Lee's appeal.
The citation for the Second Appellate District Court ruling discussed above is People v. Kenny InKwon Lee (2d App. Dist., 2020) 49 Cal. App. 5th 254, 263 Cal. Rptr. 3d 19.

For more information about SB 1437 issues, please click on the following articles: