SB 1393 – Certificate of Probable Cause Required?
The following summary of a recent California Supreme Court ruling is probably the first one ever to decide whether a person seeking to have a judge vacate, in his or her discretion, a five-year sentence enhancement must first obtain a certificate of probable cause.
We comment that this must have been the first case to present this question because appellant William Stamps literally filed his petition before Senate Bill 1393 became effective on January 1, 2019. Consequently, the California Supreme Court's ruling has many observations about the new law that anyone seeking SB 1393 relief should know and understand.
Why This Article Matters: A certificate of probable cause under Penal Code § 1237.5 is not required for an appeal after a plea bargain if the appeal seeks to have the court apply a new law to the sentence.

The facts of the underlying case are important to understand to appreciate the context of the California Supreme Court's ruling. Defendant William Stamps was charged with three counts of first-degree burglary (Penal Code §§ 459, 460(a)). The complaint also alleged that Stamps had two prior convictions for first-degree burglary as serious felonies under California's Three Strikes law (Penal Code § 1170.12(c)(1)), which meant the pending case, if he was convicted thereunder and sentenced, would result in a twenty-five years-to-life indeterminate sentence, plus ten years (five years for each prior serious felony).

In addition, the complaint alleged three state prison prior convictions (Penal Code § 667.5(b) (now no longer part of California law under Assembly Bill 136, effective January 1, 2020)), which added one year for each prior conviction resulting in three more years to a potential sentence.

In other words, had Stamps been convicted of the charges alleged, he would have faced an indeterminate sentence of 38 years to life in state prison for just the first first-degree burglary, plus six years for each of the other two first-degree burglaries, for a total indeterminate sentence of 50 years to life in prison.
However, pursuant to some obviously fortuitous circumstances, his attorney was able to resolve this case by having Stamps plea to just one count of first-degree burglary (with a sentence of the mid-term, or four years) and an admission of just one of the prior serious felony convictions (for five more years) in exchange for a nine-year prison sentence. One might say he "got away with murder" with such a light sentence, given his criminal history.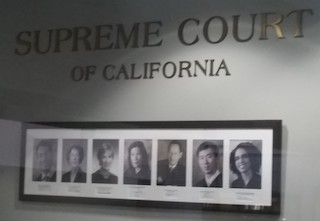 CA Supreme Court Portrait of Justices
One also might think he would have been quite happy with this, but this apparently was not so because before Senate Bill 1393 even became effective, Stamps filed a petition to have the five-year sentence enhancement removed. He filed a petition for resentencing before judgment in his case was final, which is important to note because SB 1393 is not retroactive to cases wherein judgment is final.
Before filing his appeal, Stamps sought a certificate of probable cause under Penal Code § 1237.5 and California Rules of Court, rule 8.304(b). It is valuable to understand that generally, a defendant may appeal "from a final judgment of conviction." Penal Code § 1237(a). However, if the judgment resulted from a guilty or no contest plea, Penal Code § 1237.5(a) and (b) state that no such appeal may be taken unless "[t]he defendant has filed with the trial court a written statement, executed under oath or penalty of perjury showing reasonable constitutional, jurisdictional, or other grounds going to the legality of the proceedings," and the court "has executed and filed a certificate of probable cause for such appeal with the clerk of the court."

However, § 1237.5 allows an exception to this requirement when defendant only appeals as to post-plea matters not challenging the plea's validity and / or matters involving a search or seizure whose lawfulness was contested pursuant to section 1538.5." A certificate of probable cause seeks to discourage frivolous appeals following a guilty or no contest plea. It promotes judicial economy by screening out baseless post-plea appeals before time and money are spent on record preparation, briefing and appellate review. People v. Panizzon (1996) 13 Cal.4th 68, 74.
The trial court denied Stamps' request for a certificate of probable cause, but Stamps appealed his sentence anyways to the First Appellate District. The People opposed the appeal, arguing that a certificate of probable cause was required. Indeed, Panizzon, supra, held that "it has long been established that issues going to the validity of a plea require a certificate of probable cause." Panizzon, supra, at 76.
The First Appellate District then granted the appeal, rejecting the People's argument that a certificate of probable cause was required, reasoning that Stamps' request for resentencing did not seek to vacate the plea bargain in its entirety or challenge its validity as 1237.5 would otherwise then apply. Instead, Stamps sought to have applied a new law to his potential benefit.
The People then appealed to the California Supreme Court, which affirmed the First Appellate District.

However, the Supreme Court cautioned that the trial court has full sentencing discretion to resentence Stamps completely, not just on the five-year prior serious felony conviction enhancement. If the trial court judge intends to impose a sentence in excess of nine years, however, it must provide defendant the opportunity to withdraw his plea and instead opt to proceed to trial.

We present this summary for the reader to not only provide information on SB 1393, but to also emphasize that seeking such resentencing on a judgment that is not yet final can be a problematic option because the judge can impose a longer sentence, but not before giving defendant the option of withdrawing his plea to instead go to trial, which really may not be a very good option if the evidence in favor of defendant is insufficient. This means that the negotiated plea may be best left as is.

The citation for the California Supreme Court ruling discussed above is People v. William Stamps (2020) 9 Cal. 5th 685, 264 Cal. Rptr. 3d 769, 467 P. 3d 168.

For more information about SB 1393, please click on the following articles: