Can a Judge Act under SB 1393 if Case Plea Bargained?
The answer to the rhetorical question posed in the title to this article is no. However, to fully understand this legal fact, it is valuable to know about the Los Angeles Superior Court case of Damion Wilson and his appeal to the Second Appellate District in downtown Los Angeles.
The Reader's Digest Version: If a case is resolved through a plea bargain, a judge cannot resentence defendant under Senate Bill (SB) 1393, which gives the judge discretion to remove a five-year sentence enhancement for a prior serious felony conviction, because the judge had no role in deciding the original sentence.

Mr. Wilson and the victim had a brief relationship. She then broke off the relationship and, in response, he went to her home and forcibly raped her. He was then arrested.
In the downtown Clara Shortridge Foltz courthouse, Wilson was charged with kidnapping (Penal Code § 207(a)), forcible rape in the course of a burglary (Penal Code § 261(a)(2)), first degree burglary, person present (Penal Code § 459) and assault to commit a felony during the commission of first degree burglary (Penal Code § 220(b)). He was also charged with suffering a prior strike under the Three Strikes law and having a separate prior serious felony conviction (Penal Code § 667(a)(1)).
With the help of his public defender, a plea bargain was reached in 2017 wherein he pled to forcible rape with a sentence of six years, then doubled for the prior strike to twelve years, plus five years for a prior serious felony for a total of 17 years. This was a very good plea bargain for Wilson, as he faced multiple life sentences if convicted at trial.
The plea bargain took months to negotiate because Wilson filed three Marsden motions and all were denied. He also tried to represent himself using a Faretta waiver, but the judge found that the waiver was ambiguous because Wilson requested to have "stand by" counsel to help him understand certain things if needed. One can sense from the case summary that the trial court judge was patient, but that patience was tested by Wilson's persistence and appearance to be delaying the case with frivolous Marsden hearings.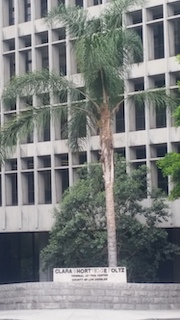 Clara Shortridge Foltz Courthouse
Almost immediately after he entered his plea, he appealed the denials of his Marsden motions and Faretta waivers.
While his appeals were pending in the Second Appellate District, Senate Bill No. 1393 (SB 1393) went into effect on January 1, 2019. The bill amended Penal Code § 667(a)(1) to allow a judge to exercise its discretion to strike or to dismiss a five-year sentence enhancement for a prior serious felony conviction. This new law is not retroactive to all prior judgements. It is only retroactive to cases wherein the judgment is not yet final.
Since his judgement was not yet final, he was eligible to request resentencing under SB 1393, however, as the following paragraphs explain, the Second Appellate District refused to order the trial court to examine his case for resentencing.
The trial court judge (Jose Sandoval) indeed refused to resentence Wilson because Wilson entered into a plea bargain to resolve his case. Judge Sandoval had no role in sentencing Wilson under 667(a)(1).
The Second Appellate District, in People v. Damion Wilson (2019 DJDAR 10822), affirmed the trial court on this ruling. The court first noted that the courts of appeal in California are divided in deciding whether 1393 applies to negotiated plea agreements.
The Second Appellate District then reminded the reader that "a negotiated plea is one in which the defendant pleads to specific charges and enhancements, and the trial court plays no part except to approve or disapprove the plea and to enter the sentence thereon." People v. Segura (2008) 44 Cal.4th 821, 931. The trial court is not a negotiating party to the transaction.
There is "no language or evidence to suggest the Legislature" in enacting SB 1393 "intended trial courts to exercise discretion they do not have for defendants sentenced pursuant to stipulated sentences." People v. Galindo (2019) 35 Cal.App.5th at 672. Otherwise, SB 1393 would have the power to change the fundamental nature of negotiated pleas.
Put another way, the Second Appellate District pointedly stated "SB 1393 is not a vehicle to allow Wilson to "whittle down" his sentence, but to otherwise leave the plea agreement intact."

In other words, the Second Appellate District held that SB 1393 would not apply to a plea-bargained sentence.

The citation for the Second Appellate District Court ruling discussed above is People v. Damion Wilson (2d App. Dist., 2019) 42 Cal.App.5th 408.

For more information about SB 1393, please click on the following articles: