SB 136, Abolishing One-Year Prison Prior Enhancement?
On October 8, 2019, Governor Gavin Newsom signed Senate Bill 136 into law. The new law amends Penal Code § 667.5(b), making the one-year prison prior sentence enhancement applicable only if defendant served a prior prison term for a sexually violent offense as defined under Welfare & Institutions Code § 6600(b). The new law was to take effect on January 1, 2020, but had retroactive effective to any case were judgment was not final.
Why This Article Matters: Senate Bill (SB) 136 strikes the one-year sentence prison prior enhancement previously applicable under Penal Code § 667.5(b) for anyone with an open case or a case that has not yet reached final judgement, except for those who have been convicted of a sexually violence offense. The law is not retroactive to cases that have reached a final judgment.

A sexually violent offense, as defined under Welfare & Institutions Code § 6600(b), includes a conviction or a finding of not guilty by reason of insanity for a felony violation of Section 261 (rape), 262 (spousal rape), 264.1 (gang rape), 269 (aggravated sexual assault of a child), 286 (sodomy), 287 (oral copulation), 288 (lewd or lascivious acts with a child), 288.5 (continuous sexual abuse of a child) or 289 (forcible penetration with a foreign object) or former Section 288a (oral copulation with a minor) of, the Penal Code, or any felony violation of Section 207 (kidnapping), 209 (aggravated kidnapping), or 220 (assault with intent to commit mayhem, rape, sodomy, oral copulation or any violation of §§ 264.1, 288 or 289 of the Penal Code).
How this new law came into effect, including with retroactive application to a pending case is illustrated by the recent (November 20, 2019) case of People v. Jose Carlos Lopez (2019 DJDAR 10703), a decision by the Fifth Appellate District Court of Appeal.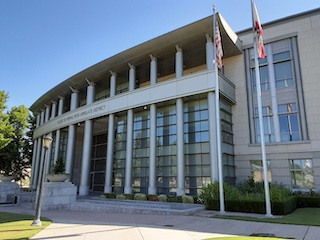 Fifth District Court of Appeal Fresno
In 2017, a Kern County jury in the courtroom of Judge Steven M. Katz convicted Mr. Lopez of possession of a controlled substance (heroin) for sale (Heath & Safety Code § 11351). Judge Katz sentenced Lopez to the upper term of eight years, enhanced by four years based on four prior prison prior terms (Penal Code § 667.5(b)). In this case, Lopez was arrested and found 24 plastic baggies (bindles), each with heroin, in his front left pants' pocket. The prosecution's drug expert testified that such a quantity was enough for approximately 350 personal uses. Lopez also had $103, in small denominations of cash, suggesting he had sold some heroin already and the small bills were the proceeds.
Lopez's sentence was further enhanced by three years by Health & Safety Code § 11370.2 for having a prior narcotics offense and being convicted again for a narcotics offense (this law was vacated on January 1, 2018).

In a companion case, the judge there imposed a one-third consecutive (not concurrent) term of 32 months for Lopez's 2015 conviction for transporting narcotics (heroin) for sale (Health & Safety Code § 11352). In that particular case, police stopped Lopez while he was driving a vehicle. Officers then searched the car and found a brick of heroin, wrapped in multiple layers of plastic, hidden in a cell-phone case that had been pushed between the rear seat and the back of the trunk. The heroin weighed 249 grams. In trial in that case, the prosecution's drug expert testified that such a quantity represented 2,000 personal uses.
Lopez received an aggregate term of 17 years, eight months in state prison.
Lopez filed a timely notice of appeal to the Fifth Appellate District Court of Appeal, arguing many errors in his conviction and sentencing. This article will only focus on the sentencing errors due to the retroactive application of SB 136 and the revision to Health & Safety Code § 11370.2.
The Fifth Appellate District Appellate Court agreed that neither of Lopez's two convictions for the "249 grams of heroin" case or the "35.9 grams of heroin" case were final as of the date of his appeal and thus since both SB 136 and the new Health & Safety Code § 11370.2 reduced punishment, both were retroactive. In re Estrada (1965) 63 Cal.2d 740, 742.
Accordingly, the appellate court struck the four one-year enhancements under Penal Code § 667.5(b) because it found that none of Lopez's four prior prison terms were for sexually violent offenses under Welfare & Institutions Code § 6600(b), as described above.
The appellate court also struck the three-year repeat narcotics offender enhancement pursuant to the revised Health & Safety Code § 11370.2. This reduced Lopez's sentence from seventeen years and eight months to ten years and eight months, which should have made him quite happy.

The citation for the Fourth Appellate District Court ruling discussed above is People v. Jose Carlos Lopez (5th App. Dist., 2019) 254 Cal. Rptr. 3d 833.

For more information about sentence enhancements, please click on the following articles:
Contact us.