Santa Monica Public Intoxication at Wine Tasting Event
Our client, age 58, single and retired, went to the Los Angeles Food & Wine Festival with her female friend at the Barker Hanger in Santa Monica Airport. The wine was free, so she enjoyed quite a bit with her friend. The event was advertised with description of "red carpet, velvet ropes, celebrity chefs and world class wine."

She planned on spending the night at her friend's house after the event, so she was not concerned with a long drive back home to her home in San Bernardino.
As the event came to a close, our client and her friend became separated and this caused our client to become quite panicked. She tried texting and calling her friend by cellphone, but was unable to reach her friend.
Finally, she opted for what she considered her last resort and only real logical option: go to her friend's parked car and just wait for her because her friend had to somehow leave, at least eventually.
So, our client walked out to the parking lot to just hang out by her friend's car, but she could not find it. This was very frustrating for our client, so she decided she would just wait at the exit to the parking lot where all cars exiting would have to pass before leaving the airport area. This seemed smart. After all, it was also getting dark, so it was hard to see too far to find her girlfriend.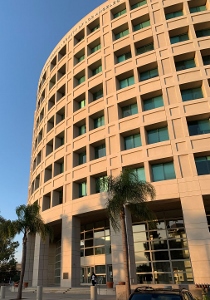 Airport Courthouse
Our client was making her way over to the exit gate when a uniformed Santa Monica Police Officer noticed our client's anxious state and asked her if he could assist her. Our client, quite intoxicated even by her own admission, tried to explain to the police officer why she planned on standing near the exit to the parking lot, but her explanation took too long and the officer lost patience trying to understand her.

Apparently because he could not understand our client's explanation of why she was standing at the parking lot exit, he arrested her for public intoxication (Penal Code § 647(f)), claiming she was obstructing a public thoroughfare (the parking lot exit), and disturbing the peace (Penal Code § 415), both misdemeanors.
H handcuffed her and took her to the Santa Monica Police Station, where she "dried out" overnight. In the morning, she was released and called her friend again, who answered her call and picked her up from the police station. Before leaving, our client signed a promise to appear in the Airport Courthouse on La Cienega Boulevard in about two months.
Once she safely made her way back to San Bernardino, she decided to call an attorney about her situation. She called Greg Hill & Associates and spoke with Greg. She described what had happened and how she planned on returning to work because retirement was just too early for her.

Greg explained how the Santa Monica City Attorney's office usually handled such cases in Department 73 of the Airport Courthouse. However, since our client has absolutely no criminal history and she was 58 years old, Greg commented that the City Attorney's office might just not file a case. They might see this case for exactly what it was – an aberration in an otherwise responsible person's life.
To help the City Attorney think of the case and our client this way, Greg recommended that the client attend at least ten Alcoholics Anonymous (AA) meetings as soon as possible, so Greg could send the Santa Monica City Attorney's office proof of this and request that the matter be a "no file" or, in the alternative, be referred to an office hearing.
Greg then gave the client an AA sign-in sheet and explained how she could find an AA meeting near her in San Bernardino. The client then attended all ten meetings within a week.
Greg then wrote a letter to the Santa Monica City Attorney, recommending that the case be rejected for filing at all (a "no file"), or in the alternative, be handled through an office hearing with a retired judge or senior attorney.
Just before the arraignment, the client received a letter from the Santa Monica City Attorney's office advising her that the case has been rejected for filing. This was great news and it was exactly what the client and Greg had hoped for two months earlier.

For more information about public intoxication, please click on the following articles:
Contact us.