Santa Monica, LAMC 5.08.110 Public Urination, Plea to 415
Our client, age 24 and a recent college graduate, was spotted urinating in public in Santa Monica at approximately 1:00 a.m. It was an early Saturday morning. He had been out drinking with friends from work after finishing work Friday afternoon in the downtown Santa Monica area just off the Third Street Promenade area. In fact, he was spotted by a City of Santa Monica Police Officer in the alley behind 1500 Fourth Street. The police report described our client as standing between two blue dumpsters.
The officer asked our client if he had been urinating and our client sheepishly admitted that he indeed had. The officer then asked for our client's driver's license and prepared a ticket for our client, citing him for violation of Santa Monica Municipal Code § 5.08.110(d), "public urination."
Our client signed the promise to appear and was handed a copy of the ticket. He promised to appear in about six weeks in the Airport Courthouse on La Cienega Boulevard.
The client wadded up the ticket and walked home. He lived just a few blocks away. He went to sleep, angry at himself for not walking just a few more blocks to get home before urinating. He did not understand that the ticket was for a misdemeanor and not just a small fine, as he assumed.
The following morning, he looked closer at the ticket and realized that the "m" for misdemeanor was circled under the level of crime, not "i" for an infraction. He did not understand what this meant, as he had no criminal history and no familiarity with a misdemeanor.

He therefore powered up his laptop computer and researched 5.08.110(d) and what it meant to have a misdemeanor offense. The information on the Internet was not encouraging – six months in county jail and a fine of up to $1,000.
He consequently called Greg Hill & Associates to seek clarity. Surely he was not going to Los Angeles County Jail for six months for peeing in an alley, he asked. Greg reassured the client that such punishment is reserved for someone who has multiple convictions for this and may have urinated in public in daylight hours and while on probation for this offense or more than one offense.
Greg then explained his experience with representing folks like our client, who had no prior criminal history, who are cited for this offense. Greg stated that the Los Angeles City Attorney who handles such cases for the City of Santa Monica often will amend the complaint to add a charge to an infraction-level violation of disturbing the peace (Penal Code § 415(2))) if the client performs sixteen hours of approved community service.
Greg suggested that the client attend ten Alcoholics Anonymous (AA) meetings prior to the arraignment to suggest to the prosecutor that leniency or a good deal was deserved.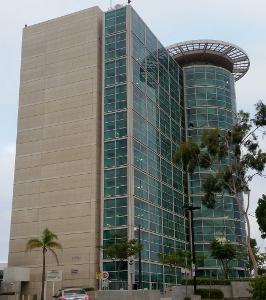 Airport Superior Courthouse
The client then retained Greg Hill & Associates and Greg appeared in the Airport Courthouse for the arraignment. The client did attend the ten AA meetings suggested by Greg and the Los Angeles City Attorney did offer to amend the complaint to allege an infraction for violating Penal Code § 415(2) (disturbing the peace) if our client performed sixteen hours of approved community service.
Greg relayed this offer to the client who was very relieved to avoid a misdemeanor on his record (he worked for a market research firm) and gladly said he would perform the sixteen hours of community service ASAP.
Greg then returned to court with the proof of completion of the community service and the Los Angeles City Attorney amended the complaint to allege an infraction offense for disturbing the peace. The misdemeanor charge for violating Santa Monica Municipal Code § 5.08.110(d).
For more information about public urination issues, please click on the following articles:
Contact us.