Sanchez and Testimony About Predicate Offenses.
"If an expert testifies to case-specific out-of-court statements to explain the basis for his or her opinion, that testimony is necessarily considered by the jury for their truth, rendering that testimony hearsay. Like any other hearsay evidence, it may only be properly admitted through an applicable hearsay exception." People v. Sanchez (2016) 63 Cal.4th 665.
Citing to this fundamental principal of hearsay exclusion, Adolfo Rodriguez Bermudez challenged his conviction and 21-year, four-month prison sentence after a jury found him guilty of two counts of assault with a deadly weapon (Penal Code § 245(a)(1)), his car, which the jury found were both committed for the benefit of, at the direction of, or in association with a criminal street gang (Penal Code § 186.22(b)), the Eastside Trece, one of the more prominent Sureño gangs in Yolo County.
The sentence involved one of two incidents, both tried separately, but when each was appealed, were consolidated into one appeal to the Third Appellate District in People v. Adolfo Rodriguez Bermudez (2020 DJDAR 1264).
In a Nutshell: The following summary involves what we believe was a clear Sanchez violation in that the expert testified to the contents of another report written by another officer, which the jury undoubtedly considered for its truth. However, the appellate court found there was no Sanchez violation, distinguishing the expert's testimony as merely background information and not intended for its truth.

In the incident at issue for this article, a man was driving in Woodland, a city in Yolo County, with his son in his car. The man saw a black Honda parked on the side of the road. As he drove by, the Honda suddenly accelerated, hitting the man in the car with his son.

Thinking he had been in an accident, the man pulled over and the Honda hit him a second time. The second impact was a T-bone, taking off the front and rear doors and breaking windows.
At trial, the victim described how after the suspect crashed into him, the suspect (Mr. Bermudez) "flossed" his tattoo on his head and pointed to the back of his head and yelled "EST," which the victim understood to mean Eastside Trece. Mr. Bermudez then drove away and the victim called 911.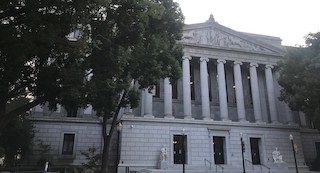 Court of Appeal Third Appellate District Sacramento
A couple months earlier, the victim was dropping off his cousin, who associates with Norteños, when a car pulled up and a group of what looked to be gang members, including Bermudez, got out of a car and "started talking gang shit." The gang members hurled insults related to Northerners at the victim and his cousin. At some point, a security guard showed up and "kicked everyone out."

The victim also explained how in 2010, he was in a fight with an Eastside Trece member, wherein he hit one with a tire iron.

At trial, the prosecution called a detective as an expert on gangs and gang culture. She responded to the car accident and took the victim's statement.

The defense filed a motion in limine to preclude the expert from testifying whether Bermudez was a gang member as a matter of law, but the judge ruled that the expert could given an opinion of whether Bermudez was an active member of a criminal street gang.
The detective thereafter testified about the Eastside Trece gang, its background, symbols, and predicate offenses. She explained that respect (particularly fear and intimidation) is a primary aspect of criminal street gangs. Disrespect is often met with violence.
The expert then testified that based on her training, experience, review of other case, based on information received from other detectives, based on her review of other cases and the pattern of predicate offenses discussed, the intentional car ramming by Bermudez was a gang-related activity committed in retaliation for the disrespect the victim showed Bermudez months earlier.
The expert then opined that Bermudez's conduct was meant to benefit the EST criminal street gang.

On appeal, Bermudez argued it was improper for an expert to testify to how she would decide defendant's guilt and that her opinions were based on the reports of other officers, which made such opinions hearsay in violation of Sanchez.
The Third Appellate District Court rejected both of Bermudez's arguments, saying he failed to show that any prejudice to him resulted from the expert's testimony about his guilt and that her testimony about other reports did not involve defendant specifically, so they were merely background information relevant to EST history and "conduct." Therefore, such testimony did not violate Sanchez.
The conviction was thus affirmed.

We bring this case summary to the reader's attention to show how liberal a court can be in allowing such expert testimony. We think it is very easy for a juror to equate defendant's conduct in the instant case with other conduct, even though the other conduct did not involve defendant. Such connections cannot be nicely compartmentalized by a juror. No one's brain is quite so disciplined as to distinguish between the expert's general testimony and linking it with defendant.

Pursuant to California Rules of Court, rules 8.1105 and 8.1110, People v. Adolfo Rodriguez Bermudez (3d App. Dist., 2020) is not certified for publication in its entirety, so we do not recommend citing to this case.

For more information about gang offenses, please click on the following articles: