Conviction Related to Acting as Gang Member OK If Acting Alone?
Under
People v. Rodriguez
(2012) 55 Cal. 4th, 1125, a substantive gang participation offense under Penal Code § 186.22(a) requires the participation of at least two members of the same gang in felonious conduct.
This requirement is often glossed over in many cases when a gang allegation is made. Indeed, the focus instead is on the specific intent required in an attempted murder charge or some required element of criminal threats, for example. Our office has found that unless counsel looks closely at the facts and considers the legal requirements rigorously, the sentencing enhancement associated with this charge is often applied without factual support. This is because the defendant is often a confirmed gang member and the entire context of the felony is assumed as gang-related, but it sometimes is not.
About This Article Briefly: For a sentencing enhancement related to the crime being committed to further, promote or support a criminal street gang, the prosecutor must show that defendant acted with another gang member in committing the offense. In the following case, this was not done and the gang participation sentencing enhancement was stricken on appeal.

The case of Raul Vega (2015 DJDAR 486.5) epitomizes this situation. The stakes could not have been higher, as he was sentenced by the trial court to life without the possibility of parole. Mr. Vega was convicted of first degree murder for killing one person with use of a firearm while shooting at an occupied car. In a separate incident alleged in the same complaint and tried at the same time, Vega was convicted of voluntary manslaughter of another person in a stabbing incident. Both offenses were allegedly committed as an active participant in a criminal street gang.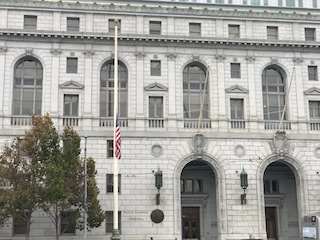 Court of Appeal First Appellate District San Francisco
The second incident is the one this article will cover. In this incident, Vega went to a Santa Rosa school yard to unwind after work. This was a place he and his friends often met to hang out, smoke marijuana, and talk for an hour or two, usually about the NFL.
On the day at issue, Vega was sitting on a bench with his friend, talking. Another young man, Mr. Angel-Espinoza approached Vega and said to him, "Where you from?" In gang culture, this seemingly innocuous question is a really a question of whether the individual will leave the area or fight. Vega was a member of the Angelino Heights faction of the Sureños street gang, which is a street gang controlled by the Mexican mafia.
Mr. Vega recognized the challenge and moved to leave, rather than fight. Mr. Vega was not armed. Mr. Angel-Esparza, however, pulled a Dallas Cowboys knife and moved towards Vega to fight. Mr. Vega defended himself, fighting with Angel-Esparza and ultimately stabbing Angel-Esparza, who later passed away.
On appeal, Mr. Vega argued that he acted alone, in self defense no less, and therefore he could not have acted with another member of any gang. Moreover, when the fight ended as police arrived, Vega left with his friend, who was not a gang member. Complicating matters, Vega's friend allegedly ran up to Angel-Esparza, after the fight while Angel-Esparza lay on the ground after collapsing, and grabbed the Dallas Cowboys knife, throwing it on the roof of the school. Angel-Esparza was then taken to the hospital when he died from three stab wounds, one directly to the heart.
A further investigation into the scene by detectives revealed a second knife, but only with fingerprints of Angel-Esparza on it. When Vega was questioned about the incident, he said that Angel-Esparza pulled the Dallas Cowboys knife, but that he took it away. Angel-Esparza then pulled another knife and told him that he was a member of VSL, or Varrio Sureño Loco, a rival gang to Vegas's Angelimo Heights faction.
Vega then thought he was going to be killed and in the struggle, he stuck Angel-Esparza with the knife.
After Vega was convicted, he appealed his conviction for killing Angel-Esparza as a gang participant. While conceding both he and the victim were rival gang members, he argued that the evidence was insufficient to show anyone else participated in the fight and that whoever also participated in the fight was a member of a gang.
The prosecution argued that because Vega's friends stood by, his presence was participation. However, as the First Appellate District noted, the prosecution never established that such a friend was a gang member. Moreover, Penal Code § 186.22 requires active participation, which is "participation that is more than nominal or passive." Therefore, Vega acted alone, which does not meet the requirement that two or more gang members commit the crime and thus, the judgment on this count of the conviction was reversed.
The citation for the First Appellate District Court ruling discussed above is People v. Raul Vega (1st App. Dist., 2015) 236 Cal.App.4th 484.

For more information about the issues in this case, click on the following articles:
Conviction for Aiding and Abetting Murder Reversed When Prosecution Fails to Disclose that Key Witness Has Theft Conviction and Gang Affiliations.
Contact us.