San Pedro, Felony Domestic Violence, No File in Long Beach
In a Nutshell: No file in Long Beach Superior Court on a felony domestic violence arrest matter arising in San Pedro. Our client's girlfriend went to the bathroom, locked the door and then dialed 911 to report our client had choked her and even pressed on her stomach to try to kill their unborn child. None of this violence happened, our client told the police – and they believed him.

Our client, age 26, and his girlfriend had a "strained" relationship. She was from Thailand and moved to the United States to make herself rich. Once she arrived in Los Angeles, she met our client.
Our client was not rich, but she and he somehow became a couple. Our client walked dogs for a living and served as an unarmed security guard at several different schools for football games and other events. He had his own apartment in San Pedro.
Our client's girlfriend traded women's handbags, perfume and makeup online. The money she made was surprisingly good.
Our client wanted to break up with his girlfriend because he suspected she was dating other guys as well. He suspected this when he heard her speaking on the phone with other people he could overhear were male, but with whom, she conversed in a foreign language he did not understand. The tone of the conversations did not sound like conversations about buying perfume, makeup or women's handbags.
The couple had terrible arguments and, after one, she went to the hospital to seek treatment for anxiety (not physical injuries). The hospital responded by placing her on a 5150 hold for almost a week.
Our client finally told her that they needed to break up, as he believed she was dating another person. When our client told this to her, she announced she was pregnant.
Our client doubted the baby was his child and told her so.
In response, she quickly drove from her apartment in North Hollywood to our client's apartment in San Pedro. She was determined to reconcile. She spent the night, sleeping with our client and trying to woo him back. Our client was not persuaded.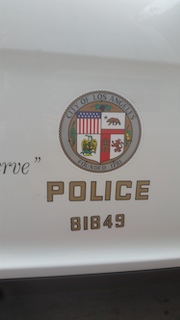 In response, she picked up her cell phone and calmly walked to the bathroom in our client's apartment. She then locked the door, which our client found odd. She then called 911 to report that our client had beat her up, choked her, kicked her, pulled her hair, hit her face and pressed on her belly in an attempt to kill the unborn baby.
Our client heard his girlfriend reporting this to the police from inside the bathroom and left the apartment to stand outside for the Harbor Division of the Los Angeles Police Department to arrive.
When the police arrived, our client's girlfriend had worked herself up into a hysterical state, crying to the police about the alleged assault our client committed. Our client calmly denied all this to the police, who almost apologetically arrested him, explaining they simply had no alternative in such a case. Police examined the girlfriend and found no bruises, no cuts, and no torn clothing. Police did not even take photographs of her.

The client was first transported to the Harbor Division station, then to the 77th Precinct, where bail was set at $50,000 for felony domestic violence.
The client's mother called Greg Hill & Associates, explaining the situation with her son. Greg Hill has successfully represented her younger son on a gun charge several years earlier, so she trusted Greg and knew he would work hard.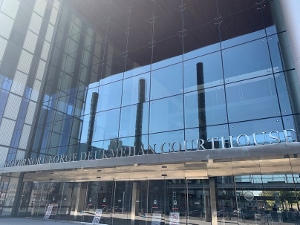 Long Beach Courthouse

Greg met with the mother and the now-recanting girlfriend the same day. Greg listened to the girlfriend and the mom explain what had happened. That evening, Greg then visited the client at the 77th Precinct and spent about 90 minutes listening to the client and describing what the client could expect.
The client was quite confident that the case would be dropped because one of the investigating officers was sympathetic to him during the arrest. Greg commented that this was not uncommon if an officer simply wants a suspect to be cooperative and perhaps confess, so Greg advised the client that this may or may not be helpful. However, the client was concerned that a conviction for domestic violence would mean an end to his career as a school security guard.
The next morning, our client was transported to the Long Beach courthouse for his arraignment. Greg went to the courthouse as well and waited for the filing. At first, the case was not filed and Greg waited nervously until noon, periodically meeting down in the basement lockup with the client and periodically checking with both the District Attorney's office for a felony filing and the Los Angeles City Attorney's office for a misdemeanor filing.
Finally, by 3:00 p.m., it was announced that the case was a DA reject and our client would be released shortly. Greg and the client's mom then waited for the client as he was released from the side door from the courthouse after a very tumultuous last day and a half.
This summary is presented to show how our office jumps into action and goes the "extra yard" even when the case seems weak and unlikely to be filed. This gives the client, as well as the client's family, peace of mind and comfort.
In this particular case, our office will now proceed with a motion to seal the arrest report under Penal Code § 851.87.
Contact us.