Romero Motion Improperly Granted for Prior Hate Crime
The Gist of this Article: While an appellate court is usually hesitant to reverse a trial court's ruling for abuse of discretion, in the following case, the prosecutor appealed the judge's order striking a prior strike under Romero for purposes of sentencing and the appellate court found the trial court judge did abuse his discretion.

In September 2018, Jasmine C. was waiting at a Fullerton bus stop for her boyfriend to pick her up. Jasmine C. is an African American and at the time, she was eight months pregnant.

According to Jasmine C., she heard Defendant Tyson Mayfield behind her talking with his friends, apparently in reference to her, that he "hates niggers" and "gets his kicks by hurting pregnant Black women" like her. He also asked his friends if they wanted to watch him go over to Jasmine and "make her drop her baby."

Jasmine's anxiety increased more when Mr. Mayfield walked over to her and told her, "I don't like pregnant niggers like you and I'm going to make sure you drop your baby."

Fearing for her safety, Jasmine took out her pepper spray and sprayed Mayfield. Mayfield, in response, grabbed Jasmine's backpack. He ran away momentarily, but then ran back with his fists "balled up," saying "now you are going to pay, you nigger. I'm going to make sure you drop this baby."

Jasmine then ran to a nearby café and called the police. Police came and arrested Mayfield.
Mayfield was charged with committing a hate crime by committing a criminal threat (Penal Code §§ 422.7(a)), 422.75) and petty theft. In addition, the crime alleged that he had two prior strike convictions, two prior serious felony convictions and two prison priors. All told, he faced a third strike sentence of 25 years to life, plus 13 years.
During the pendency of the case, the judge indicated he would be inclined to strike one of defendant's prior strikes under People v. Superior Court (Romero) (1996) 13 Cal.4th 497 and sentence him to five years in state prison. The prosecution vehemently opposed this, explaining that Mayfield had been convicted of 18 crimes in 20 years. This was remarkable considering how much of those 20 years he spent in custody.
The prosecution also described how Mayfield had consistently violated the terms of his probation and parole. In addition, Mayfield had four pending misdemeanor cases pending against him at the time. One of the crimes was for punching another inmate without provocation. After he did this, he boasted to a security guard that he would continue to do so unless he was separated from other inmates.

Nonetheless, the judge (Roger B. Robbins) indicated he was going to stand by his offer, which Mayfield promptly accepted. At sentencing, Jasmine C. testified about the incident.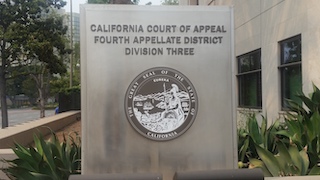 CA 4th Appellate District Div 3 OC
The Orange County District Attorney's office appealed to the Fourth Appellate District the judge's ruling to dismiss one of the prior strikes, arguing that the judge abused his discretion.
The Fourth Appellate District began its opinion by explaining that it had decades of practicing law and that after so long, not much shocked the court. However, this case shocked the court, it said, "completely."

The Fourth Appellate District explained that everything about the crime and defendant's criminal history supports application of the Three Strikes Law. Moreover, there was nothing about Mayfield's history or character that suggests he somehow falls outside the Three Strikes Law. The appellate court thus reversed the ruling and remanded the case for further sentencing.
The court explained that it "almost always loath to reject the exercise of discretion by a trial court," but in this case, it had no problem doing so. Mayfield, after all, epitomized the violent type of repeat offender that society had in mind when legislators passed the Three Strikes Law.
We bring this summary to the reader's attention to show how a judge's discretion in striking a prior strike under Romero is not unlimited. The case also shows how an appellate court, while inclined to almost never question a trial court's exercise of discretion, will reverse a trial court when, as here, the exercise of discretion was clearly an abuse of discretion. The opinion is packed full of explaining how much latitude a judge has in deciding to strike a strike for purposes of sentencing under Romero, but this discretion is not limitless.

The citation for the Fourth Appellate District Court ruling discussed above is People v. Tyson Mayfield (4th App. Dist., 2020) 50 Cal. App. 5th 1096, 264 Cal. Rptr. 3d 633.

For more information about Romero motions, please click on the following articles: