Restitution for Pain and Suffering Allowed If PC § 288
Generally speaking when the subject is restitution in a criminal case, pain and suffering is not recoverable. There is an exception to this general rule when defendant violates Penal Code § 288 (lewd or lascivious acts with a child under 14 or in some instances under 16, as provided in Penal Code § 288(c)(1)).
Brief Synopsis: Pain and suffering may be recovered by a victim, in restitution from a criminal court when defendant is convicted of lewd and lascivious acts with a minor under age 14 (Penal Code § 288), including when the conduct fits the definition of 288, but is charged as a violation of 288.5, as the following case held.

What if, however, there is a conviction for violating 288.5? Can the victim recover psychological damages? Penal Code § 288.5 is defined as continuous sexual abuse of a child. This became an issue because § 288.5 makes it a crime (a felony) for certain persons, over a period of three months, to engage in three or more acts of lewd and lascivious conduct prohibited by § 288 with a child under the age of 14, or three or more acts of substantial sexual conduct (Penal Code § 1203.066(b) defines substantial sexual conduct)? In other words, if it is same conduct as under § 288, can the victim recover damages for mental suffering even though the conviction was not for § 288 per se?
The case of People v. Franklin Lee (2018 DJDAR 5408) answered this question in the affirmative. The trial court in Sonoma County awarded the victim non-economic damages of $750,00 and Lee appealed the award to the First Appellate District.
In April of 2014, Mr. Lee was charged with seven felonies alleging sexual offenses against a victim, John Doe, over a four-year period beginning when the victim was twelve. When the victim was twelve years old, Mr. Lee allegedly engaged in three or more acts of substantial sexual conduct as defined under § 1203.66(b) and three or more lewd and lascivious acts as defined under Penal Code § 288. Mr. Lee was also charged with two counts of oral copulation with a minor starting when the minor was under 14, over a two-year period, two counts of sodomy with a minor under age 16 starting when the minor was less than 14 and producing obscene material with the minor, as well as possessing child pornography (Penal Code § 311.11). He was not charged with violating Penal Code § 288.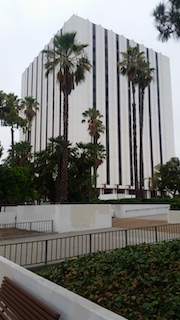 Compton Courthouse
Shortly after being arraigned, he entered a no contest plea to a violation of all the charges except the production of obscene material and the child pornography charges. He was sentenced to state prison for fourteen years.
The prosecution thereafter sought $768,000 in non-economic damages. Mr. Lee objected to the amount, not the propriety of such an award. The court awarded $750,000.
At the time the restitution award was made, Penal Code § 1202.4(f)(3)(F) authorized an award of non-economic damages for a felony violation of § 288.

On appeal, Mr. Lee argued that the trial court lacked the statutory authority to award non-economic damages.

The First Appellate District, in addressing the appeal, first looked to exactly what conduct Mr. Lee's no-contest plea was to. First, it noted that a no contest plea would be considered equivalent to a guilty plea (Penal Code § 1016). It then noted that a violation of § 288.5 constituted a violation of § 288 and thus, the award of pain and suffering by the trial court was proper. By pleading to § 288.5, Mr. Lee admitted substantial sexual conduct and three or more lewd and lascivious acts as defined by § 288.
We offer this case summary as a cautionary tale of how vitally important it is to be careful in how one enters a plea and to which code sections one pleads no contest or guilty to, as Mr. Lee found out.
The citation for the First Appellate District Court ruling discussed above is People v. Franklin Lee (1st App. Dist., 2018) 24 Cal.App.5th 50.

For more information about restitution in general and in sex cases in particular, please click on the following articles:
Contact us.