Restitution Proper in Sex Offense Case for Mental Suffering
The Gist of this Article: An award of restitution for "psychological harm" in a Penal Code § 288 (lewd and lascivious acts) sex offense case is allowed under Penal Code § 1202.4. Mental suffering includes mental health counseling expenses and, as the case summarized below shows, a feeling "everyday" of being "dirty, gross and unlovable."

The recovery of pain and suffering in criminal restitution is generally very limited. Pain and suffering by victims of sexual abuse by a defendant convicted of violating Penal Code § 288, lewd and lascivious acts, however, is specifically provided for under Penal Code § 1202.4.
Section 1202.4, however, does not specify any particular level of proof, i.e. beyond a reasonable doubt, clear and convincing or preponderance of the evidence. In fact, § 1202.4 simply says that a defendant must pay restitution to a defendant "in an amount established by court order, based on the amount of loss claimed by the victim. . . or any other showing to the court."
Indeed, the right to restitution for victims of crime is broad. The California Constitution, at Article I, Section 28, subsection (b) (13(B)), provides "[r]estitution shall be ordered from the convicted wrongdoer in every case, regardless of the sentence or disposition, in which a crime victim suffers a loss." Penal Code § 1202.4 then effectuates this constitutional provision, listing recoverable losses as the value of stolen or damaged property, medical expenses, mental health counseling expenses (§1202.4(f)(3)(C)) and lost wages or profits. Non-economic losses, meaning losses that do not involve actual money lost, can include psychological harm for felony violations of § 288.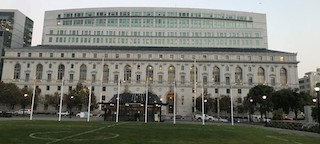 Court of Appeal First Appellate District San Francisco
People v. Gemelli (2008) 161 Cal. App. 4th 1539, 1542 has held that the standard of proof at a restitution hearing "is by a preponderance of the evidence, not proof beyond a reasonable doubt." Gemelli further states that a restitution order "will not be reversed unless it is arbitrary or capricious." "No abuse of discretion will be found where there is a rational and factual basis for the amount of restitution ordered."
In evaluating awards for noneconomic losses, criminal courts have looked to civil courts for guidance.
People v. Smith
(2011) 198 Cal. App. 4th 415,436. The California Civil Code provides that non-economic losses are for "subjective, non-monetary losses including, but not limited to, pain, suffering, inconvenience, metal suffering , emotional distress, loss of society and companionship, loss of consortium, injury to reputation and humiliation." Civil Code § 1431.2(b) (2). In a civil trial, the jury must use its judgment to decide "a reasonable amount based on the evidence and common sense." CACI 3905A (2009 ed.).
An appellate court can void the award on grounds that it is excessive only when the verdict is so large that, "at first blush, it shocks the conscience and suggests passion, prejudice or corruption."
In 2013, Arnold Lehman was charged with 31 counts of committing a lewd and lascivious acts against a child under age 14 (Penal Code § 288(a)), 12 counts of committing a lewd and lascivious act against a child age 14 to 15 (Penal Code § 288(c)(1)), two counts of oral copulation of a minor (Penal Code § 288a(b)(1) and four counts of sexual penetration of a minor (Penal Code § 289 (h)). These counts were as to one victim, his granddaughter. As to his other granddaughter, he was charged with additional sex crimes, including Penal Code § 288(a).
The facts leading to the charges were truly horrendous. Mr. Lehman molested his first granddaughter repeatedly over a period of approximately five years and "groomed" his other granddaughter in preparing to molest her as well.
The case did go to jury trial and the jury found Mr. Lehman guilty of multiple counts. The judge sentenced Mr. Lehman to an indeterminate sentence of 40 years to life, as well as a determinate term of 12 years.
At a restitution hearing, the District Attorney requested $4.9 million in non-economic damages for the first granddaughter and $200,000 in non-economic damages for the second granddaughter. After a hearing in which each granddaughter testified, the trial court awarded $900,000 in restitution for non-economic damages to the first granddaughter and $100,000 in restitution-for non-economic damages to the second granddaughter.
Mr. Lehman appealed the restitution awards to the First Appellate District, arguing that the awards were not supported by sufficient evidence and that the trial court erred by not stating how it calculated non-economic damages.
The First Appellate District, in
People v. Arnold Lehman
(2016 DJDAR 4972), affirmed both of the trial court's restitution awards. It described how the victims testified they felt "dirty, gross and unlovable" every day. They testified that they felt pain "every day." This alone, the appellate court found, constituted a rational and factual basis for the awards, as required by
Gemeli, supra
. The restitution awards were thus affirmed by the appellate court.
This ruling shows precisely how inexact or even ambiguous evidence can be for a judge to award non-economic damages in a sex case involving Penal Code § 288.

The citation for the First Appellate District Court ruling discussed above is People v. Arnold Lehman (1st App. Dist., 2016) 247 Cal.App.4th 795.

For more information about restitution in general, please click on the following articles:
Restitution to Victim Cannot Be Increased After Probation Ends, Even If Victim Sues Defendant in Civil Lawsuit and Wins Millions
Contact us.