Restitution Award of $3.4 Million Vacated in Child Porn Case
Doyle Paroline entered into a plea bargain for violating 18 U.S.C. § 2252 in federal court. Section 2259, known as the Violence Against Women Act of 1994, prohibits the possession of child pornography. Paroline admitted to possessing between 150 and 300 images of child pornography, including two that showed the sexual exploitation of "Amy" almost a decade earlier.
Summary in 50 Words or Less: U.S. Supreme Court vacates $3.4 million restitution award for victim of child pornography, finding proximate causation of damages was not established from defendant's possession of such images.

When "Amy" was eight or nine, her uncle (not Paroline) sexually abused her, took pictures of the conduct and sold the images worldwide. At age 17, "Amy" learned that the images were available worldwide on the Internet. Apparently, Paroline somehow acquired such images.
At a restitution hearing under 18 U.S.C. § 2259 in U.S. District Court, "Amy" explained that she felt "abused" again by Paroline's possession of her image. She quantified her damages as $500,000 in future treatment and counselling costs, plus $3 million in lost income. The district court declined to award her any restitution, explaining that the government had not met its burden of proving what losses were proximately caused by Paroline's possession of the images. After all, Paroline never distributed the images to anyone.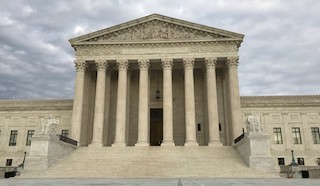 U.S. Supreme Court
"Amy" filed a writ of mandamus to the Fifth Circuit to direct the district court to order Paroline to pay her restitution. The Fifth Circuit ruled that § 2259 did not limit restitution to just those losses proximately caused by defendant and that each defendant who possessed a victim's images should be made liable for the victim's entire losses from the trade in her images. The Fifth Circuit then awarded "Amy" $3.4 million from Paroline.
Paroline then filed a writ of certiorari to the U.S. Supreme Court. The U.S. Supreme Court accepted the case for review and vacated the decision of the Fifth Circuit.
The U.S. Supreme Court began its analysis by discussing proximate cause. It acknowledged that to say one event was the proximate cause of another meant that it "not just any cause, but one with a sufficient connection to the result."
Bridge v. Phoenix Bond & Indemnity Co.
(1992) 503 U.S. 258, 268. The concept of proximate causation is applicable in both criminal and tort law and the analysis is parallel in many instances. 1 W. La Fave, Substantive Criminal Law § 6.4(c), p. 471 (2d. Ed. 2003).
Moreover, proximate cause must be evaluated in terms of the foreseeability of effect or the scope of risk created by the conduct. Sometimes, the effect is so attenuated as to preclude liability when the casual link between the conduct and result is weak.
The U.S. Supreme Court then noted that § 2259 requires causation, as the statute defines a victim as "the individual harmed as a result of a commission of a crime." The victim here arguably was Paroline's possession, so if was possession did not cause harm to "Amy" then "Amy" would not be a victim under the statute.
The court then discussed the six types of loses that the statute enumerates as "covered losses." These are medical services (§ 2259(b)(3)(A)); physical and occupational therapy (§ 2259(b)(3)(B)); transportation, temporary housing and child care (§ 2259(b)(3)(C); lost income (§ 2259(b)(3)(D)); attorney's fees and costs (§ 2259(b)(3)(E); and a final "catch all" category described as "any other losses suffered by the victim as a proximate cause of the offense (§ 2259(b)(3)(F)).
"Amy" argued that the statutory intent was to limit the proximate cause requirement to just the 'catch all" category, as this language of proximate cause only appears there. The court rejected this argument, reading it as a general category after specific categories identified, but in a similar context. The U.S. Supreme court termed its reading as a common sense reading of the statute.
The court further rejected "Amy's" contention that Paroline was responsible for her entire loss from the ongoing trade in her images.
The U.S. Supreme Court thus reversed the Fifth Circuit's ruling and remanded the case back to that court for reconsideration in light of the Supreme Court's decision. This will be a tough task, as our office understood that "Amy" could not show Paroline directly caused any of her damages.
The citation for the U.S. Supreme Court ruling discussed above is Paroline v. U.S. (20140) 572 U.S. 434, 134 S. Ct. 1710, 188 L.Ed 2d. 714.
For more information about restitution, click on the following articles:
Restitution to Victim Cannot Be Increased After Probation Ends, Even if Victim Sues Defendant in Civil Lawsuit and Wins Millions
Contact
Greg Hill & Associates