Resisting Arrest (P.C. 148(a)(1)) – Knowledge Required
On August 17, 2017, just after midnight, Lisa Ward called 911 to report that she was "just hit by a car" and "run off the road" by another vehicle and "it was an intentional hit."
Ward told 911 that the second car was "chasing me" with its lights off and then "totally sideswiped" her vehicle.
In a Nutshell: A conviction for violation of Penal Code § 148(a)(1) requires knowledge by defendant that the person that the person he or she is delaying, obstructing or resisting is an officer. This can be inferred from the circumstances, as the following case shows.

Sunnyvale Public Safety Officer Matthew Meyer was dispatched in response to Ward's call. He arrived at the scene, which was outside a Sunnyvale 7-11 store and spoke to Ward. Another man at the scene told Meyer that the driver of the other car was inside the 7-11 and "stuffing all kinds of shit down his pants." The other man then pointed out a man inside the 7-11, wearing a red shirt, and told Meyer, "that's him."
Meyer was concerned that someone who was shoplifting so brazenly might also have a weapon that he would use to intimidate another not to stop his shoplifting, which would then become a robbery and much more dangerous to bystanders. Meyer could see the man in the red shirt inside. It was Tristan Mackreth.
Meyer was wearing what he described as "a standard police uniform" and his badge was "readily apparent." Before Meyer entered the store, he made eye contact with Mackreth, who "immediately turned around and ran into the back store room." The store room was behind the register, and defendant slammed shut the door to the store room.
Meyer called for backup "with lights and sirens." Meyer then entered the store. Mackreth then reappeared with keys and something else in his hands. Meyer drew his taser and yelled to Mackreth, "get on the ground."
Mackreth responded very slowly, "Yes, sir," but was not immediately compliant. To Meyer, he appeared angry and "was displaying pretty clear signs of being under the influence of a stimulant." His eyes were wide and he was looking around. He was sweaty and fidgety. Mackreth then said to Meyer, "Hey, show me your badge."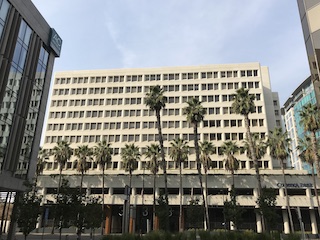 Court of Appeal Sixth Appellate District San Jose
According to Meyer, Mackreth did not seem to "recognize the reality of what was going on." Eventually, Mackreth got to the ground and Meyer told him, "don't move or I'll taze you." Despite this warning, Mackreth "pops up" and Meyer tased him, which caused Mackreth to scream and fall to the ground. Mackreth, however, got up and tried to run out of the store just as two other police officers arrived on scene, both wearing uniforms, who fought with defendant and tazed him multiple times.
Mackreth was charged with attempted robbery, misdemeanor assault with a deadly weapon (the car), misdemeanor resisting an officer (Penal Code § 148(a)(1)) and being under the influence of a controlled substance (methamphetamine, Health & Safety Code § 11350(a)).
He was convicted of resisting arrest as a misdemeanor and being under the influence of a controlled substance, but acquitted of attempted robbery and assault with a deadly weapon.
The judge place Mackreth on three years of informal probation.

Mackreth then appealed his conviction for resisting arrest, arguing that he was improperly convicted of this charge because the judge improperly instructed the jury that he could be convicted of this if "he knew or should have known" that the person he resisted was a police officer. Mackreth argued that to be convicted of this, one must act "willfully" to resist arrest and that requires one to have actual knowledge that the person he or she was resisting was a police officer.
The reader of this summary may recognize that when Mackreth was standing inside the 7-11 and looked outside to see Meyer, even getting eye contact with him, only to then run into the back store room at the store, this conduct showed Mackreth knew Meyer was a police officer.
The Sixth Appellate District in Santa Clara, however, did not agree with Mackreth, explaining that to act willfully, one does not also need knowledge of anything. The word "willfully" only implies an act that is done or omitted on purpose or with a willingness to commit the act, or make the omission referred to. A willingness to act does not require a knowledge requirement of the surrounding circumstances of the act, so no actual knowledge was needed for the conviction.
Therefore, the conviction was affirmed.
We bring this summary to the reader's attention because Penal Code § 148(a)(1) is a common charge and our clients and potential clients often also ask about the knowledge required and this case addresses that common question.
The citation for the Sixth Appellate District Court ruling discussed above is People v. Tristan Mackreth (6th App. Dist., 2020) 58 Cal. App. 5th 317, 272 Cal. Rptr. 3d 498.

For more information about Penal Code § 148(a)(1) ("Delaying, Obstructing or Resisting Arrest"), please click on the following articles: