Felony Resisting Arrest (PC 69) Conviction Reversed
Our office has handled many cases involving charges of resisting arrest (Penal Code § 69) and its misdemeanor variant, obstructing, delaying or resisting a peace officer (Penal Code § 148(a)(1)), including to jury trial and verdict. Such cases are often factually complicated and heavily dependent upon the credibility of witnesses.
On a larger scale, these cases invoke popular biases against police as unreasonably forceful or even violent, as well as stereotypes of police as thankless public servants who endure rude citizens, often under the influence of alcohol and often younger than most jurors.
Summary in 50 Words or Less: If going to trial on a felony resisting arrest (Penal Code § 69) charge when defendant actually fights with police, be sure to include a jury instruction on assault, as it is a lesser-included offense of Penal Code § 69.

In the following Contra Costa case arising in 2011, sixty-seven year old Wilbert Brown was riding his bike on a Richmond sidewalk when officer Michael Ricchiuto decided to stop him. Ricchiuto's stated reason for the stop was that Brown was wearing earphones while riding and his bike did not have a light.
Brown attempted to flee, but Ricchiuto and a second officer chased him down and arrested him. Brown then fought with the officers. The officers found a baggie of cocaine that Brown had discarded during the chase.
Brown was then charged with felony possession and transportation of cocaine, as well as using force or violence to resist police, a felony (Penal Code § 69).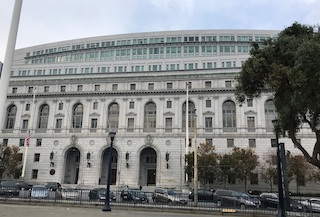 Court of Appeal First Appellate District San Francisco
Brown was convicted of both charges and was sentenced to three years of formal probation with 120 days of county jail suspended.
Brown appealed the conviction, arguing several things. This article will only cover his argument that the judge failed to instruct the jury "sua sponte" (on its own) regarding simple assault as a lesser necessarily included offense.
The appeal was filed in the First Appellate District, which agreed with Brown that the judge did make a mistake. The opinion was filed on February 25, 2016 and can be viewed in full at 2016 DJDAR 1952 as
People v. Wilbert Brown
.
The judges in Division Four of the First Appellate District noted that under California law, a lesser offense is necessarily included in a greater offense, if either the statutory elements of the greater offense, or the facts actually alleged in the accusatory pleading, include all the elements of the lesser offense, such that the greater offense cannot be committed without also committing the lesser offense.
People v. Birks
(1998) 19 Cal. 4th 108,117-118.
The appellate court noted that Penal Code § 69 can be violated in two ways. A person can commit this felony by (1) attempting by threats or violence to deter or prevent an officer from performing a duty imposed by law; or (2) by knowingly resisting through the use of force or violence against an officer in the performance of his or her duty.
People v. Smith
(2013) 57 Cal 4th 232, 240. In other words, one can violate Penal Code § 69 in the first way without using physical force. Threats to the officer can suffice.
If just threats against an officer are made, that is not as assault, which Penal Code § 240 defines as "an unlawful attempt, coupled with a present ability, to commit a violent injury on the person of another." In this first context of Penal Code § 69, assault is not a lesser included offense.
In the present case, under the accusatory pleading test, the first amended complaint alleged that Mr. Brown violated Penal Code § 69 by attempting to deter or prevent the officer from performing his duties and by knowingly resisting the officers with force and violence. Thus, assault was a necessarily included lesser offense because of how the accusatory pleadings were written.
Thus, the appellate court ruled that the trial judge may have erred by failing to instruct the jury about assault as a lesser, necessarily included offense of Penal Code § 69.
Under California law, however, such misdirection is not always a reason for reversal of a conviction. A court must examine the entire record to see if it establishes a "reasonable probability" that the error affected the outcome. The California Supreme Court as addressed the "reasonable probability" standard in this context and stated that it does not mean more likely than not, but "merely a reasonable chance, but more than an abstract possibility."
People v. Campbell
(2015) 233 Cal.App.4th 148, 165.
Turning to the facts of the case, the appellate court quickly determined that because Brown did yell at the cops to get away or he would fight them – and then did, the facts did support assault and the judge should have instructed the jury on assault as a possible grounds for conviction as well. Consequently, the conviction was reversed and the case was sent back to the trial court for further proceedings for Brown, which could mean a new trial.
The citation for the First Appellate District Court of Appeals ruling discussed above is People v. Wilbert Brown (1st App. Dist., 2016) 245 Cal.App.4th 140.
For more information about resisting arrest, please click on the following articles:
Conviction for Felony Resisting Arrest (Penal Code § 69) Reversed for Improper Evidence or Prior Resisting Arrest Incidents Introduced.
Contact us.