Redondo Beach, Refusal to Submit, Resisting Arrest, No Jail
Our client, age 49 and a single mom of three boys, came to California from Florida to complete a substance abuse program that would allow her to bring her small, mixed-breed dog with her. She had adopted the dog from a rescue facility in Florida and was quite protective of her constant companion.
The client was driving a rental car westbound on 190th Avenue toward Sepulveda Boulevard. As she turned southbound on Sepulveda, near the landmark Redondo Beach sign, police noticed her because she allegedly ran a red light. Police then followed her and pulled her over near Catalina Avenue.
When police stopped her, our client's dog ran out of the car and into traffic, causing our client to yell after her dog and try to bring her dog back. Police, however, restrained her and let the dog continue. This caused our client much anxiety, which the police seemed to relish. One police officer whispered in our client's ear, "Well, the little dog is going to get what it deserves," implying he would be hit by a car and possibly die.
Police allegedly could smell alcohol on our client's breath, so they asked her to submit to a preliminary alcohol screening (PAS) test, which our client refused. She was extremely concerned about her dog, which was not familiar with the area at all and it was after dark. Police also asked our client to submit to field sobriety tests, which our client also refused to perform. It should be noted that a suspect can legally refuse to perform such tests, as well as to submit to a PAS, however, once the suspect is at the police station, he or she must consent to either a breath or blood test or face enhanced charges, as well as the loss of driving privileges for a year.
Synopsis: Redondo Beach, client refuses to submit to breath or blood test, loudly cusses out police, charged with resisting arrest,Torrance sentences client to 45 days county jail suspended, plus DUI terms.
Our client was quite upset with police and told them so. She pleaded with them to help retrieve her dog, but police just taunted her. This caused our client to use swear words at the police officers and tell them she was an attorney, which she was not.
Police concluded our client was not only drunk, but possibly high on some substance, so they transported her to Torrance Memorial Hospital. Hospital personnel concluded she was homeless and kept her for several hours, during which time she continued yelling at police.
Our client had no prior criminal history.
Police recorded our client's lengthy outbursts and took pictures of her in a padded cell where she was kept "for her own protection" at Torrance Memorial Hospital.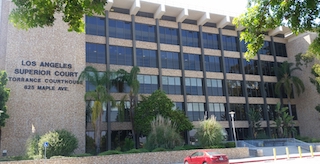 Torrance Courthouse
The client was eventually released and returned to Florida. Her dog was miraculously found and returned to Florida with the client.
The client then hired a well-known law firm to defend her against charges of DUI, with an enhancement for refusing to submit to a chemical test (Vehicle Code § 23577) and resisting arrest as a misdemeanor (Penal Code § 148(a)(1)). The initial plea bargain from the Redondo Beach City Prosecutor was very tough – it included not only the standard first time DUI terms, including a six month DUI program (even though our client's blood alcohol content was never measured), but 60 days in Los Angeles County Jail for her cussing at police officers. Counsel for our client from the well-known firm was dumbfounded at the severity of the terms of the plea bargain.
Our client then fired the well-known law firm and retained Greg Hill & Associates. Greg Hill then appeared and quickly saw that pleading in the open to the charges, to the judge, was the only way to undermine the offer.
Greg then filed a Sentencing Brief, wherein he explained the context of the circumstances leading to our client's ranting and cussing. The brief also presented the many volunteer activities that our client had performed, even before her arrest, in Florida, as well as her efforts to gain the upper hand on her drinking, which she did by attending over 50 AA meetings after the arrest.
The Torrance judge read the Sentencing Brief and offered a tentative ruling of 45 days in Los Angeles County Jail, suspended, plus a requirement that our client write letters of apology to each officer involved, and attend a nine-month alcohol awareness program. Our client was overjoyed at not having to spend any time in jail and quickly paid all fees and fines, as well as wrote the four letters of apology. She was very happy with the result.
For more information about refusing a breath or blood test in a DUI, resisting arrest and what to do if stopped for DUI, click on the following articles:
Watch our video about DUI by clicking here.
Contact us.